Styles' Self-Titled New Album is a Shoe-In for Summer Hit
Resident music reviewer critiques Harry Styles' self-titled solo-album.
Hang on for a minute...we're trying to find some more stories you might like.
To quote one of my previous album reviews, "DAMN."
Now, I'm not a fan of One Direction. I just never really cared for them. However, when Zayn Malik left and released his debut, Mind of Mine (2016), I became a fan of his and the gloomy and dark yet also fluttery falsetto vocals he provides. So when ex-member Harry Styles announced a solo career, I thought, "Why not?" and decided to review his first self-titled album. The first single off the album, "Sign of the Times", greatly surprised me, as though it may be a little repetitive lyrically (as can be found on the rest of his songs), it's a beautiful hit that rightfully deserved the honor of being compared to the late, great fellow Englishman David Bowie. The second released single, "Sweet Creature", didn't impress me at first, and I started worrying that I wasted an iTunes gift card on a mediocre acoustic folk album, so, waking up for the download this morning I was awaiting a hit or miss. However, listening to "Sweet Creature" in an album setting is a lovely fit and I'll admit I had it stuck in my head all throughout math class today.
The album itself is very 1960s and 1970s rock-inspired. It has a familiarity to it; in it I can hear The Beatles, The Rolling Stones, David Bowie, and Pink Floyd. It's something your dad will groan at when you tell him you're going to play Harry Styles, the guy from One Direction, but after he'll ask "Who's this guy again?", subtly showing his approval. The amount of rock and folk guitar was definitely a surprise for me, as I'm sure many others expected a One Direction spin-off. This, however is a much more mature debut for the former teen heartthrob.
While the lyrics throughout each of the album's songs can feel very repetitive, especially the choruses, it's made up for in his impressive vocals. While having a voice similar to Zayn's, they were in the same boy-band, after all, Harry's not afraid to get loud and almost scream in some of the harder-hitting rock songs, like "Carolina" and "Kiwi". The layered vocals and choir effects he uses as well add a very pleasant sound to songs such as the angelic choruses heard on "Sign of the Times" and "Only Angel" and the appealing overdubs on "Woman" and my personal favorite, "Meet Me in the Hallway". In a five-piece male vocalist group such as One Direction, their voices all mix into one to the average listener, thus, until this album, I never knew of the great voice hiding between the four others that Harry has.
In all, Harry Styles' self-titled debut really surprised me in a positive way. I've already listened to it three times today, and think it's going to be one of those transitional albums into a more mature and successful era, such as when Disney stars release their first album under another label. While it's not all pop-radio-friendly, I think Harry Styles will have (and hasn't yet had) no trouble infiltrating and influencing the mainstream. And hey, maybe like fellow Brits Amy Winehouse and Adele brought soul music back to the radio and charts, a big name like Styles' can do the same with rock.

About the Writer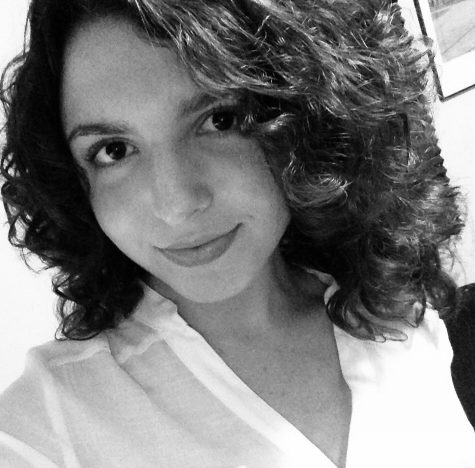 Samantha Visco, Business Manager/Public Relations
Gr. 12

"I know I may be young, but I've got feelings too."-Britney Spears