Breaking Down the Suicide Disease
What to know about Trigeminal Neuralgia
Hang on for a minute...we're trying to find some more stories you might like.
¢Amyotrophic lateral sclerosis, more commonly known as ALS – sounds familiar right? Twenty years ago, the great tradition of ALS "Ride for Life" spread awareness of its namesake condition across the nation. And only a couple of years ago, the ALS "Ice Bucket Challenge" surged through social media, raising over $100 million for ALS research. In just a few months, virtually everyone in America knew of this debilitating neurodegenerative disease. However, while celebrating these successes, it is still important to observe the big picture: what other disorders have caused a profound impact on people's lives, and if so, what does it take to bring them to light?
Just like ALS was a little more than two decades ago, trigeminal neuralgia is scarcely known to the public, despite the unmeasurable amounts of suffering it has caused since its discovery. Trigeminal neuralgia is a chronic condition that affects the trigeminal nerve in the face. When triggered, this condition results in excruciating pain for the patient. Though the condition is generally not fatal, its inappropriate nickname, "the suicide disease," gives a pretty clear picture of the intense suffering of its victims. According to Dr. Marc Otten, a medical professional at the Department of Neurosurgery at Columbia University Medical Center whom the Red & Black reached out to, the pain can be described as a "lightning sensation in the distribution of the nerve."
There are a number of triggers that can result in this "brief, intense electric shock". Many common activities, including shaving, eating, drinking, brushing your teeth, talking, putting on makeup, or even just a simple smile can lead to a burst of agony across the face. Another common trigger can be a small breeze that blows across the face. This is a result of pressure against the myelin sheath of the trigeminal nerve, resulting in powerful sensations of pain. Unfortunately, even a slight movement can lead to pain so powerful that the person is ultimately forced to stop what they are doing and wait for the pain to subside.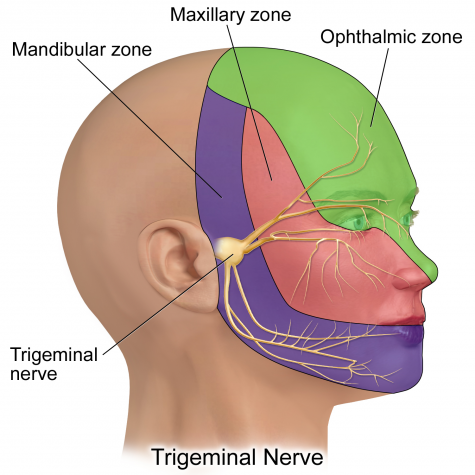 Trigeminal neuralgia affects everyone differently, and people may suffer a constant ache of the jaw to forehead on one side of the face to episodes of jabbing pain that can last a few seconds to several minutes. Whatever the case, having trigeminal neuralgia causes a great disruption to pursuing a normal, daily life, especially as attacks intensify. Ms. Pam Neff, who works at Patient Support for the Facial Pain Association, interacts with patients suffering from all sorts of facial pains on a daily basis, and helps people cope with this condition. In an interview with her, she provided valuable insight on how trigeminal neuralgia affects people's lives. When asked how the disorder affects daily activities, she responded, "Trigeminal neuralgia is the worst because the pain comes and goes, so you are not really suspecting them, and that creates a lot of fear and anxiety because you don't know when you are going to get hit with them. You don't know if you can go out and go to a concert, go to someone's graduation or do something like that because you don't know when you are going to get an attack." She goes on to describe what some of her patients have experienced. "The attacks are so bad that people describe they can drop them to their knees, a lot of times they just need to lay in the bed and not move because everything triggers it." It is evident from this that trigeminal neuralgia can have a great weight on how one goes through the day, and only further amplifies the need to bring awareness to this issue.
Unfortunately, it's not only the physical component of this condition that is important. To some, trigeminal neuralgia is known as "suicide disease," straightaway portraying it as a mental illness with a death sentence. Appallingly, roughly 25% of trigeminal neuralgia patients commit suicide, a terrifying statistic that calls for increased awareness on this issue as well as more support options. As stated by Dr. Otten, "There are often activities that trigger the pain like brushing teeth or chewing. Anxiety about the pain will often make these fundamental activities very difficult for people." Trigeminal neuralgia is much more than just the lightning pain; it also encompasses the mental health of its patients. The constant worry and anticipation of an episode in public, the stress from having to push off work because of the pain, even just the anguish of dealing with this pain can all contribute to feelings of unhappiness, loneliness, anger, and resignation. Sadly, these powerful emotions may sometimes lead to suicide, hence the infamous nickname of trigeminal neuralgia.
But all is not lost for afflicted patients of this disorder. The recent decades have observed a rise in several support groups across the world, and several hospitals have pledged themselves as institutions to better the lives of those afflicted. Researchers have gathered together to research causes and treatment options for patients as well. When asked about current treatment options, Dr. Otten responded, "Behavioral modifications to avoid triggers would be the first step. If not practical or successful, we attempt to treat the pain with medications. If medications are not effective, or the side effects are intolerable, we consider 'surgical' options. […] The specific treatment is tailored to the individual patient." The three main options: percutaneous procedures, gamma knife radiosurgery (GKRS), and microvascular decompression (MVD) are widely successful, with 90% of patients being pain-free almost immediately after any of these operations.
"
There are often activities that trigger the pain like brushing teeth or chewing. Anxiety about the pain will often make these fundamental activities very difficult for people."
— Dr. Otten
Although trigeminal neuralgia is a relatively rare illness, affecting just 1-2 people per 100,000, it is still an important disorder that must be brought to light. Misdiagnosis of trigeminal neuralgia for tooth pain or multiple sclerosis is common, and often surgical operations are not an option for many patients. Additionally, recurrence rates are around 50% at 1 year after surgery, so being permanently pain-free after treatment is not a guarantee. It is crucial to know that trigeminal neuralgia is not a death sentence, and even more important to remove its stigma as "the suicide disease." There is still so much hope out there for the afflicted, and so much work that can be done to improve their lives. With increased research into trigeminal neuralgia, and with the support from people around the globe, only time will be in the way of eliminating this disease once and for all.