Prom with Sean
On May 18th, the Class of 2019 held its junior prom at Majestic Gardens in Rocky Point. As part of new district policy, students attending prom were expected to report to the school beforehand. Even without a flashy ride, one group of boys was able to make a grand entrance.
PMHS juniors Alex Hamarich, Christian Dolan, Michael Dillon, Nick Banker, Kyle Payne, Ryan Casamassina, Bryce Wadsworth, Chris Newham, and Andrew Sacco came dressed to impress. Clad in their tuxedos donned with yellow boutonnieres and pocket squares with a #38 attached, their friend was memorialized in style.
In October of last year, the Patchogue-Medford community lost a fighter in Sean Dixon. Seven months (almost to the day) later, he was remembered in a big way. I sat down with a few of his closest friends to recap the night.
How did you each know Sean?
MD: Most of us knew him from elementary school and by playing lacrosse.
CN: I knew him in elementary school but didn't really start talking to him until middle school.
AS: Yeah, in middle school we all used to sit at the same lunch table so we all got really close then.
CD: It's actually kind of funny, because I never saw it, but people always used to think Sean and I were brothers.
Whose idea was it to incorporate a tribute to Sean into your prom outfits?
AH: I think we all worked really well together to come up with the idea a pull it off.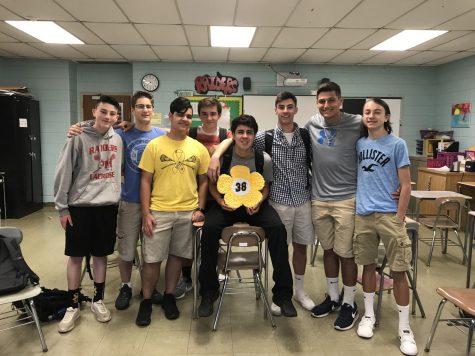 Did you feel any pressure as prom night approached to get everything done or had you known in advance that this was how you all wanted to show your solidarity?
CD: We had it set up beforehand, like a while ago. Because we think of all the events that he isn't around for that are one time moments and try to incorporate him into it somehow.
Honestly though, whose mom made sure it went off without a hitch? *the boys all laugh before admitting to the help*
NB: Probably my mom.
How important was it to you guys to be repping Sean on prom night?
MD: Very important. It made it so that he was with us, even if he wasn't with us.
After losing such a close friend, do you think that the bond between you guys has gotten stronger?
CD: I think that the bond has gotten stronger, but nobody has really changed.
AH: Yeah, and who knows, we might even get matching "38" tattoos on the leg that Sean had lost.
Alex, you were crowned prom king that night. How did it feel to bring home a win for the boys and, essentially, for Sean?
AH: Well leading up to it, a lot of people were telling me that if Sean were able to be there that he would have won. So for me it was just great to be able to fill his place and basically get the win together.
As some of his closest friends, how did it feel to have a song dedicated to Sean and listen as a greater part of the junior class sang along to take the time in remembering him?
MD: It was right after Alex had won and we were all in a a big group just hugging each other and dancing.
Having known Sean, what influence has he had on how you view obstacles in life?
CD: It really just makes you appreciate life more.
MD: He never gave up, no matter how hard it got.
CN: You have to live everyday like it's your last.
KP: Yeah, because nobody can be sure when it is your last.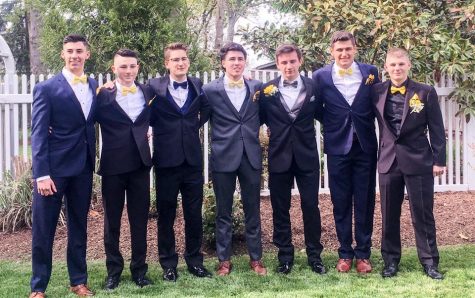 Okay, last question. If you had to choose, which one of you pulled off the look the best?
MD: Me.
*followed by protests of disagreement from the rest of the group*
MD: Well, we all looked the same… But me.