One Last Swing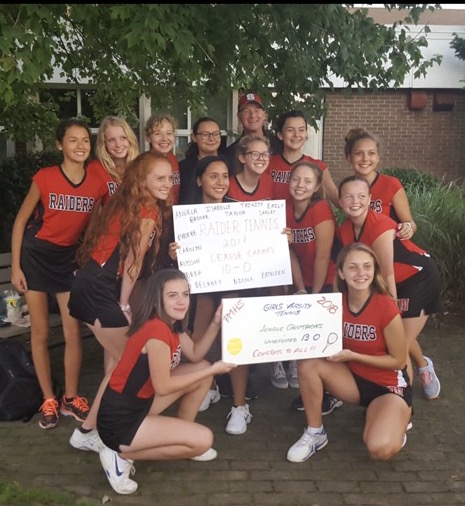 Hang on for a minute...we're trying to find some more stories you might like.
The Raiders Girls' varsity tennis team has had an extremely successful season. The girls went  12-0, a perfect record, for the regular season and proceeded to go on to make the playoffs.
The team lasted to the second round of the playoffs, against Ward Melville, ending an exciting and thrilling last season for many of the girls on the VGT team.
I was able to talk to Emily Berkemeyer, a senior, and ask her a few questions about her experience during her last season as a Raider:
Red & Black: What's your current record?
Emily: Our record as a team is 12-0 making us undefeated league VI champions. Overall we ranked 12th in all of Suffolk County.
Red & Black: How many wins do you have, personally?
Emily: This season I went undefeated and also was awarded All-Division honors. Overall, I've lost track of how many matches I've won throughout my high school career but, what's important to me is all the experience I've gained from the many matches I've played as a Raider.
Red & Black: What's the difference between singles and doubles?
Emily: In doubles two players are working together as a team and the court is wider. While in singles it is essentially one v. one with a smaller court. Both doubles and singles are equally challenging in different aspects and I'm proud to have played both positions as a Raider.
Red & Black: What's your most memorable moment in tennis?
Emily: My favorite memory in tennis has to be when we won our last match of the season this year, making us the undefeated league champions. Not only was it exhilarating to be the first Patchogue-Medford girls' tennis tam in a decade to have this title but, I also was overjoyed at being able to share this achievement with my teammates. Especially since our coach got us all Slurpees from 7-11 as a surprise after our match.
Red & black: How'd it feel to be in the playoffs?
Emily: Being in the playoffs for the 12th straight year feels amazing because, as a team, we were able to compete with schools all over Suffolk County and play on a higher level.
Red & Black: How do you feel now that this was your final season as a Raider?
Emily: I'm sad that it's my last season playing alongside a group of really amazing girls who are like family to me but, the fact that I've left a legacy on the tennis team and have had so many happy memories these past four years allows me to  look back fondly at my time on the team. I'm thrilled to be able to come back one day, and see all my former teammates, especially our four freshman on the team whom I've developed a strong relationship with. I can't wait to see what the future holds for us as we step into the future.
Even though the seniors of the team will be moving onto better things in life, Pat-Med will always hold a special place in these girls' heart. Although they will not physically be a student at Pat-Med next year, they will always be a Raider.
And just like our motto says, " Once a Raider, Always a Raider".