In the Limelight
Five musicians on the journey of a lifetime.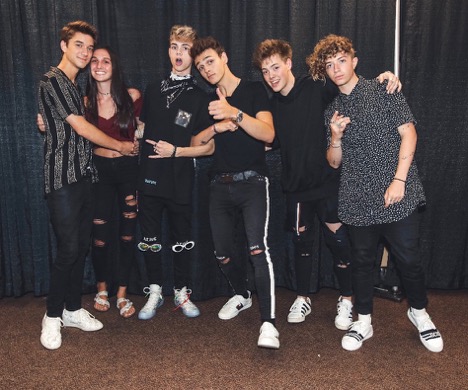 Hang on for a minute...we're trying to find some more stories you might like.
As one era of musicians comes to an end, another one begins. This is only the beginning for the band "Why Don't We" as they embark on their musical journey. As their Invitation Tour came to a close earlier this year, they are already planning their next adventure, the 8 Letters Tour in March 2019. In two short years, they went from playing shows with 500 people in small spaces to playing shows in large venues with over 5,000 people.
In between touring, the boys managed to write a full length album as well as a book which came out in October 2018. Along with that came album signings in North America and Australia, book tours in the United States, in addition to other small shows including a performance on The Today Show, BLI Summer Jam, and multiple shows on the upcoming Jingle Ball Tour.
"They are very interactive with the limelights (their fans) and are constantly updating their social medias, sharing fan edits or making surprise announcements," said Max Kreamer, a junior from Pat-Med.
The boys: Zach Herron, Jack Avery, Jonah Marais, Daniel Seavey, and Corbyn Besson are different than your typical boy band. Each member started out as a solo artist using various platforms to gain a small following of their own. They spent time crafting their own sound by performing solo gigs around their neighborhoods before spontaneously coming together and forming this group.
Jonah and Jack performed at local events in their hometowns until they were picked up to do a small tour with other new artists. Zach posted covers on Instagram to get his name out there. When one of his covers was reposted by a famous singing account, he gained a large following. Corbyn did live singing broadcasts weekly using a new website at the time called Younow and worked his way up from twenty viewers to thousands in a short period of time. Daniel, however, did not get his big break from social media, he actually finished ninth place on the second to last season of American Idol. Each of them started their careers out differently but ended up coming together to craft a new sound in the music industry.

Surprising the fans is something this band is known for. Abigail Yoches, a junior from Pat-Med agrees by stating "The word to describe this band is spontaneous. They are unpredictable and constantly dropping new music unannounced, revealing surprise tours, or simply adding to their merchandise line. The words "taking a break" are not in their vocabulary as they are always working to produce the best music for their fans."

About the Contributor
Isabella Scuteri, Staff Writer
Grade 11

"Work until you no longer have to introduce yourself."