Braving the Bitter Weather for an Educational Opportunity
Sir Ken Robinson, a British author, speaker, and international advisor, visits PM Schools
Hang on for a minute...we're trying to find some more stories you might like.
Driving through dangerous and icy conditions, many community members spent hours shoveling driveways Thursday night to hear what Sir Ken Robinson had to say at Patchogue-Medford High School. Despite the unexpected snow, many in attendance knew what they were about to hear was something they couldn't miss. Everyone sat in anticipation to hear what Sir Ken Robinson had to say.
"Children are fathomless repositories of talent", said Ken Robinson as he stood looking over his audience.
Much of what he discussed that night centered around the importance of nurturing and developing the minds of our youths today.
In one sentence, Sir Ken Robinson described his mission as one "to transform the culture of education … with a richer conception of human creativity and intelligence."
He believes that our modern-day education system is industrialized to produce "x" number of doctors, engineers, etc. He questions schools stating that our priorities are out of place. He suggests that AI is taking over modern jobs and that we need creativity more than ever.
With our ever-changing world and constantly moving minds, Sir Ken Robinson encouraged the audience to push the education system along with it.
"Human practices need to be constantly revived," he stated, "We need to keep up with the changing times."
To many in attendance, these ideas and words were concepts the sparked interest. Ms. Leal, Dean at Patchogue-Medford High School said," I believe in his message for the need of creativity. Schools need to adapt to the times and develop new ideas and different pathways in education."
Interestingly though, some teachers were skeptical of his talk. The one thing Sir Ken Robinson is most well known for is for his statement, "Schools are Killing Creativity" and some teachers had something to say about that.
In fact, two teachers from the Longwood School District said, "We don't think schools are killing creativity. We think the children are changing and thus changes in our system need to be made to meet the students' needs."
Many in attendance that night were there for that reason. They were excited to learn how we as a community could improve the education system. However, some others in the audience did note that although Sir Ken Robinson stated we need to change, he never specifically mentioned how to do so.
One parent stated, "my child and his education are important to me. That's why I came. I didn't really know much about him coming to this event… In all honesty, I loved his humor; but, I don't think I really learned how we encourage creativity in schools… he had good reasons why but not how."
That parent wasn't wrong. Robinson's presentation was filled of humorous analogies and witty comments. His illustrations and explanations for the need for change in school systems were prevalent throughout his talk.
One particular joke he made was about grandchildren. He shared how "for some unknown reason, grandparents are strongly convinced that only their grandchild is the most absolute intelligent, unique and beautiful human being of all time."
He further stated that this was "simply not true. If you didn't know…. MY GRANDCHILD is the absolute most intelligent, unique and beautiful human being of all time."
The audience wholeheartedly laughed when he stated that, but he further explained that the purpose of that statement was to show how "children have beautiful talents and deep complex capacities."
He further said, "children aren't born speaking, they develop it. Nobody teaches a child to speak, they learn by absorbing, not by formal instruction."
The beautiful moments that spark happiness and pride in grandparents is a "prime example of the natural way of teaching."
Many in the audience clapped and smiled and this remark but some were not so easily convinced. High school science and research teacher Dr. Gatz said, "you learn and grow and gain things from teachers. We spark our students' imaginations to problem solve within the context of the subject. This requires creativity on part of both the teacher and the student. Schools do provide a place to develop interest and grow mentally."
Teachers work hard to bring creativity to the classroom as they believe and find passion in helping their students grow to their "complex capacities."
One thing mentioned in Sir Robinson's talk was the issue with standardized testing. He explains how they are unnecessary to the growth of our children. He further states that standardized testing is just one big business impeding creativity and growth in our youths.
One parent named Jackie agreed. She said, "We should concentrate on our children. Tests can give anxiety. As a parent myself, I see how testing and homework can give my daughter stress. She is constantly striving perfection and can thus be too hard on herself sometimes."
Whether people agreed with Sir Ken Robinson's talk or not, everyone did agree on one thing — the key role family and supportive friends are to the development our children.
"As a single parent, I have found the key part we play to developing student creativity. I make time for my children and I am always there for them because I know that educational success comes from motivation and a sense of security" says Marianne, a single parent in our Pat-Med community.
Mrs. Murphy stated something similar as well. "the parental piece needs to be considered as well. They play a key role. Parents set the standard and help their child grow at home."
Towards the end of his talk he made this strong statement: "For the children who drop out, remember, they didn't fail the system, the system failed them."
This statement caused some to cheer in agreement and others to scorn skeptically in the audience. Despite differing thoughts and ideas, the true take away from this event was that children are precious gifts. They are a gift in which we must constantly work hard to help grow and mature into our strong beautiful adults of the future.

About the Contributor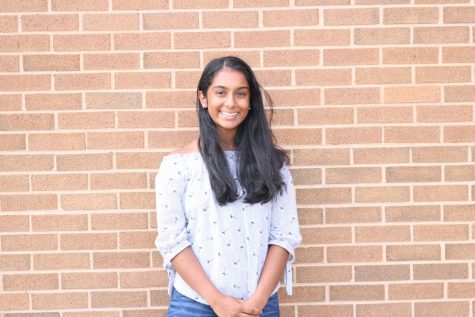 Sarah Varghese, Staff Writer