Real World Advice on How to be a Successful, Local Entrepreneur
PMHS Corporate Raiders sat down with a panel of local business owners to discuss the secrets of the trade.
Delaney Reh, Photo Editor
Hang on for a minute...we're trying to find some more stories you might like.
Patchogue-Medford's Corporate Raiders Internship Program hosted Patchogues Young Professionals for a conference to share career advice and the opportunities within our community. Different local entrepreneurs told their story about their career journeys and held a Q & A panel. The Young Professionals objective was to excite and inspire students to pursue future endeavors.
The first speaker was Stephen King (no, not that Stephen King) from Realty Connect USA who is the third most profitable real estate agent in Patchogue. To begin, Stephen took an alternate route when it came to life after graduation and decided to self-educate instead of taking the traditional college path. He followed his passion by investing in real estate at the age of twenty-two and getting his real estate license. His biggest point was how "Your life starts after high school" and that you should always pursue your passions.
Rob Cutrone, owner of Bean of Patchogue, East End Coffee Roaster, and Press Play Events has been awarded by Long Island's 30 under 30 and acknowledged by Forbes magazine.
Michelle Kelly was also in attendance and shared the story of her path to opening the French bakery in the Village, Mademoiselle's. It took her many different tries to realize what she wanted to do – going back and forth between education and culinary. She eventually realized she wanted to communicate with people, while being able to work with her hands. This led her to open up her bakery in Patchogue, focusing on delicious gluten-free treats.
Benny Migs from Benny Migs Photos talked about his career in photography. He first discovered his love for the art when developing skate pictures in a darkroom during high school and now owns a successful photography and video production studio.
After that, Bob Smith spoke from S-Squared 3D Printer, INC. He is a retired auto body shop owner, who along side his partner, uses cutting edge technology that prints a three dimensional three bedroom/one bath model home in as little as seventy-two hours.
The final speaker was David Kennedy, Greater Patchogue Chamber of Commerce. In the words of David, he is a "local guy who is still a local guy." He started his career working in local political campaigns and even winning a few for himself. However, he missed his hometown of Patchogue and now works bettering local businesses and the village.
During the Q & A portion, they wrapped the panel up by giving some business and life advice. This included the importance of networking, travel, saving money and, educating yourself on your interest and passion.
The Young Professionals announced they  will be hosting a "Shark Tank" at Patchogue-Medford High School on February 25th with a grand prize of five-hundred dollars. Students must summit and present an idea for a product in front of a panel of judges with a business plan and visual aids to support it.
About the Contributors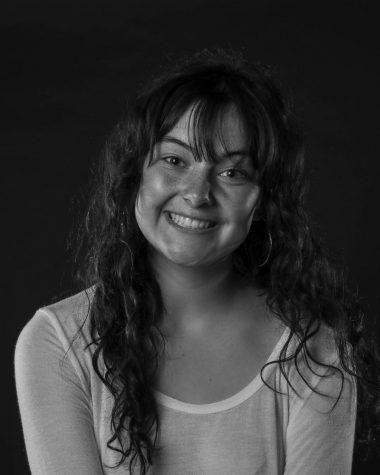 Delaney Reh, Editor in chief
Delaney is a senior at PMHS and it is her third year on The Red and Black. She is the Editor in Chief and in the past has held the title of Photo Editor....