The Backlash Facing YouTube Rewind 2018
Loyal fans disappointed with this year's look back.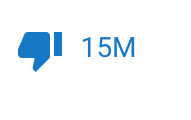 Hang on for a minute...we're trying to find some more stories you might like.
In a world more and more guided by internet culture and YouTube stars, YouTube had a lot of iconic moments this year. The tradition is for the platform to compile some of the most popular videos of the year into one, YouTube Rewind. This year however, the video has faced major backlash from viewers and creators alike. As the dust settles in the controversy that surrounded YouTube Rewind 2018, some loyal YouTube fans wanted to share their opinions. They were unanimous.
Gabby Pegg, 11th grade, said this about the video "YouTube Rewind really demonstrated how disconnected YouTube is with their audience.  This year's video was not the nostalgic piece of art that it used to be in past years.  There was no intimacy between the creators of Rewind and their audience–It felt like the creators crammed in a bunch of random fads from 2018 and presented them as a loosely-bound, distant video."
Gabby wasn't the only one who felt that the video wasn't an accurate representation of 2018's events.
10th grader Jeffery Tejada said "YouTube Rewind is supposed to be about 2018's events and trends but if you watch the video… it's mostly Fortnite…they were missing a bunch of stuff and some of the best things that were originally in the video were cut out so that it would be more advertiser friendly."
It seems like the overall dissatisfaction with the video came from a lack of nostalgia.
As Canan Bedemci, 9th grade said "Well to quote them they said 'let's give the people what they want', I think I can say for a lot of people this year's Rewind was not what we wanted. I personally thought there should've been some more tributes to actors and to people who give us nostalgia. They also completely disregard that there were many different problems in 2018 whether it was YouTube related or life related."
Despite YouTube's growing popularity overall, people are steadfast in their dislike of YouTube Rewind 2018. Speaking of dislike, approximately 15 million people have pressed the thumbs down button on 2018's YouTube Rewind, compared to 2.4 million thumbs up, this ratio is pretty bleak.