Should Pat – Med Have a Mascot?
Could our very own mascot add to the spirit of the game?
Hang on for a minute...we're trying to find some more stories you might like.
I would bet a lot of money that at least 90% of kids who grew up on Long Island have taken pictures with QuackerJack, the LI Ducks' mascot. After running up and down the field getting everyone in the stands excited, he takes photos with fans which promotes the team on social media, holds contests on the field which get the crowd laughing, and displays a perfect example of the team's pride and excitement.
Other famous mascots include Mr. Met for the New York Mets, The Raptor for the Toronto Raptors, Big Red for the St. Louis Cardinals, and Benny the Bull for the Chicago Bulls. Teams started using mascots as good luck charms, but now all of these characters are heavily a part of the experience at sports games. Many high schools also now have mascots to get the crowd excited at games and pep rallies or school functions. Should PMHS join in on the fun?
"
"There is something about mascots that makes people very prideful""
Just imagine Raider Bowl this past year. Think of how intense and energized it was. Think of the students chanting for their class and cheering everyone on. Now, imagine we also had a mascot there. That energy would multiply.
There is something about mascots that makes people very prideful. It probably has something to do with the fierceness or strength of the mascot. Students would get excited and cheer on our Raiders with much more enthusiasm.
Mascots also give teams the opportunity to become more well known. Everyone knows Flo from Progressive. She has over four million fans, on Facebook alone now. This figure helped shape the Progressive brand and give it personality. Her posters are hanging up around the insurance offices and people know her face from the commercials, she's probably been asked for thousands of pictures and autographs. She became the face of Progressive. Flo grew the popularity of the brand overnight, which is exactly what happens when you choose a good mascot.
Just like how fans take pictures with QuackerJack from the Ducks or Flo from Progressive, students would love to be able to post cool pictures from Pat-Med football or lacrosse games. Posting those pictures would definitely get our Patchogue – Medford athletes the attention they deserve.
Last but not least, a mascot would make the Patchogue-Medford community more united. Mascots are fun for any age and bringing a variety of ages to sports games and school events is always a good thing. Families might come together to events rather than sending just their high school student. The field in the back of our school should be a place where neighbors come together and families get excited to support each other. Having a mascot makes the Raider community a family community and I couldn't think of a better way to do that.

About the Contributor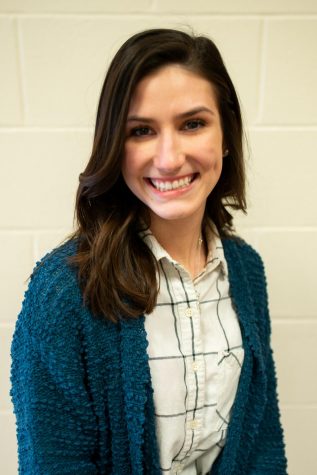 Sarah Bacon, Editor in chief
Grade 12

"Life isn't about getting and having, it's about giving and being." -Kevin Kruse