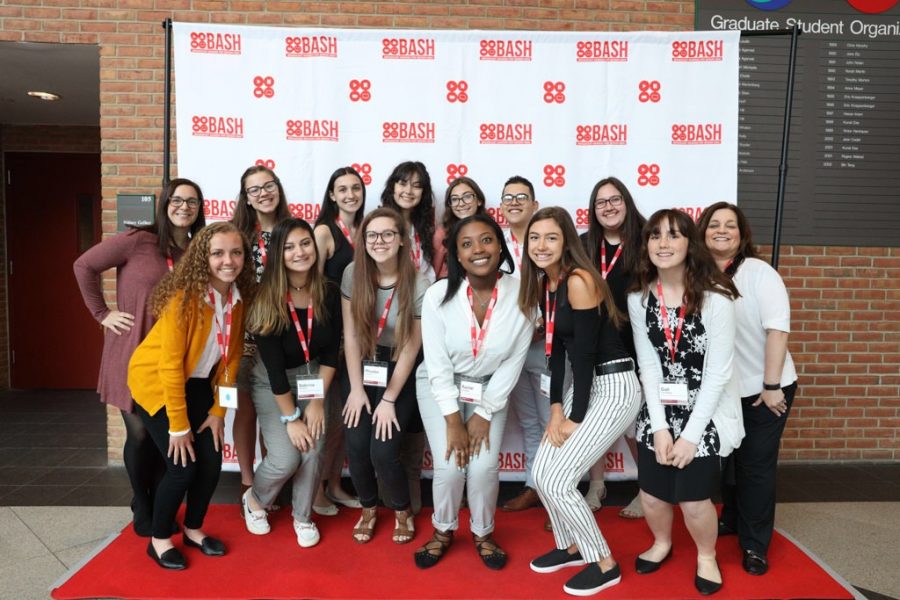 Southold High School's SOHO TV hosted the third annual BASH awards on May third at Stony Brook University's School of Journalism. The award ceremony is held to honor the best of Long Island high school tv broadcast and video production.
The event was sponsored by Newsday. "Newsday is thrilled to play a role in honoring this talented group of aspiring broadcast journalists," said Debby Krenek, Newsday publisher.
Twenty different schools came to attend the award ceremony and workshops. Raider TV was fortunate enough to be one of the schools attending and brought along Co-Anchors Andrés Rendon and Nicolette Savattere; video editor Phoebe Lawson; and field reporters Jenna Potter, Rachel Edwards, Gail Comiskey, Isabella Scuteri, Gianna Gordon, Isabelle Palladio, Olivia Thorgerson, Sabrina Guarino and me, Delaney Reh.  
The event started off with an opening speech from keynote speaker, Nicole Young; she is a producer for the legendary 60 minutes and a senior producer at CBS Evening News. With her thirteen News and Documentary Emmy awards and her more than impressive resume, she gave a speech about her career journey and how success only happens with hard work. Her goal for working in the journalism field is to "give a voice to the voiceless."
"Once you put ambition into motion, you need to keep it going. Never let a door close once it's open for you" Nicole Young.
After, the opening speeches the students were dismissed to breakout sessions. Students had a choice of six different session with different speakers who are very successful in different aspects of the broadcast field; I was lucky enough to go to a session held by Tania Rashid.
Tania Rashid is a Special Correspondent for PBS Newshour and News Correspondent for VICE. She was born in Saudi Arabia, raised in Bangladesh, and then moved to Utah as a teenager. Her session was on finding your voice and how she uses her past to help others in the work she does today as a reporter. She covers many different topics involving human rights violations in South Asia such as child marriage, human trafficking and female rights.
The panel of judges for BASH included Pei-Sze Cheng, Randee Daddona, Rob Hoell, Rick Ricioppo, and Jamie Stuart.
Raider TV won third place in Community News and Best Broadcast.
"Winning third place for best broadcast was super validating in the sense of the amount of work  and time not only I as the editor puts into the episodes but the field reporters and the anchors as well. It's just is so incredible and I'm just so proud of what we accomplished" said Phoebe Lawson.
The day was a great success for the Raider TV crew and it was so wonderful to learn from inspiring journalists who have so much knowledge to share about the broadcast field and their experiences.