Trick or Treat Street
Another option for trick or treating.
Halloween can be a ton of fun, and Patchogue-Medford's Trick or Treat Street was an awesome way for kids to get dressed up and participate in Halloween activities in a safe way.
The event included games, sing-alongs, face painting, dance parties, and of course, lots of candy. Kids of all ages came out for a night of Halloween fun.
Mary Muller, mother of two trick or treaters said, "We spend all the money on their costumes but usually they only get to wear it once. It's also great practice for Halloween."
The mother of two children dressed as Donkey Kong and a Witch said, "So much fun!! They love the spiderwebs."
The decorations at the event were spectacular.
Fourth graders Mia and Taylor, who were dressed as a Scarecrow and a Nerd said, "Trick or treating is a lot of fun, I wish we could do it more!"
There were several games set up throughout the event, one being manned by twelfth graders Johnson Chan, Gabe Rios, Luke Gruber, Joseph Flanagan, and tenth grader Gavin Rios. Their game was shaped like a monster, and kids tried to throw tiny pumpkins into the monster's mouth. Everyone got candy in the end and all the kids who played seemed to have a blast.
The event was made possible by student volunteers from various clubs.
Senior Sarah Emr, who was handing out candy, said "There are so many cute kids here!"
Ellie Hart who was taking pictures for the French Honor Society said, "Trick or treat street is such a great way to come together in a way that the whole community enjoys!"
The event was full of awesome costumes. It seemed like the most popular costume of the year might be Elsa from the movie Frozen, but a number of people in inflatable dinosaur suits were also present.
A group of sophomores from the high school came out to show off their amazing costumes. Charolette Rooney was dressed as Spider Girl, Gail Comiskey was dressed as Gorgie from IT, Katereena Foltmann was dressed as Robin from Stranger Things, and Jack Schaffer was dressed as Hellraiser.
When asked if they were having fun, Gail said "It's a blast."
Katerena said "The treats are great!"
Trick or Treat Street was definitely a huge success. Hopefully this event will continue for many more Halloweens.
About the Contributor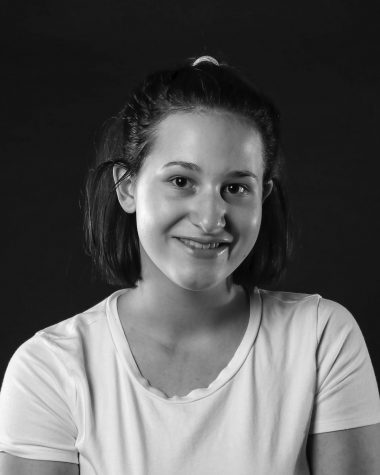 Esmé Warmuth, Section Editor for