Are YOU Bilingual?
I have been exposed to new, exciting and peculiar Hispanic cultures, languages and traditions ever since I could remember. My mom grew up to become a secondary education high school Spanish teacher, and she would always speak to my brother and I as we got older and more efficient in the language. I caught on very quickly and, still to this day, I wonder why I have grown to love it so much.
As a senior here at PMHS with a plan to continue my love of learning this language as a minor in Spanish and Linguistics, I have a lot to say about the importance of Hispanic culture. Learning a language is truly an art form.
Being more than proficient in the Spanish language, I can truly say that being quasi bilingual is a fascinating experience for any culture or country, not just Hispanic.
Knowing another language has opened up the door to let me communicate with someone on a more advanced level for both myself and the native speaking conversation partner.
Being in a doctor's office, a grocery store, or even sometimes in school with a native Spanish-speaker has led me to be able to communicate with them when people who only speak one language cannot. This has given me a challenge to speak and understand, while closely listening to the other person, which in English I admittedly often do not do.
I realize now that learning Spanish easily and with a strong passion came mostly from the teachings of my mom, and a lot from my experiences this year in my AP Spanish class with Mr. James Browning. I have learned how to switch languages at a moment's notice while being able to understand what I am saying and thinking simultaneously.
My mom, Tara Ann Yoches, a Spanish teacher at Shoreham-Wading River School District says that, "learning another language has given me the opportunity to connect with humanity by using words, and a dual, genuine feeling behind what I am saying."
It is certainly not easy to continue learning this language, but I know that continuously working towards a greater goal, just like anything in life, will lead me to make a greater connection to our melting pot of America, and the ever-growing Hispanic community that make Patchogue-Medford such a special place to be.
About the Contributor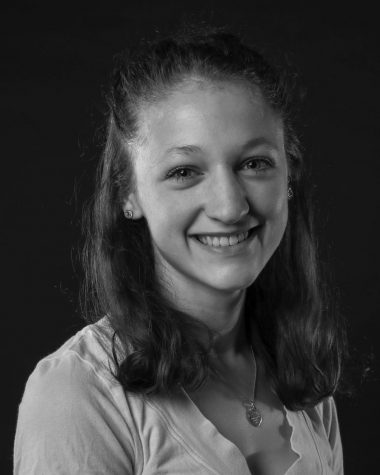 Abigail Yoches, Staff Writer
Abby is a senior and this is her first year with The Red and Black newspaper.  In her free time she likes to go into the city and see Broadway musicals...her...