Is Anyone Really Pro Golden Globes?
If so, they're few and far between. BEST OF SNO 2017
The Golden Globes, everyone's second least favorite film awards show, just announced their nominations, so now I'll tell you about them. I hate this sort of thing, but even I have to admit that I'm eagerly looking forward to who wins such coveted awards as Best Awkward Harvey Weinstein Joke, Best Performance by Meryl Streep in a Motion Picture, Best White Male Director, Best Self Congratulatory Speech, Best Award Baiting Biopic, Best Performance That Consists Entirely Of Yelling and of course, Least Deserving Picture, which I hear is being renamed Best Picture this year. God, wouldn't the Lumières be proud? Here's where I'd like to end it, and give absolutely no attention to these awful awards, but okay, I'll go a little more in depth.
First up, the category which to most people is the only one that matters: Best Picture. Now in case you don't pay any attention to the Golden Globes, which is the best thing to do really, they do a thing where Best Picture and the acting awards are split up into two categories, Drama and Comedy/Musical. All this means is double the awards, double the speeches, double the length, and double the smugness. Nominated for the Drama category are: Call Me By Your Name, Dunkirk, Three Billboards Outside Ebbing, Missouri, The Shape of Water, and The Post. Some things to note, The Post, directed by Steven Spielberg and starring Tom Hanks and Meryl Streep, is the very first movie to be nominated for Best Picture before being viewed by anyone, or even finished. Speaking of unfinished films, Three Billboards didn't even make it to a second draft before being filmed. The missing third of the script? Filled in with Peter Dinklage dwarf jokes. And Dunkirk, that one didn't even have a script. Or characters. Or much of anything worth caring about. Don't have anything to say about the others, so I'll move onto the nominees for the Comedy/Musical category.
Nominated for Best Picture in this category is Lady Bird, I, Tonya, The Greatest Showman, The Disaster Artist, and, you guessed it, Get Out. Not sure why Three Billboards isn't nominated in this category, since it's billed as a black comedy. Maybe it's because it's not funny. I'd put my money on Ladybird winning here. It's safe, it's competent, really that's all they want in a movie. No one cares about The Greatest Showman or I, Tonya, so those don't have a chance in this popularity contest. The Disaster Artist winning could possibly lead to a speech from Tommy Wiseau, so I'm rooting for that one, even though I had my issues with the movie itself. Now, Get Out is actually the best nominee here, but I don't think that has a chance in hell at winning, for a number of reasons, and why's it nominated as a comedy anyway? It's funny, sure, but is that what qualifies a movie as a comedy?
Whatever, onto Best Director. We've got Ridley Scott, Steven Spielberg, Guillermo del Toro, Martin McDonagh, and Christopher Nolan up for this one. Ridley Scott has been subpar for the last 35 years so he's out. Martin McDonagh I've complained about enough so I'll leave him alone now. I haven't seen The Shape of Water yet, but I wouldn't put any money on del Toro winning, seeing as genre films tend to not get much love in this sort of thing. Spielberg is there just for being Spielberg, I don't think he's really in the running. So that leaves Nolan. Even if you don't take everyone else out of the equation, I'd still bet on Nolan winning, not because of the quality of his movie, but because of the Scorsese effect. When Scorsese won Best Director at the Academy Awards for The Departed, they didn't say it, but it wasn't really for The Departed. It was for all the times he got robbed in the past. I'm thinking the same thing is going to happen here, but with one big difference. When Scorsese got robbed, it was for films like Taxi Driver and Goodfellas. What has Nolan gotten "robbed" for? Inception? Interstellar? The only one you can maybe make a case for is Memento a much worthier winner than Gladiator, but it's nowhere near Raging Bull being defeated by ORDINARY PEOPLE. What I'm asking here is if Nolan has had a great enough career to warrant this, essentially a lifetime achievement award. Well, no, I don't think he has and he's still got a long career ahead of him. So, why now? Because all that really matters is popularity. Nolan is the popular choice here, so he's got this, regardless of Dunkirk's actual quality, though I will admit it was mostly visually stunning and should win all the technical awards.
The technical awards are usually the only ones with any sort of credibility, but I'm not going to talk about those because apparently the Golden Globes don't do those. I only just found out. Oh, also I forgot to mention that everyone there is drunk the whole time, which makes the viewing experience a slightly more tolerable one than the Academy Awards because sometimes fun stuff happens and it's generally a little less self righteous. That's really all I've got to say about the Golden Globes, I'll leave you with this. Please, please, please don't watch them. You probably won't because they're just a second rate version of the Oscars, which is like saying that one trash can on fire is smaller than another trash can on fire, but if you're considering it, just change the channel, it's that simple. You'll be saving your time as well as your soul.
View Comments (2)
About the Contributor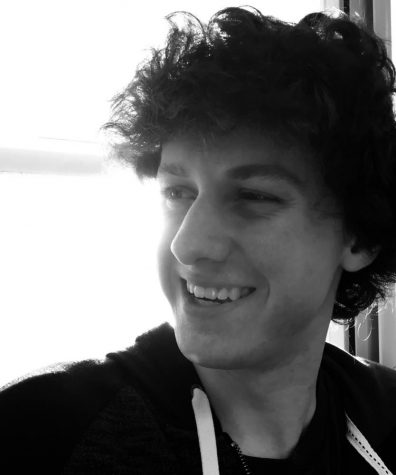 Daniel Roeder, Movie Critic