HOMECOMING 2019: A Time for School Spirit
October 24, 2019
A PMHS Tradition
Everyone in our town knows, "Nobody does homecoming like Pat Med". It's Patchogue Medford's best time of year; where the community is brought together and class pride is high.
Pat Med was one of the four schools who won the School Spirit Showdown. We have our own segment on News 12, where the school will show off our homecoming and student government clubs. 
What really sets our homecoming apart from all other towns is the healthy competition between the grades. Each year our school picks a new theme for the grades to base their skits, floats and class shirts for our annual battle of the classes. 
This year's theme was classic Disney movies! The freshman picked 101 Dalmatian, the sophomores picked Pinocchio, the Juniors picked Peter Pan, and the seniors picked Alice in Wonderland. 
Homecoming is not even close to a one day event, it starts months in advance with planning and Raiderbowl. However, people really start getting hyped up the Monday following up to the big game because it marks the first night of float site and usually spirit week, however this year it landed on a Tuesday due to having Monday off for Columbus Day.
Spirit Week in the Halls of PMHS
Spirit week is such an important tradition because it gives you the opportunity to display your school spirit and dress in ways one normally wouldn't. This year's themes were more unconventional with Tuesday being "Trend Day", Wednesday was "Yeehaw Day," where you got to your best flannels and boots. Thursday was "Disney Day" and Friday was the day to wear your class shirts. 
"Yeehaw Day was funny because everyone was walking around in cowboy hats," said freshman, Amanda Albrecht. 
My personal favorite was "Trend Day" because it allowed many kids to dress with trends from our decade. The hallways were filled with VSCO girls and e-boys/girls.
Float Week Energy
Float week is always the most chaotic time for each grade's class between the late nights and the stress of trying to get so much done in so little time. It's always a mixture of intensity and excitement in between balling and fluffing tissue paper. However, this year the normal excitement only grew when an unexpected twist happened at float site. 
Mother Nature wasn't on the seniors' side Wednesday night when heavy rains caused some unusual issues. At the seniors' float site, there was a power outage and kids had to work in the dark with the flashlights from their phones. 
"The blackout was very ironic because one thing  has to go wrong each year," said senior, Jessica. 
Float site really allows you to meet new people in your grade and for everyone to come together and work hard on something creative. On the last night of float site, class advisors and students stay as late as they have to until the float is completely done. This year the latest class stayed until it was 3:30 in the morning, just to get back up at six in the morning to prepare for the parade. 
When Homecoming day finally comes it always starts off in the early morning with a parade in the town of Patchogue. Luckily, we were blessed with a beautiful day that wasn't too chilly. 
 After all of the chaos during the week leading up, students get to finally see their hard work and dedication pay off when their floats go down Main Street. The floats are always almost unrealistically good, it's hard to believe that just a bunch of kids make them (with the help of some very dedicated parents and teachers, of course).
"The floats were absolutely magnificent," said one spectator. 
All the grades deserve a round of applause for their hard work. The freshman float held its own by having all the dogs from the movie sitting and even had a few moving components. The sophomores, juniors, and seniors knocked it out of the park; all floats were on theme and had a lot of intricate and creative details.
Time to Hit the Stage
After the parade is over, I'd say the most anticipated day of the homecoming starts: skits. Each grade makes a short skit to celebrate Homecoming which stick to the theme (Classic Disney) and includes some of the most talented students from each grade level. Usually the skits all have the same message: how the homecoming season gives students a better sense of community. 
The auditorium was packed with people ready to watch the four skits. This year everyone shined bright, although it seems like sophomores and seniors got the loudest applause. 
Between the creative plot of becoming a "real Raider" with Pinocchio and finding yourself in Wonderland, these mini productions left the crowd speechless. The seniors had such an adorable slideshow set to Good Old Days that left many in nostalgic, bittersweet tears.  
"It's interesting to see the different stages each grades are in and how they all mature each year. The freshman skit always is focused on more fun but the senior skit are more focused about realization. It's my definitely my favorite part of homecoming!" said one spectator.
Let the (Football) Game Begin!
The football game didn't go as planned with a loss against Riverhead. The score was a tight 21-28 but no one was  disappointed because they knew how hard the team worked out there.
 The atmosphere was explosive with the crowd chanting and everyone wearing school colors. The cheerleaders were doing their routines throughout the game and the stadium was packed. 
 Senior, Chris Isselbacher commented on how it feels to be play in his last homecoming game. "It was really emotional, I never thought it would come this quickly and I'm proud to have played it with my team. They are all talented and I can call them my family. I wish this season wouldn't end."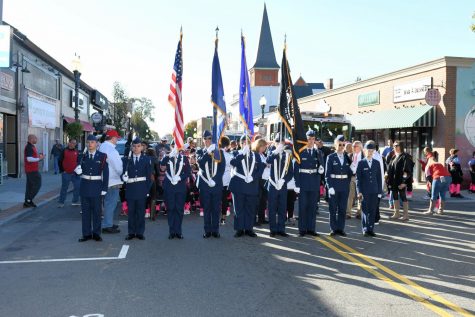 The Results Are In…
Senior class placed first in everything but class shirts. Overall seniors won first, sophomores earned second, juniors placed third, and freshman received forth. Congrats to class of 2020 for having such a successful day and to ALL classes for their hard work and dedication.
 Another one of Patchogue Medford traditions is homecoming courts and this year a great group of students were chosen by teachers to be nominated. Then, the student body has an opportunity to vote who they think are most deserving of the homecoming title for their grade. The nominees walk out at halftime and the winners get crowned in front of the bleachers.
This year's Lord and Lady are Colin Dolan and Paige Driscoll, the Duke and Duchess are Ryan and Ava Saper, and the Prince and Princess are Alex Albert and Ava Kremer. Finally, homecoming queen is Sarah Emr who has won the homecoming title for the class of 2020 for the past 4 years and homecoming King was P.J. Osheske who has won the title for three years. 
Sarah Emr, Homecoming Queen said, "It's truly an honor and I've come full circle. I always thought it would just keep going but sadly this is the end," and Homecoming King, P.J. Osheske said "Float week is one of the most intense weeks of the year but over the last 4 years I've been able to meet people and become friends with people I'd never be friends with." 
My greatest advice to anyone who goes to Pat Med is to get involved in homecoming. As cheesy and cliche as it is, there really isn't anything else like it. I can look back on all my years in homecoming and be able to see how much I've changed throughout them; I still get teased about my embarrassing part in the freshman skit. It's sad to think this is the last time my classmates and I will ever get to be apart of something like this. For one week, the most stressful thing going on in our lives is trying to get first place in our towns spirit competition. Cherish it now because nothing will be this simple and sweet after high school. 
Homecoming Results
 Bulletin Board
4th place- Juniors 
3rd place- Freshman
2nd place- Sophomores 
1st place- Seniors
 Class shirts 
4th place- Freshman
3rd place- Sophomores 
2nd place- Seniors 
1st place- Juniors 
Skit 
4th place- Freshman
3rd place- Sophomores 
2nd place- Juniors
1st place- Seniors 
Bulletin Board
4th place- Juniors 
3rd place- Freshman
2nd place- Sophomores 
1st place- Seniors 
Overall winners
4th place- Freshman
3rd place- Juniors
2nd place- Sophomores 
1st place- Seniors