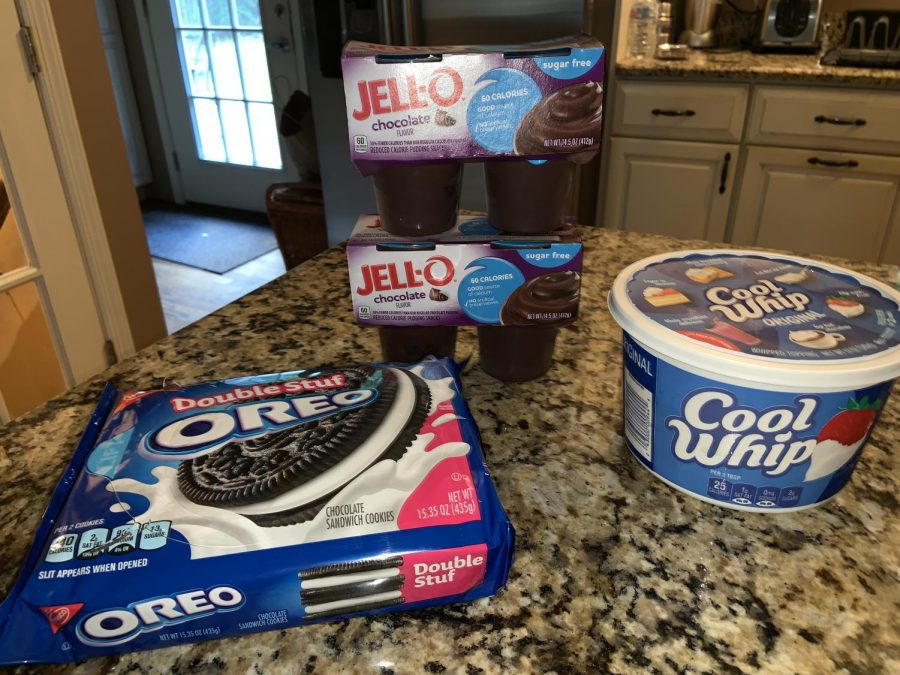 Photo by Delaney Reh
Dirt Pudding
The perfect spooky (or anytime) snack for fall.
Have a Halloween party coming up and don't know what to make? Well The Red and Black has you covered for the perfect dessert to bring and it's dirt pudding! Everybody's favorite childhood snack is an easy and delicious spooky treat to make this season. 
It's a good treat for any age, no one can resist this chocolate Oreo heaven! It's even good for someone with a sense of humor because there are edible worms in dirt. 
Ingredients 
2 packets of 14.5 OZ Jell-O pudding 
1 container of 16 OZ Cool Whip 
1 packet of 15.35 OZ double stuffed Oreos 
1 packet of Gummy worms 
Preparation Time 
15 minutes 
Ready In
30 minutes 
Step One: 
Take two rows of the Oreos and place them into a bowl and crush them, try and crush them into the smallest pieces possible. 
Step Two:
Dump all the Cool Whip and pudding into the same bowl as the two rows of crushed Oreos. 
Step Three:
Mix all three of these ingredients together to get a constant texture. 
Step Four: 
Place the mixture into a bowl, if serving to a group, or a mason jar, if serving individually. 
Step Five: 
Take the third row of Oreos that are left over and crush those as much as possible. Sprinkle the Oreo crumbs on top of the mixture. 
Step Six (optional): 
Put gummy worms on top to add a quirky fun touch to the dessert. 
Step Seven: 
Place the dirt pudding into the fridge and let it sit for a half hour. 
When done completing the steps you will have a yummy classic treat ready for you and your friends. If you try out this recipe, make sure to send a picture to our Instagram @pmhsredandblack.