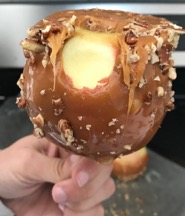 Photo by Michael Adams
Candy Apples
In the dread of winter, we may sometimes need a little pick-me-up. Spending some time with creative foods can provide that. Something quick and fun? Candy Apples. Here, I will show you how to create your own in the comfort of your own home! Here's what you'll need.
Ingredients:  
5 apples
11 ounce bag of caramel
2 tablespoons of water
a metal pan
5 wooden sticks
Process:
Step 1: Wash and dry the apples. Take the sticks and push them into the top of the apples.
Step 2: Take the caramel blocks, along with the two tablespoons of water and mix and melt them into a pan on stovetop at low temperature.
Step 3: Continue stirring until caramel melts. Once it becomes a nice, sticky liquid, take an apple and submerge it into the caramel. 
Step 4: Completely cover the apple in caramel and then transfer the apple onto a tray covered with wax paper to prevent any sticking.
Step 5: Immediately cover your apples with any toppings of your choice (ex: pecans, M&Ms, coconut, etc.).
Step 6: Take the apples and  place them into the refrigerator for 60 minutes. This will help the caramel on the apples solidify.
Step 7: Once the caramel is finished solidifying, enjoy!
Serving size: One apple.
Calorie Count: 305 Calories (without toppings).
Time to make: 1 hour and 15 minutes.