The Dreadful Match
Should athletes have to surrender their identity to comply with sport regulations?
Hang on for a minute...we're trying to find some more stories you might like.
Wrestling is a combat sport designed to create a physical competition between two partners who attempt to gain and maintain a superior position. In general, when securing a superiority over your opponent, you also secure immense power over that person, power to diminish their dignity, making them feel inferior. When preparing to wrestle on December 19th at his New Jersey high school, 16-year-old African-American, Andrew Johnson, set out to gain superiority over his opponent but was instead made inferior to all that surrounded him.
It is a universal rule in wrestling that long hair is strictly prohibited unless covered by the proper headgear, which remains unknown whether Johnson had it when it came time for him to wrestle. Upon noticing his hairstyle, which happened to be an ethnic hairstyle called "dreadlocks" but are most commonly referred to as dreads, the referee for the match, Alan Maloney, immediately gave Johnson an ultimatum; either cut his hair or forfeit the match.
In front of an entire crowd of friends and family, as well as his teammates and coaches, Johnson chose to cut his hair in order to wrestle. It is alleged that Johnson was visibly shaking as one of the trainers cut off his hair, a piece of his identity, just so he could compete. There is immense outrage regarding whether this event was justified, racist, or simply handled incorrectly as the referee was complying with the rules for the sport but humiliated a teenage boy in the process.
There is no one party that is at fault for this event as everyone involved played a role in how Johnson was treated. The referee is greatly at fault as he was late to weigh-ins, a time when referees are allowed to inspect all wrestlers to insure they are properly equipped to wrestle. Since Maloney was not present in the locker room for weigh-ins, where Johnson could have cut his hair in private, he decided to force Johnson to make his decision in front of everyone, right before his match.
However, Johnson's coaches and teammates are also at fault as they did not fight hard enough against the referee. Although the coaches argued the referee's decision for several minutes until the referee started the injury time clock, there should have been a stronger effort from more people to defend Johnson. In videos documenting Johnson's haircut you can see his teammates giving him a handshake or a pat on the back, but you do not see anyone trying to stop it from happening.
Only having this information, most people would deny that Maloney gave Johnson this ultimatum because he is racist but rather because he was just doing his job and following the rules. Some are even defending the referee by pointing out that Johnson had a choice whether to cut his hair or not and since he was not forced, he has to live with his decision. However, with further investigation, it has been discovered that Maloney, who is white, has been involved in previous racist incidents. In 2016, he used a racial slur in an argument after many of the officials gathered following a youth tournament in Wildwood. Another official, who was black, then slammed Maloney to the ground over the remark.
Despite adversity and public humiliation, Andrew Johnson went on to defeat his opponent, although he was noticeably upset after the match. Throughout all of this, Johnson maintained his composure as he refrained from arguing with the referee and chose to cut his hair after realizing that the situation was beginning to escalate. It is truly disheartening to see a young black man have to surrender his identity in order to participate in a high school sporting event.

About the Contributors
Rachel Edwards, Assistant Editor
Grade 12

"Be good to people without reason."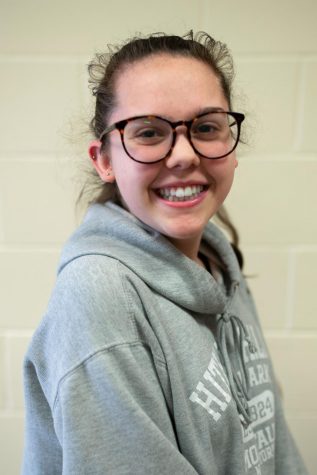 Phoebe Lawson, Staff Writer and RTV editor
Grade 11

"Do you own bit of saving, and if you drown, at least die knowing you were headed for shore."