October is National Principals' Month
Highlighting our Principal Dr. Randy Rusielewicz at PMHS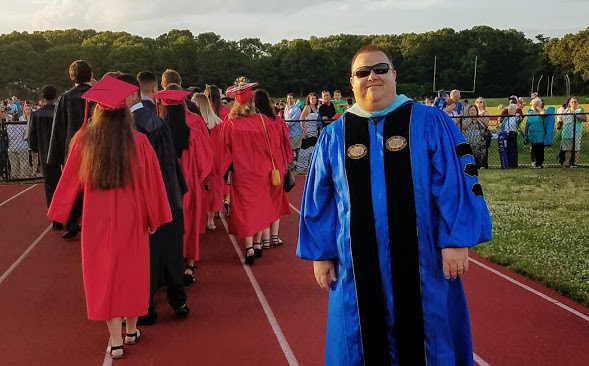 October is National Principals' Month and honoring your principal and all of the hard work they do throughout the year should be on your "to-do list" this month.
Dr. Randy Rusielewicz, our principal at Patchogue-Medford High School, has been here for seventeen years. Throughout the course of his time at this school, a lot has changed: the addition of new classes, and also more clubs and academic opportunities. With the help of Dr. R, changes were made that improved the overall structure and school here at Patchogue-Medford High School.
"It [being principal] is a big task and a challenge everyday but it is one of those positions where if you don't love it then you can get really bogged down with everything that has to get done," said Dr. R, Principal at Patchogue-Medford High School. "But if you love your job like I do, I think the payoff is when you implement new things. That makes it all worthwhile."
Bringing our school up to its full potential is always on Dr. R's mind; however, coming up with ideas and clubs to add within our school can not be done alone. To assist Dr. R with ideas is a council of students that he meets with frequently.
"Every time I'm with Dr. R, he talks about bettering the school or creating something to make things better for the students," said Peter Knopp, a senior on Dr. R's student council.
Anything and everything these student council members would like to see implemented in our school are discussed at these meetings. Dr. R always listens and does the best he can with regard to these ideas.
"I've always found that working with Dr. R has been laid back and productive, which I appreciate since sometimes I come at him with ideas that ask a lot," said Peter Knopp. "No matter what, it seems like he's genuinely interested in what I have to say and even bounces back with his own ideas, showing that he is actually listening and wants to help with something I feel passionate about."
In order to be a great principal, having qualities like being understanding and passionate about your work are all necessary to have. Dr. R's secretary, Mrs. Campbell, would describe him as possessing all of those traits as well as being fair, organized, and a brilliant person with a great sense of humor.
Even though he didn't grow up in the district or graduate from Patchogue-Medford, Dr. R definitely considers himself to be one with Pat-Med.
"I do everything in Patchogue-Medford," he said. "It really is a special place and I don't think it compares to anywhere else."
Always getting involved, Dr. R supports clubs, sports, students, and anything in between. He makes it a point to constantly recognize each and every student and member of the high school faculty, whether it be face-to-face directly or to a group of individuals.
"There are so many different things to be proud of with regard to the students and I want students who come here to be the best that they can be," said Dr. R.
Being involved with the faculty of the high school is also something very important to him. Constantly responding to emails and sending them to make sure the faculty and staff are always doing well. They all work closely with Dr. R to make sure the school days always run smoothly.
"Dr. Rusielewicz wears many 'hats.' Depending on the situation, we interact in different ways so the best way I can describe him is to say that he is the football coach I'd run through a brick wall for, the older brother I idolize, the boss I don't dare disappoint and the friend who makes me laugh so hard I cry," said Mr Comanzo, Assistant Principal at Patchogue-Medford High School. "He is a great mentor, leader and friend."
Be sure to say thank you to your principal this month, they do a lot behind the scenes and without their role, school would be chaotic.
With that, thank you Dr. R for supporting The Red and Black and for always striving towards creating something better for our school. We all really appreciate the hard work and effort you put into making our school a better place for all.
About the Contributor
Isabella Scuteri, Editor in chief
Isabella is a senior at Patchogue-Medford High School and fourth year journalism student . She is the Editor in Chief and helped get the newspaper off...