Yes, High School Sweethearts Are Real
A showcase of couples that dated as high school students at PMHS and are now celebrating milestones this Valentine's Day.
Some people end their high school relationships before going to college while others stay together and try long distance for some time. Those couples who stay together through the years after high school are called "high school sweethearts" and consist of only two percent of marriages in North America, statistically speaking.
There are many couples from PMHS that fall into that two percent and each pair has their own unique story.
Charlie and Cheryl Baker met in their junior & senior years (respectively) of high school on a school trip to Italy and Switzerland while on a bus from travelling from Rome to Florence.
"Our friends were trying to match people up and we ended up getting matched up. His friend wanted to sit next to my friend on the bus ride through Italy. Every time my friend woke up she was sitting next to Charlie's friend so, I ended up sitting next to Charlie," said Cheryl Baker
They kept in touch when they went away to college and ended up getting married later on in life.
"When I first saw her I thought she was cute, friendly and had a nice smile," says Charlie Baker.
By their first impressions, neither of them thought they would become high school sweethearts in the future.
"At first I didn't think anything of him but, as we spent so much time together we became friends and I thought he was cute," said Cheryl Baker.
Since 1984, Charlie and Cheryl have been together – a remarkable thirty-six years!
They have been back to Italy a few times as a memory of how they met and Charlie always talks about getting a little house there when they retire.
"We have a special love together and will always cherish the way we met and have stuck through the good and bad times together," said Cheryl Baker.
Teachers are not exempt from this concept. In fact, our very own Mrs. Erickson (a PMHS graduate) met her husband in English class. Back then she was Lynne Kawar and, according to her own account of the relationship, "He used to sit behind me in English class and pull my hair. He would write "I love Lynne" really tiny on the side blackboard. It was so funny. He also tried to get me to do his homework but, that didn't happen."
After high school graduation, John [Erickson] joined the Navy. They've been married for thirty-six years – just like Cheryl and Charlie.
Another perfect pair meeting in PMHS is Caitlin and Michael Rattien. They got married in the summer of 2019 but, their story starts way before then. In junior year, the two met in Señora Griffin's Spanish class and ended up becoming partners for a project.
They were from different crowds of people, however, their first impressions of each other quickly changed as they spent more and more time together. Michael originally thought Caitlin was older and stuck up but she was far from it. He didn't know her and quickly judged based on who she was friends with which were older girls because of the sports she played.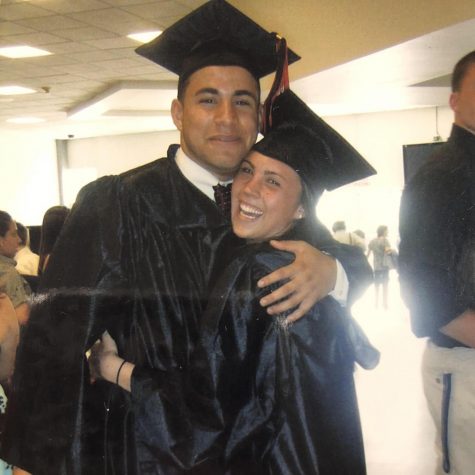 "My first impression was that he was cute but since I knew he didn't do his homework or go to class, I gave him high expectations and pretty much told him "don't let me fail" since I cared about my school work and grades," said Caitlin Rattien.
Remembering the high school days is better with a high school sweetheart because they can both recall the same memories, moments, and people. Taking a trip down memory lane can always brighten their day and reminiscing about the days when they first met can bring a couple closer together.
"One high school memory I have is attending all of Micheal's football games while wearing his jersey and cheering him on," said Caitlin Rattien. "One memory that Michael has is asking me to prom while I was in the middle of a lacrosse game. He held a sign up until I saw it and acknowledged him."
We did not think we would be high school sweethearts because we were just friends but then we got closer our senior year and the rest is history," said Caitlin Rattien.
Now newlyweds, Caitlin and Michael have been together for a little over eleven years.
High school sweethearts are said to have the strongest relationships because of how far they go back and most of the time, the pair doesn't realize they will be spending the rest of their lives together when they initially meet. Being in that two percent of people who are high school sweethearts is a rarity but if you fall in that category, consider yourself lucky to have gone through the best times of your life with the person you love the most!
Don't forget to enter this year's Pat Med's Perfect Pair contest for a chance to win a fifty dollar gift card to Toast in Patchogue. Just DM us a picture of you and your perfect pair and include a short blurb telling us why you should win! Submission deadline will close Thursday 2/13 at midnight and winners will be selected Friday during the school day.
About the Contributor
Isabella Scuteri, Editor in chief
Isabella is a senior at Patchogue-Medford High School and fourth year journalism student . She is the Editor in Chief and helped get the newspaper off...