PMHS Library Hosts the African-American Read-In
Black History Month serves as an opportunity to celebrate and elevate the contributions of African-Americans throughout history and today.
It is 2020 and Black History Month is more relevant than ever. In the tumultuous times we live in, it is important that we take the time to acknowledge the beautiful influence African- Americans have had on shaping our country. Often times much can be said by what a person chooses to remember. However, what he chooses to forget speaks more to his character. Black History Month offers us a chance to not fall into the challenge of forgetting but, to instead embrace and celebrate those who made and, continue to make history. 
On February 26th, Patchogue-Medford High school held its first African-American Read-In to celebrate cultural influence on the humanities. Mrs. Sullivan, the director of K-12 Libraries states, "African American culture is the art, literature, and music of one of the largest ethnic groups in our country. It represents the narratives of many who are a part of our society's history." 
By holding this event, Patchogue-Medford High School was able to dedicate the day to celebrate the diversity of literature. African-American Read- Ins were established by the National Council of Teachers of English to "commemorate books written by Black authors that elevate Black experiences". Along with over 6 million participants around the world, PMHS was able to explore both classic and contemporary literature, art, performance, and more by African-American authors and creators.
To better understand the significance of the event, Dr.Jones, Superintendent of the Patchogue-Medford School District, was asked why an event like this was important for our day and age. She shared, "It is often said that you won't know where you're going if you don't know where you came from.  It is so very important for students of all backgrounds to understand the rich and diverse history of the writers that have contributed to African American literature. Growing up in the midst of the Jim Crow Era, the Harlem Renaissance and the Civil Rights Movement inspired many African Americans poets, writers, and musicians to express the feelings about the hardships that they endured.  The event is relevant because diversity is what makes our experiences rich and powerful. It also helps us to understand our differences in a world where there seems to be continual strife and discord."
Moved by the significance of the event, she chose to participate by reading the poem "Phenomenal Woman" by Maya Angelou. "It is a piece that personifies the importance of having self-esteem and confidence in being your authentic self.  So often, students try to emulate others. Maya Angelou's poem speaks to being your best self and enjoying the development, not out of arrogance but confidence in who you are and what struggles she overcame" she states. 
No doubt the event was inspiring for not only those who participated but, for those in the audience as well.
Mrs. Sullivan, when asked about her thoughts of the event shares, " The students who participated in this event were amazing; many of their recitations moved the audience to tears. To be able to do something like that is empowering. It permits one to truly feel the influence of words. We were fortunate to have many faculty members and our Superintendent, Dr. Donna Jones, also share in the celebration of the literature. Events like these show us how as a community we can both inspire and lift one another up."
What about in the eyes of the students? How did they feel about such an event?
Tristan Moreau, a senior and emcee for the event was asked how it felt to be involved in the Read-In. He states, "My involvement in today's read-in felt satisfying. It was both empowering and pertinent to contribute to the first African-American Read-In. Seeing the sea of students, teachers, staff and administration, and people from all different backgrounds being open to literature was moving. Introducing the event itself and stepping in was important, and all around I believe things really resonated with students."
Not only did Tristan emcee the event but he also took the time to read "I have a Dream" by Dr. Martin Luther King Jr. For Tristan, reading this piece held emotional significance. "The words of Dr. King truly inspire individuals worldwide, and certainly influenced me throughout the years, in addition to other great civil rights activists. It's a historic piece from an unforgettable person."
It is clear that for many like Tristan, the African-American Read-In was an opportunity to open up and feel empowered. For others, like P.J. Osheske and Justin Lawerence, it was an event that helped give insight to the African-American culture. P.J., who read "Harlem" states, "I believe that the poem 'Harlem' by Langston Hughes is very impactful. It gives light or a glimpse into the culture of African Americans and how it inspires their music and poems."
Justin, with similar thoughts shares, " I read 'Amen' by James Baldwin. Reading it today and listening to others helped me to further my appreciation and better understand how African-American culture built a body of  incredible literature."
Hosting the African-American Read-In was a great way for our school to bring awareness to Black History Month and come together as a community. Not only did it empower students, but it also made many proud. Mrs. Lukemire, the high school librarian who ran the event, said, "Today's presentation was a perfect representation of some of the amazing students and teachers in our district. It made me proud to be a part of this wonderful school."
Aside from the beautiful opportunity to celebrate African-American literature, the event brings light to a common issue in schools today. When it comes to required reading in schools, you'll often see a tremendous lack of diversity. Aside from very few novels, short stories, and poems, equal representation of multi-cultural literature in schools does not speak to our current population of young readers. 
When asked how an event like this can influence a school of our size in celebration of multi-cultural literature, Dr. Jones states, "On an even greater scale, it provides an opportunity to further explore the lives of talented artists and what inspired their work."
With that in mind, Dr. Jones has released a series of podcasts with many important representatives of the African-American community include Dr. Icy Fergus, Robert Carter, Marc Morial, Arva Rice, and Mikki Taylor in celebration of Black History Month.
Holding Read Ins such as this helps to promote the recognition of writers that don't appear in the traditional canon of literature but, are no less important to shaping our country's thoughts and ideals.
It is no doubt a step towards reaching full representation of the many great thinkers and writers both past and present.
About the Writer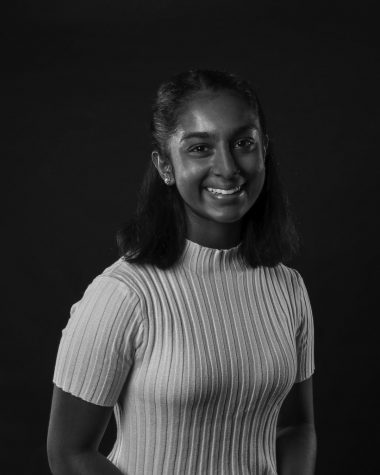 Sarah Varghese, Assistant Editor