Hamilton: From Broadway Straight to Your Living Room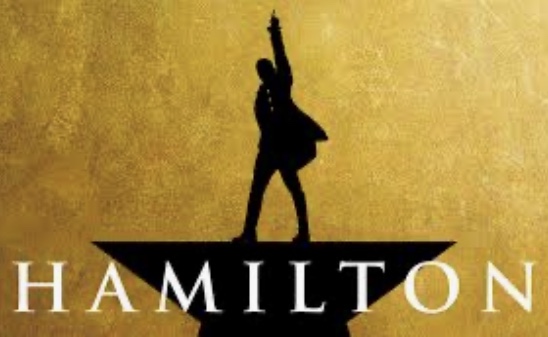 A lot of summer plans were cancelled due to the array of shutdowns caused by COVID-19. Trips, hangouts, hikes, sight-seeing all wiped from our planners as we prepared for a summer indoors. You know what was not on our planner of "things to see" this summer, that is right—the Hamilton movie. Do you know why? Because it was not set to be released until October 2021! I was all prepared to ditch whatever college plans I may have had to run to the movie theatre to watch the show that I never had the luxury of seeing live.
So, imagine the complete joy that overtook me when the creator, the writer, the legend, the genius, Lin Manuel-Miranda announced that the movie would be coming to Disney Plus in July of this year. And let us be honest we were all past patiently waiting. Amidst the darkness that this virus brought to our lives, he really showed all of us that there is a light at the end of the tunnel, or rather in true Hamilton fashion, a star.
I recently sat down again to re-watch the Broadway phenomenon and it was like watching it for the first time all over again. The same turmoil of heartbreak, ecstasy, amazement, horror, and of course, the sudden urge to break out into song and dance. Here is my take on the show…be warned this is a commentary full of spoilers so if you haven't watched the show yet or listened to the cast recording (really what is taking you so long?), listen to the soundtrack, bask in all of its glory, then come back. 
To start off…
What the show brought to the table that you cannot get from just listening to the soundtrack:
One, the outfits! By listening to the soundtrack you can tell from the content of the songs that Hamilton takes place around the era of the American Revolution and the beginning of the creation of this nation. But seeing the outfits that all the characters are in, really help to establish the time period. From the male leads like Hamilton and Lafayette appearing in buttoned waistcoats over white shirts with trousers and black knee-high boots which is known to be a trend very popular from the late eighteenth century and the early nineteenth century.
To the female leads like the Schuyler sisters appearing in satin dresses typically worn by the upper-class during this time. The choreography is another "can't miss" about seeing the live show. The ensemble really brings the heat especially during show stoppers like "My Shot" and "Yorktown (The World Turned Upside Down)" through their alteration between various dancing styles, and the agility and gracefulness of their moves.
It was so hard to keep my eyes in one place during the entire film. Also, the character switches are so much more highlighted in the film since you see the actors physically portraying someone else. One example is the switch from Mulligan, a fairly playful and outgoing character, to Madison, a composed and serious politician. While slightly disorienting at first, it really shows you how versatile these actors are and how complex the show truly is. Another thing you appreciate through the film is the symbolism of certain attributes present through the ensemble.
For instance, during Act 2, Hamilton ditches his usual outfit for a green one in ten songs which not only represents his newly acquired wealth but the fact that he is on our ten-dollar bill! Another piece of symbolism, which I recently read about before re-watching, is the existence of a supposedly minor character, "The Bullet," who actually plays a major roll in the production's turn of events in Act 2 which lead to Hamilton's untimely death. The character, usually played by someone in the ensemble, is portrayed in the film by Ariana DeBose. She is purposely shadowed, so only those who truly pay attention will see the part she plays in not only Hamilton's, but other character's deaths as well. She appears in "Aaron Burr, Sir" when Burr utters the words "fools who run their mouths off wind up dead," and she tells Philip where to find George Eacker, the man who ends up killing him in a duel, just to name  a few moments. Her continuing presence on the stage symbolizes the fact that death was always coming for Hamilton, but him and us, do not realize it until it is too late.
Moments and songs made better once seeing it live:
All of the king's songs! Jonathan Groff portrayed the proud, very deranged character so well. From his strut across the stage during the beginning of "You'll Be Back" to his light-hearted facial expressions while singing threatening messages such as "I will kill your friends and family to remind you of my love" had me hunching over in laughter. Also, all of Hamilton's soliloquies including the ones from "My Shot" and "The World Was Wide Enough" in which he talks about the looming presence of death and what it means for him and his legacy. Just being able to watch that close up as he makes direct eye-contact with the audience was so cool to see.
Through the film you are also able to get a feel of Hamilton's personality that you do not get from hearing his words alone as you do in the soundtrack. Through Lin Manuel-Miranda's actions and body language, the audience gets to see up close Hamilton's insistence, perseverance, his confidence, his intellect, and much more from seeing it live.
"Helpless" and "Satisfied" were also treats to see live. The pure innocence and longing of first love you see in Eliza's eyes, Hamilton's victory dance that I can only describe as having "jelly legs," seeing the literal rewind of events during the beginning of "Satisfied," Angelica's emotional soliloquy, and that last wanting look between Angelica and Hamilton, all so outstanding! Also, this is rarely mentioned, but why does nobody talk about Mulligan being the flower girl, because that was priceless.
In my opinion, "Dear Theodosia" is such an underrated song, and seeing it in the movie was so heartwarming. The song deals with lighter messages that are not explored very much in the entire soundtrack, setting a whole new atmosphere. We see Burr and Hamilton with genuine smiles on their faces, as they sing in softer tones unseen through the entire production.
The cabinet battles were also very amusing to watch. You really get a feel of Madison as a wingman, from catching Jefferson's mike during the mike drop and the lowly uttered "France" all to support his friend. The way that Hamilton and Jefferson taunt each other and "roast" the other is an element that can only be fully captured seeing it on screen.
Some other moments that were better to see live for me were: Anthony Ramos, a fully grown man attempting to play a nine-year old, Chris Jackson's phenomenal vocals during "One Last Time," all of the craziness surrounding "The Reynolds Pamphlet" from the papers flying everywhere to Jefferson's victory dance on the table, even all the way to the king making a surprise appearance; also seeing all the emotion Phillipa Soo brought to "Burn" sent literal chills to my spine.
Moments made a hundred times sadder once seeing it live:
First off, John Laurens' death. "Lauren's Interlude" was sadly cut from the soundtrack, but having previously listened to it on YouTube, watching it play out was gut-wrenching considering how honorable Laurens was and how his goal of the emancipation of slaves died with him, then seeing Hamilton try to mask his grief by diving in to work made it all the more heart-breaking. "Stay Alive Reprise" was also another difficult one to get through. From Philip's last breath, all down to Eliza's haunting scream made the scene bring tears to my eyes at the sheer loss and sadness that overcomes Eliza and Hamilton.
"It's Quiet Uptown" is of course going on this list, because how can you not cry during this song?! Eliza's grief-stricken face, Hamilton breaking down in to tears, the heart-wrenching lyrical content…all of it. I think we can all agree that this song warrants full on sobbing. Good thing I had tissues beside me. Hamilton's last soliloquy in "The World Was Wide Enough" where he reminisces on his legacy, his achievements, and what comes after death was also another tearjerker.
Although Hamilton's death was foreshadowed throughout the film, seen through lines like, "Are you running out of time?," seeing it is an entirely different experience. Who else screamed at their television? Just me? OK. Then after that, the sting of Burr's regret that hurts so much you cannot help but feel bad for him. I know this is not the truth for many, but like Hamilton, Burr is actually one of my favorite characters. His strive, his goals, his insecurities, his want to achieve his highest potential in my opinion makes him a very relatable character. Sure, he sucks for killing Hamilton, but his remorse and the taint it left on his legacy just makes you feel sympathy for him.
Finally, the last song "Who Lives, Who Dies, Who Tells Your Story." Eliza's arc was so beautiful, I think LMM really did her character justice. Seeing how she continued Hamilton's legacy and still managed to touch so many lives in the progress is so inspiring. I also cannot end this without including the infamous gasp at the end. I personally believe that she is seeing the world as it is now, and the realization is setting in that all of their stories have been told. Some of my friends think it is her seeing Hamilton in the afterlife. There are so many theories! What do you think it means? Comment down below.
To end, the movie was spectacular. There is no word in the English language that exists that can properly encapsulate how amazing this show is. For those of us who could not see it live for whatever reason, the movie does a phenomenal job of giving us some of that experience. I recently interviewed my friend, Kit Spielman, who was able to experience both the movie and the live production. Here are their thoughts on both adaptations:
Me: Do you believe that the movie fully compensates for not being able to see it live?
Kit: The movie definitely can't compensate for seeing Hamilton live in person. Seeing a musical in person is always such a different experience from watching it on a device,
as it takes some of that Broadway magic away.
Me: What were some things you liked better in the movie that you were not able to experience live?
Kit: I loved the different angles that were provided in the movie version of Hamilton. I especially loved the aerial view when the camera looks down onto the stage from the ceiling.
Me: What were some aspects of being able to see it live that you felt the movie could have done a better job highlighting?
Kit: I wish the movie included certain camera angles during the use of the moving floor to really showcase how much that is incorporated in telling the story and adding to the show.
Me: Lastly, what is your favorite thing about the entire musical?
Kit: My favorite thing about Hamilton is how everything from the music to what the characters are wearing has symbolism in the story. Hamilton and Burr even have different paths
of walking on stage to show how different they are.
Regardless of which way you saw it, Hamilfans can all agree on one thing and that is that the soundtrack is truly a work of art! I am not a huge rap fan myself, but I can single-handedly rap "My Shot" and "Guns and Ships." I consider that one of my greatest achievements. Anyway, comment below with your favorite songs and your favorite movie moments!
Leave a Comment