Thank You, Naya.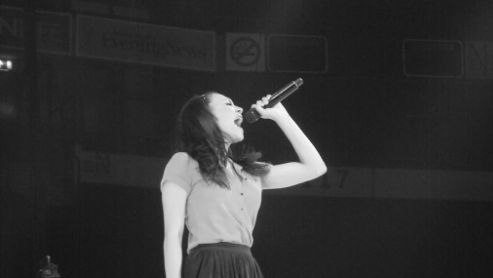 On July 8th, 2020, actress Naya Rivera tragically drowned while boating with her four-year-old son, Josey Dorsey. It was reported that the two rented the boat for the day on Lake Piru in Southern California. They decided to go for a swim when immediately Naya knew something was wrong. She realized the water was too dangerous to be swimming in, but by then it was too late. Naya gathered up all her strength and used it to push her son back onto the boat. She lacked the energy and the strength to pull herself back up causing her to drown. When she didn't return the boat at the time she was supposed to, her manager went searching for the boat, only to find her son sleeping alone. Five days later, Naya was found and pronounced dead. 
For many people, Naya Rivera was a hero. During her time on the hit Fox series Glee, she played Santana, a gay, Latina teenager from Lima, Ohio. When Glee originally aired, there was little to no representation of LGBTQ+ people on television. The show celebrated people's sexuality but, also demonstrated the hardships people face. The fear that someone will out you, the fear someone would physically hurt you, and the fear that someone could destroy your life were only a few of the problems faced by closeted teenagers in high school.
The show has several LGBTQ+ characters and, instead of just molding them into one stereotype, the writers gave each character a different experience. There were characters who were out and proud but had to deal with constant bullying. There were characters who stayed closeted because they knew they would get hurt. There were characters who attempted to kill themselves because of the pressure.There were characters who had to fight harder than others for the same acceptance as their straight peers There was no one character who had a similar story. 
For many young kids, they could watch Glee and grow up learning that who they are is okay and that you should always support others no matter how different their lives could be from yours. Naya Rivera's character Santana became a symbol of hope for many closeted kids and teenagers who needed to see someone like them on screen. Santana wasn't "media gay". She wasn't forced to become an exaggerated depiction of a gay woman when it was revealed to viewers. She was the same character with the same personality. This gave impressionable children the support they needed to know that they don't need to change who they are to fit society's norms. 
"Naya's role of Santana in Glee really defined a whole generation, in my opinion. That character helped so many lgbt+ kids because they finally saw themselves represented in television. Her impact will literally live on forever," says Phoebe Lawson, a former PMHS graduate now at SUNY Albany.
The show also dealt with the problem of support or the lack thereof from family, especially very religious households. Santana lives with her religious grandmother but when Santana comes out, she is kicked out of the house. This is an extremely real problem our country still faces today. In a 2012 study by The Williams Institute at UCLA Law, 46 percent of homeless LGBTQ youths ran away because of family rejection of their sexual orientation or gender identity; 43 percent were forced out by parents, and 32 percent faced physical, emotional or sexual abuse at home. This statistic is heartbreaking when you learn 1.6 million homeless youth live in the United States, seven percent identifying as LGBTQ+. That is 112,000 homeless children who left their homes and now have to fend for themselves.
Off screen, Naya Rivera advocated for more representation of not just LGBTQ characters but of different races andstatus. She gave people of all backgrounds to never apologize for who they are. In the rise of the BLM movement, Naya Rivera attended multiple protests advocating for change in the country. 
"
"In times like these and always we must stand up and be counted. Stand up against injustice. Prejudice. Pure evil."  "
— Naya Rivera
Santana wasn't just a representation of a member of the LGBTQ+ community, she was also a representation of the Latinx community. Throughout the show the character refers to her town of "Lima Heights Adjacent" which is a run down, dangerous community. Santana faced racist remarks on the show because of her skin color. In one episode, Santana is working as a waitress in New York City when a white woman tries to explain that her eggs are cold. She uses broken Spanish pieced together along with basic body movements like putting her hands on her arms and shaking to represent "cold" assuming Santana can't speak English. Santana responds, "I'm from Ohio". Latinx people face this problem daily and Rivera reportedly dealt with racism on the show as well from cast mate and Glee star, Lea Michele.
She went public with these allegations during the show but, was immediately attacked by Lea's fans. From then on, Naya pushed to make sure she was heard and not shoved to the back so Michele could stay in the spotlight. Rivera made it her mission to ensure the Latinx viewers knew they had a voice and that they can use it. In an article by People, a private source said the following on Naya's personality: 
"She was not selfish. She was a very strong person. I think she was ahead of her time for speaking up on certain issues. If you look back around 2011, she was on the forefront of it all. Partnering with GLAAD [Gay & Lesbian Alliance Against Defamation] and doing different things with her heritage," the source said. "Most people at the start of their careers, she didn't care if she faced backlash — she just wanted to make sure she spoke out. Some people would've hidden, but she took everything head on."
Her work on Glee and after inspired countless people to support and uplift those around you as well as to not give up on who you are. Members and allies of the LGBTQ+ community, Latinos, people of lower economic status, strong women, and anyone who has ever felt unworthy looked to Naya for inspiration and strength to keep going. I absorbed so much from Glee as a child and I didn't even realize.
When Rivera passed, I re-watched the series and saw so much of myself in Santana. Though I am neither Latina nor gay, I am determined, proud, and I stick up for myself and others whenever I need with no hesitation. She was so important to this world and an inspiration to all. Her legacy will influence generations to come and I will make sure who ever comes after me, knows who she was and what she stood for. She was a hero. Thank you, Naya.
Leave a Comment