Early Bets for Dancing with the Stars Season 29
We're Heading Back to the Ballroom!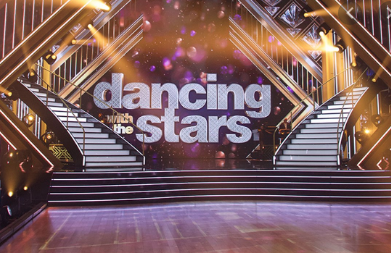 After the premiere of Season 29 aired on September 14, 2020, the internet buzzed with opinions about the Dancing With the Stars couples.  This season contains one of the most star-studded casts as compared to the recent seasons of the series.  Even better for viewers, night one, which usually provides sub-par performances, was filled with phenomenal dancing.  Some major changes also contributed to this dazzling premiere.  Tyra Banks took over for Tom Bergeron and Erin Andrews as host.  Derek Hough also replaced head judge, Len Goodman, on the judging panel.  The cast also grew to 15 members, making the dance lineup much larger.  I had high expectations for this cast once it was announced and I was not let down. After watching this amazing first episode, I have my prediction of four dancers, and their partners, who will make it the farthest in this competition
Kaitlyn Bristowe & Artem Chigvintsev (Night 1 Score- 20/30)
This Bachelorette star and former dancer dreamt of appearing on Dancing With the Stars, and she did not disappoint the audience. For her first dance, her Cha Cha to "Stupid Love" by Lady Gaga, she performed quite well.  Her stage presence and spotting (looking into the cameras) was above average, and her footwork was surprisingly clean.  The judges offer her critiques on her form, but celebrate her performance with delight.  They even mark her a real contender during her judging session.  With paddle scores of 6, 7, and 7 coming out to an impressive 20, her dancing should not cause her problems this season.  I predict she will maintain this positive streak due to her large fanbase.  She is recognized as one of the most notorious females of the Bachelor/Bachelorette franchise, and coming from an ABC program does not hurt her either.  I expect great things from Kaitlyn's dance journey!
2) Justina Machado & Sasha Farber (Night 1 Score- 21/30)
Latina power.  Period.  The actress who is currently starring in "One Day at a Time" on Netflix and Pop TV shocked fans when she was revealed in the cast.  As a personal super fan of her's, I was both thrilled for her appearance on one of my favorite competition shows and terrified that she would not perform well.  My fears were for nothing at all.  She was on fire on the dance floor, bringing the stage presence of a goddess with the energy beyond belief.  Her score, made up of all sevens, tied with Skai Jackson for the top score of the night.  This Cha-Cha to Aretha Franklin's "Respect" contained well-executed hip action with spunk and sass to spare.  As far as votes are concerned, Justina Machado is hitting a main-stream success period in her long career.  So, I feel the votes should be relatively secure for her.  If she can continue to turn out stellar performances like her first one, she will go very far.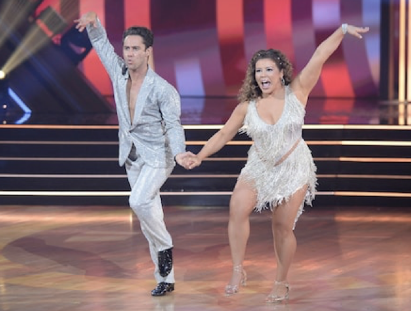 3) Johnny Weir & Britt Stewart (Night 1 Score- 18/30)
Despite falling in the middle of the pack on the first episode, olympic Figure Skater Johnny Weir has the potential to go all the way.  Hear me out: I am very familiar with this show and how progression goes during the competition.  Typically, a dancer who is not the breakout star in the beginning of the show but shows potential can rise to the mirror ball trophy.  For instance, Bachelorette Hannah Brown was relatively average throughout her season, but due to a clear growth journey towards the end of the competition, she shot up as a frontrunner, winning the trophy.  So, Johnny can definitely grow and utilize his star status in pop culture and sports to secure votes and become the winner of season 29.  Regarding his Night 1 Cha-Cha to "Buttons" by the Pussycat Dolls, it was a unique dance.  First-time pro Britt Stewart had a challenge in that Johnny is not the typical masculine man in his nature, so his dance strengths are not the norm.  She developed alluring choreography that suited Johnny well, and Johnny embodied the character of this dance.  His overall potential earn him his place on my list.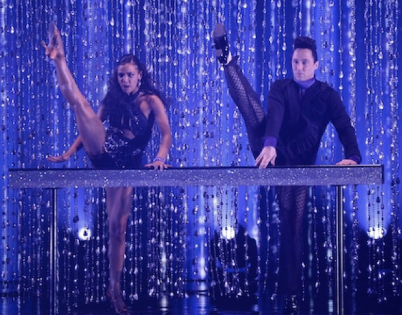 4) Nev Schulman & Jenna Johnson (Night 1 Score- 20/30)
I cried tears of joy when watching this performance.  Nev's spirit was infectious and so bright on that dance floor, and to me was the standout performance of the night.  His foxtrot to "The Way You Look Tonight" by Frank Sinatra was a refreshing change of pace on this fiery first night.  He had polished form and the judges recognized his skills as "fantastic."  I feel that his legacy as the original star and current host of Catfish: TV Show will get him a good amount of votes, but he might struggle in this department as opposed to some of the bigger stars in the cast.  Nev is probably my male celebrity favorite this season, and I cannot wait to see how he grows as a dancer.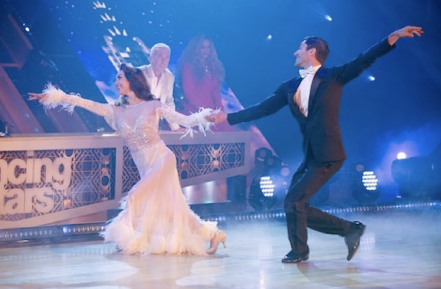 Leave a Comment