A Legal Lion's Legacy
Last Friday, Supreme Court Justice Ruth Bader Ginsburg died after a long battle with cancer.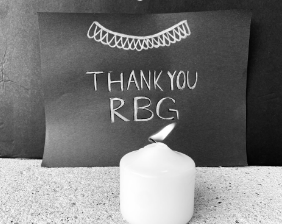 On March 15th, 1933 in Brooklyn New York, Cecelia and Nathan Bader welcomed their second daughter, Ruth Joan Bader into the world. After a life of public service she was eventually appointed associate justice of the Supreme Court under the Clinton administration, thus becoming the second female Supreme Court justice in history, and leading the way for women to this day.  
However, this September, Justice Ginsburg lost her ongoing fight to metastatic pancreatic cancer and died on September 18th, 2020.  
Nonetheless, in her eight-seven well-spent years on earth, her notorious trailblazing attitude is the reason why she remains one of the most important feminist icons in history. 
Ginsburg credits her mother with much of her success and ideals when she said, "My mother told me to be a lady. And for her, that meant be your own person, be independent." Since her mother did not attend college herself, she nevertheless instilled into her two daughters to get good grades and work hard; and work hard, Ginsburg did. 
Ginsburg attended Cornell University and later graduated at the top of her class in 1954 and married her husband, Martin Ginsburg, all in the same year. Her marriage did become rough when Martin was drafted into the military, while also being enrolled in Harvard simultaneously. 
Harvard's class of 554 students, being a predominantly male dominated with only eight female students, Justice Ginsburg continued to excel to soon become the first female member of The Harvard Law Review, the university's famed legal journal. 
Despite all of that, rough storms where ahead for the Bader-Ginsberg family following Martin's own cancer diagnosis. As Martin recovered, Ruth transferred to Columbia Law School where she'd be first in her graduating class yet again in 1959. 
After all her merits she's accumulated throughout the years, the notorious Ginsburg still faced gender inequalities while seeking employment following her graduation. 
Later, after clerking for Judge Edmund L. Palmeri, she became the first tenured female professor at Columbia University. While all at the same time, directing the Women's Right's Project of the American Civil Liberties Union, where she championed six major cases on gender equality before the U.S Supreme Court.  
It wasn't until 1993 when President Clinton selected Ginsburg to fill the seat of Byron White, making Ginsburg the first Jewish female justice, along with the second female justice in history, after Sandra Day O'Connor. 
Clinton chose Ginsburg to balance out the conservative stance of most of the justices during the time with her strong positions regarding gender equality, separation of church and state, along with rights for workers.  
Ginsburg's views positively influenced the decisions of the Court soon after she was appointed. For example, in 1996, her landmark decision in United States v. Virginia that allowed women to not be turned down when joining the Virginia Military Institution. 
On June 27, 2010, Martin Ginsburg died of cancer after 56 years of marriage. Ginsburg disclosed Martin was "the only young man I dated who cared that I had a brain." 
And after 27 years of dedicated work on the Supreme Court, Justice Ginsburg died at the age of 87. It was said that Ginsburg was still working in her hospital bed leading up to her passing., and her last wish for her seat not to be replaced up until after the 2020 election. 
Regardless of how everyone feels about the Trump administration's plans to fill her vacated seat; we as Americans have a constant debt to pay to Ginsburg and her work. She continues to inspire women to this day not to buckle under male domination. We must not let her death be in vain.   
Leave a Comment