Looking Back After One Year
March 13, 2021 will mark one full year since our high school was together in full. We went home one weekend and haven't really returned to normalcy since.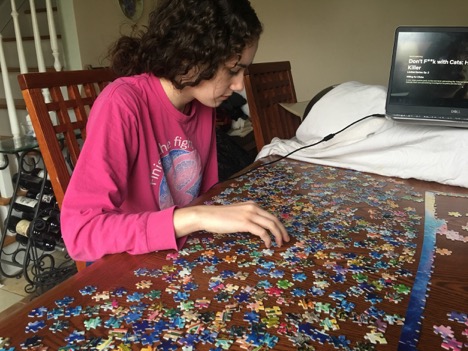 It has been one year. 365 days. 8,760 hours. 525,600 seconds. 31,536,000 seconds.
It's hard to believe it's been that long after everything that's happened in our community, state, country, and around the world. 
It was an ordinary Friday for us here at Patchogue Medford High School. It was the day before the weekend, so most of us were ecstatic for the 8th period bell to ring. We had no masks on, and all anyone was talking about was when the school was going to shut down for our "two week break". Other districts decided to shut their schools down so, we were waiting for the moment we got the phone call, email, or message that school ours was next.
Spring sports were already cancelled within the first week or tryouts the day before. We were waiting for the final bell of the day to ring. Little did we know, it was about to be the very last bell we will hear that year, or ever for the 2020 graduating class.
But most of us weren't worried – we wanted to have an extra two weeks of break. It was that night, on March 13, 2020, the moment we all have been waiting for. Our schools closed down for two weeks. I remember the relief I felt, the weight lifted off my shoulders. An extra few weeks to relax my mind and have a break from school. It didn't take long for many of us to realize just how serious the virus had spread and, before long, the state had shut down schools in a widespread attempt to mitigate the virus.
At first, things were fine but, I was already getting bored within the first three days and it didn't get any better from there. Schools began distance learning (which was even harder than in-person) and we couldn't hangout with friends the same way we used to. We couldn't even go to the store to grab the things we needed without a mask on.
We eventually began using Zoom daily. We used it for sports, classes, and work meetings. It was our new normal, and most of us didn't like it. I was hoping one day we would all get sent back to school as if none of this ever happened, but no. Instead, school was shutdown for the rest of the year, which was especially heartbreaking for the senior class.
Looking back, I regret wishing to go on that two week break. I wanted to go back to tryouts, open gyms, spending time with friends, and having school everyday. I'm sure plenty of people across the globe are feeling the same. 
But then again, we have learned so much during the quarantine. We have been able to take a break to relax our minds, and learned new things based on others experiences through the pandemic. We have been provided the time to view other peoples lives and how we can adapt them to our own use, such as various styles, learnings techniques, cooking skills, and more. I must admit, I probably made at least three different TikTok meals while I was bored at home. Not only that, but this pandemic gave families nationwide time to reconnect. 
 In the end, I believe we could all agree that everything has changed for us, for better or for worse, on the day of March 13th.
Leave a Comment