What to Watch – To All the Boys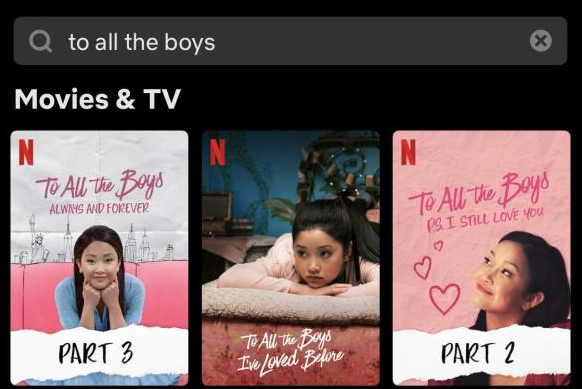 Looking for something new to watch on Netflix?
The To All the Boys movie series might just be for you! To All the Boys: Always and Forever is the third and newest movie to the To All the Boys series, released on Netflix February 12th, 2021. This series is about a high school girl named Lara Jean, who's secret love letters she's written to all her past loves are accidentally mailed, sending her love life out of control. These teen romantic comedy movies follow Lara Jean's story as she learns to handle high school, plans for her future and what to do as she's confronted by recipients of her old love letters.
If you're in need of a simple and cute story, these movies are perfect to watch. Between the characters' love stories, reconnecting with past friendships and plot twists, you're destined to shed a tear or two throughout the series.
Several students have found the To All the Boys series to be an excellent watch with friends. Crystal Zaharatos, an eleventh grader at the high school, said that "they are very cute movies for friends to enjoy together". Crystal is not the only one who felt this way. When asked about the series Erin Buccinna, a tenth-grade student, said, "my friends and I all love these movies and were so excited when the third one came out."
These movies are enjoyed by people of many ages. The series has been rated PG-13 but its viewers are not limited to high school students looking for a teen romantic comedy. Mrs. McKeough, advisor of the Red & Black, said "I cried it was so cute" while discussing the third movie, To All the Boys: Always and Forever. She also said she "got very emotional and nostalgic over the prom scene when the group was all together on the dance floor having the best time as friends."
Whether you're a teacher, student or anywhere in between, the movie series, To All the Boys on Netflix is an enjoyable watch and perfect for your next movie night with friends.
Leave a Comment