PMHS Library Opens with Brand New Features for Students
This year we welcomed two new librarians to the high school and they brought some changes that students and teachers are already buzzing about.
Most of the students at the Patchogue Medford High School have had limited to no interaction with the library due to COVID restrictions the past year and a half. However, after a bit of renovation, the library is back and better than ever.
Regarding some of the changes that were made, particularly to the layout and renovation to the second floor, Mrs. Sullivan, the director of K-12 Libraries said, "Many school libraries are moving towards spaces known as 'learning commons' – a place to demonstrate creativity, work on research, and to collaborate with one another. This renovated area provides our students with the opportunity to do just that."
I was able to interview two of our newest librarians, Mrs. Sclafani and Mrs. Franzese to learn more about the new and enticing amenities of the library. One of the major recent changes that is open to students is the Starbooks café. This is a spot in the library where students can go to read a good book or study with friends while enjoying some light refreshments. The librarians provide a coffee machine, choice of beverage, and cups for people to enjoy.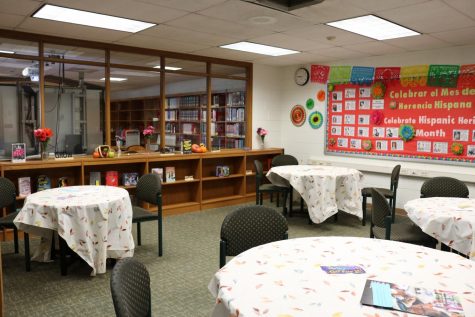 Other items that are available for student use are color printers, charging stations, and white boards. Printers are hooked up to the computers in the library where students can log into their One Drive or Schoology account and access work to print out hard copies of assignments and projects for classes.
Charging stations can be especially useful for the school-issued computers that every student has. Most computers run out of battery quickly and it can be hard to find a place to charge them, but now students can go to the library and study while their computer charges.
Finally, whiteboards are a great tool for brainstorming and planning out ideas or just to draw on and have fun. Group projects, small classes, and even clubs and use the space to collaborate and create.
The library is also planning to host many events over the course of the year for students. They even partner with the Patchogue-Medford public library in for some of these special events for students. The library will also be offering a book club for readers that are interested. And of course, there is always a variety of books for you to check out, whether it is for a project or just for fun.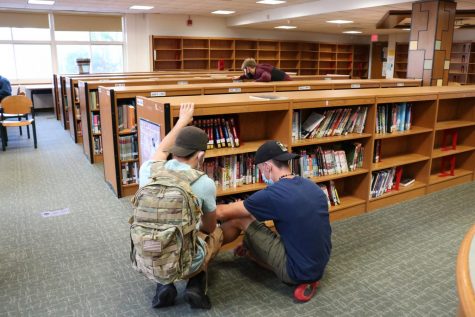 The main purpose of this library is to have a safe and welcoming space for students. Community & collaborative spaces upstairs are a great example of areas to hang out and use some of the resources the library offers. 
In our interview, Mrs. Franzese said, "We're trying to create a positive, welcoming environment for our students."
As we grow as a school, we create safe places for students to relax and have fun and the library has definitely become one of those places. So, the next time you want to check out a new book or need a quiet place to unwind, I hope to see you at the Pat-Med High School Library. 
Leave a Comment