Halloween Hits
Looking curl up and watch something spooky this season?
October is an important month for the movie industry; every studio wants to make the next hit Halloween film. We've compiled a list of movies and shows that we are most excited for this October. But before we get into that, here are some movies you may have missed if you weren't paying attention. Let's dive in!
First on our list is Marvel's latest addition to its cinematic universe: Shang-Chi. Simu Liu stars in this action-packed, fantasy-driven, superhero movie, complete with fight sequences, humor, and the best of all: Awkwafina.
Next up, Free Guy stars our favorite Hollywood husband: Ryan Reynolds. This movie is also action-packed, with lots of humor, and a whopping 80% on Rotten Tomatoes. And our last movie pick, Respect, the movie based on the true story of the esteemed Aretha Franklin.
Now getting into what's coming up. Diana: The Musical. The showcase about the beloved Princess Diana, depicting her life through a musical setting. It's being released on Netflix on October 1st before it makes its way to Broadway on November 2nd.
Also coming on October 1st, Venom: Let There Be Carnage. The sequel to the widely loved Venom, starring Tom Hardy and Michelle Williams. Next, No Time to Die, starring Daniel Craig and Oscar-winner Rami Malek, is the newest installment in the James Bond franchise series. Debuts October 8th.
Army of Thieves, coming to Netflix October 29th, follows a team of aspiring thieves on a mystery heist throughout Europe during a zombie apocalypse. And our final and favorite upcoming movie Dune, starring Zendaya, Timothee Chalamet, and Jason Mamoa is based on the best-selling sci-fi novel of the same name. Being released October 22nd.
Onto our top choices for upcoming shows! Our picks, being released weekly, are Marvel's "What If?" released on Disney+, and Only Muders in the Building, released on Hulu. What If?, an animated series follows possibilities in the Marvel Universe if different choices were made for the original movies. Only Murders in the Building, follows three strangers obsessed with true crime as they try to solve a murder that occurred in their Upper West Side apartment building.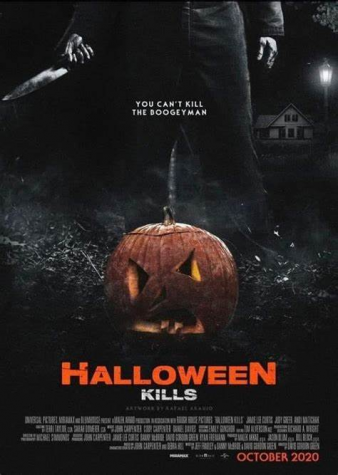 And now for the section you've been waiting for: horror. This October is bringing some excellent scary movies to the big screen. Coming up first is Till Death, being released on Netflix October 1st. Emma and her husband Mark go to celebrate their anniversary at a secluded lake house, when she wakes up to find herself handcuffed to his dead body.
Next up, coming October 6th to Netflix, There's Someone Inside Your House. Makani and her friends try to identify and stop a killer whose targeting students and exposing their biggest secrets while wearing a life-like mask of their own faces. Following that is Jeepers Creepers: Reborn coming October 28th to theatres. It is the fourth film in the Jeepers Creepers series while simultaneously being the first film in a planned trilogy. Now, Paranormal Activity: Next of Kin, is the next installment of the Paranormal Activity franchise coming October 29th. No information regarding the movie has been released, which adds to the creeping suspense that the audience is feeling towards the upcoming movie. Also coming October 29th, Last Night in Soho, starring Anya Taylor Joy and Jessie Mei Li, is about a fashion designer who enters the 1960's and begins experiencing dreams of the past that lead to something much darker.
And now for the most anticipated upcoming film, Halloween Kills. The final film in this nation-wide, multi-generational franchise, coming October 15th, stars Jamie Lee Curtis following her on-going journey with the masked killer Michael Meyers.
Overall, October is THE month to get back into your film watching habits. With all the great cinematics being released, you are sure to be entertained. So, pop yourself some popcorn, snuggle up with a loved one, and enjoy yourself with a good movie.
Leave a Comment