Six Reasons Why You Should Visit the Carnegie Librar
Do you want to find people who share your interests? Are you feeling a little bored and looking to try something new? Are you searching for volunteer hours? Or maybe you're struggling in school and need some help? Well then you might want to visit the Carnegie Library. According to the Teen Services Coordinator, Brian Schwartz, "I would say the library is a cool place to hang out at and that it not only is a great way to meet other people your age and get involved in some good activities, but it also looks great to colleges to be involved at the library!" The library provides a wide range of opportunities for students to learn, earn volunteer hours, and have fun in a safe space.
If this intrigues you, then here are six reasons why you should visit Carnegie Library:
1. Hang Out and Talk About What You Love
If you're craving some social interaction after a long period of social distancing, you can chat and snack at some of Carnegie's clubs. One option is the Eat, Watch, Read Club where you can discuss what you've been into recently, whether it's a great book, an addictive show, or an exciting game. More specifically, for the anime and manga lovers out there, you might be interested in the PML Anime Society where you can talk with fellow anime fans about what you've been watching, watch movies together, and try some Japanese snacks. However, if you're looking to unplug for a little while, joining Tabletop RPGs with Michael would be a great way to connect with others no matter your experience level. Even if you're not interested in any clubs, Carnegie is still the perfect place to work and spend time with friends in a safe environment.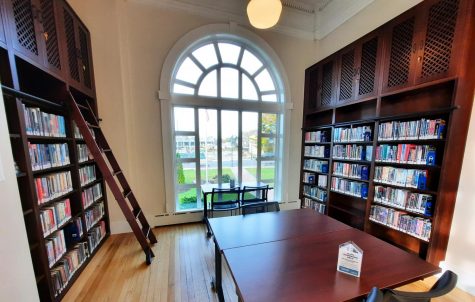 2. Learn Something New
If you're looking to learn something new or improve your current set of skills, you can expand your mind at some of Carnegie's classes. They offer technology related classes in 3D Printing Club where you can design and print your own 3D creations, and in Girls Who Code where anyone, including boys who are interested, can learn about coding. Additionally, the library hosts the Carnegie Choralists club where you can participate in workshops to improve your vocals and learn about the music industry. They also hold a variety of other workshops, so I encourage you to explore the library website and find something that you're interested in.
3. Fun Activities You Can Do There or at Home
If you have some free time and are looking for ways to fill it, Carnegie has a variety of activities available. You can flex your creative muscles in everything from seasonal cupcake decorating to drop-in Perler beads and button making where you can come in at any time to use their materials to create whatever you wish. On the other hand, if you're not the artistic type you can participate in the Hot Garbage challenge to see who can make the ugliest art, or the Gingerbread House Destruction where you can decorate and slingshot your creation across the
library's back lawn. However, if you're feeling a bit antisocial you can also drop by and pick up a Grab and Go kit for an art project or other pastime for free.
4. Simple Ways to Earn Volunteer Hours
If you need volunteer hours for an honors society or for college applications, Carnegie has an abundance of volunteer opportunities. One way to earn an hour of service is by participating in Random Acts of Kindness where you can do various simple tasks, such as making bookmarks or writing cards, to contribute to our community. Mr. Schwartz also informed me of a few additional opportunities, which include an hour of community service for bringing in 3 non-perishable food items (limited to one donation per week), helping at book sales for the Friends of the Library, and participating in the Carnegie Crew where teens can meet once a month to offer advice on how the library can improve its services. If you are looking for even more hours, you can text @pmlv to 81010 to join their community service Remind which includes volunteer opportunities that you may not see in the library's newsletter.
5. Free Tutoring
If you're struggling in school, then I recommend taking advantage of Carnegie's tutoring programs. One of the programs available to students is an online program called Brainfuse which you can use for all your homework questions as often as you need. There is also in-person homework help available specifically for math on Thursdays from 6:00 pm to 8:00 pm. The best part is both services are free!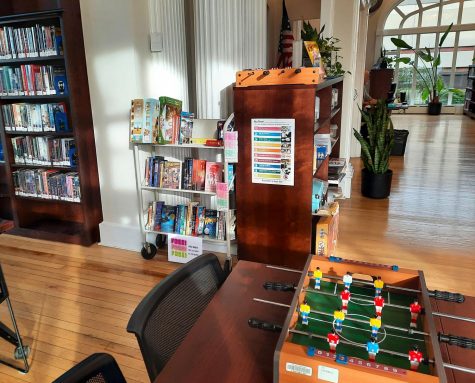 6. A Collection of Books, Games, Movies, and More
If you just want to walk in and find something to do, Carnegie has more than enough items for you to rent or enjoy there. Some of the items you can rent include books from their wide collection, as well as movies and video games. You can also invite some friends to join you to play at their pool table, air hockey table, mini foosball table, Nintendo Switch, or explore the Gadgets and Gizmos Gallery to try out tech items like a record player.
As you can see, there's something for everyone at Carnegie Library and there's always room for more people. Mr. Scwartz says," I would love to see more high schoolers come to the library and take an active part in what we do here!" All are welcome, so stop by to unwind, find some help, and contribute to our community.
Thank you to Mr. Scwartz for helping me with this article and providing valuable information for the students of Patchogue Medford High  school!
Leave a Comment