Top Ten Movies of 2018
The Red & Black ranks the movies that we loved best last year.
Hang on for a minute...we're trying to find some more stories you might like.
2018 was a year of cinematic masterpieces. Whether you were a constant film lover or not, everyone found themselves taking a trip to the movies at one point or another. From old movies coming back to life or new storylines there was something for everyone to enjoy. Here is a breakdown of the top 10 movies from 2018.
10)  Creed II
This sequel stars Michael B. Jordan returning to play Adonis Creed. He is mentored by former heavyweight champion Rocky Balboa played by Sylvester Stallone. After being challenged to a fight against his mentor's advice, Adonis accepts and wins only through a technicality. With his spirit now broken he struggles to make it back into the game. This movie takes you through his journey finding his way back into sport.
9)  Crazy Rich Asians
Rachel Chu played by Constance Wu takes a trip to Singapore with her boyfriend Nick for his best friend's wedding. After arriving in Singapore Rachel is shocked to find out that Nick is immensely wealthy and seen as one of the country's most eligible bachelors. Rachel now must deal with the spotlight that comes with Nick as well as some disapproving family members. Crazy Rich Asians was nominated for two Golden Globe Awards.
8) A Quiet Place
This was by far one of the most talked about horror movies of 2018. Starring Emily Blunt and John Krasinski, A Quiet Place takes you through a family set in a post apocalyptic world. They are forced to live in hiding and silence against monsters who hunt if they hear you. This movie was nominated during the 76th Golden Globe Awards.
7) Love Simon
Nick Robinson plays Simon, a boy madly in love with someone he met online. Although this love story has a twist. Simon is a closeted gay boy who must keep his love a secret. He spends the movie trying find the identity of the man he has been talking to. After his secret is threatened he finds a way to come to terms with himself and reveal his true identity to his friends and family.
6) Incredibles 2
A sequel to the original Incredibles this movie has everyone talking and bringing people of all ages to the theatre. The animation in this film was given a huge update while simultaneously staying true to the original. This time Helen (voice of Holly Hunter) is leaving Bob (voice of Craig T. Nelson) behind with Violet (voice of Sarah Vowell) and Dash (voice of Huck Milner). Bob is left to manage the house while Helen is off to save the world. The Incredibles 2 was nominated for: Animated Feature Film at the  Golden Globe Awards.
5) Mamma Mia! Here We Go Again
This sequel takes place five years after the events of the original movie. Sophie, played by Amanda Seyfried, is preparing for the grand opening of her mother's new hotel who died a year earlier. Through flashbacks and present time she begins to unravel more of her mother's life. This new movie uses some old songs to help the audience reminisce but make it their own with plenty of new tunes.
4) Bohemian Rhapsody
Bohemian Rhapsody is a tribute to Queen, their music, and the Iconic lead singer Freddie Mercury. This film takes you through the start of the band and how they found their show stopping sound. The unexpected turn of Freddie Mercury leaving the band is highlighted as well as his exciting return just in time for Live Aid. Bohemian Rhapsody was nominated for two Golden Globe Awards.
3) Black Panther
T'Challa/Black Panther, played by Michael. B Jordan, returns home to Wakanda to step up to the title of King. After challenges from the powerful enemy emerge T'Challa faces his first test as king. This conflict puts the fate of not only Wakanda but the whole world at risk. The young king fights to gather his allies and keep his people safe. Black Panther was nominated for three Golden Globe Awards.
2) A Star is Born
Ally, played by Lady Gaga, is an aspiring musician struggling to get her career on track. Just as she is about the give up on her dream, the famous musician Jackson Maine (played by Bradley Cooper) brings her into the spotlight. As Ally's career begins to take flight her personal and intimate relationship with Jackson begins to crumble due to his own inner demons from alcoholism. A Star is Born was nominated for four Golden Globe Awards.
1) Avengers: Infinity War
Infinity War was by far the most talked about movie in 2018, with countless sold out theaters, it brought everyone to the cinema. In this film Iron Man, Captain America, Thor, Spiderman, and the rest of the Avengers come together to defeat Thanos, their strongest enemy yet. Thanos is on the mission to collect the six infinity stones which would leave him with all the power. Everything the Avengers have fought for is led up to this moment making it a suspenseful, jaw-dropping film loaded with twists.

About the Writer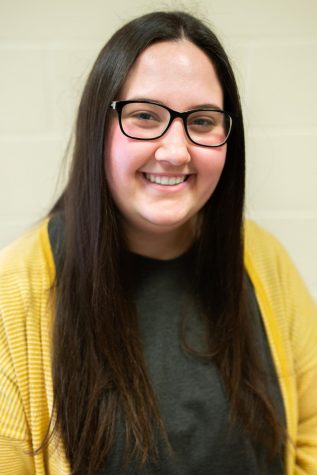 Jenna Potter, Assistant Editor
Grade 12

"The sun will rise and we will try again."