iDK HOW: The New Band on the Alt Rock Scene
An interesting name and two well-known members, this band is making noise in the alt rock world.
When bassist Dallon Weekes left touring with Panic! At The Disco, it was made clear that he was working on his own project. Usually when this happens, you never hear of that artist again and they fall into irrelevance.
Instead, the radio stations are debuting this new band no one's heard of before with the name "I DONT KNOW HOW BUT THEY FOUND ME" or iDK HOW for simplicity. The song "Choke" was very well received and listeners were curious to find out who this new band was.
It turned out that Weekes had been working on this project while touring with Panic! and was ready to take it to the next level after secretly playing shows. However, he needed support with a drummer for tracks and live shows and this is when the solo project turned into a duo.
The drummer Dallon brought in was Ryan Seaman, a previous drummer for popular hard rock band Falling in Reverse. An unlikely combination of members from bands had come together once again after previously being in little-known indie band The Brobecks, which was previous to them joining Panic! and FIR.
With Dallon and Ryan's project gaining stream with radio play, exposure at festivals and the fans realizing who's behind this sound, it all raises one question. What kind of band name is I DONT KNOW HOW BUT THEY FOUND ME?
In a Q&A with music promoter Ones to Watch, Dallon said it comes from the classic 80s movie Back to the Future. The band name is a quote from when Doc Brown is discovered by the Libyans after stealing plutonium from them. Weekes said that he always loved the sound of the quote, where you don't know the backstory of it, so the meaning is open-ended. This is similar to how songwriters write songs, which is possibly the draw of the quote.
The band also has a fictional backstory to create an explanation for their 80s like sound with driving bass lines and synth keyboard sound. Dallon said to Ones to Watch that the band performed in the 1980s but their tapes went missing and were just discovered. The popularity that the band is receiving also contributes to the band name, as they don't know how fans found this "missing tapes" band.
Their EP, 1981 Extended Play, was released on November 9th with the hits "Choke" and "Do It All the Time" along with additional single "Modern Day Cain" and satirical song "Nobody Likes the Opening Band" to criticize concertgoers unintentional disrespect to the band they didn't pay to see.
The band has opened for alt rock staples "Dashboard Confessional" and "Silversun Pickups", as well as playing Reading and Leeds Festivals in the UK and Shaky Knees Festival in Atlanta. This gets their name out there and is contributing to their rise to becoming more than just the "opening band".
About the Contributor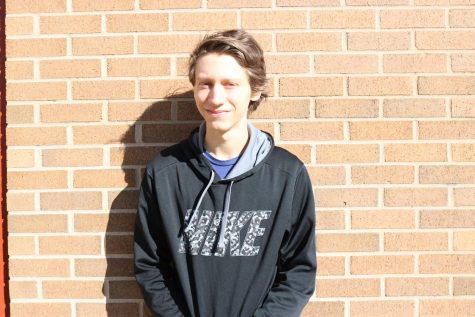 Eric Wertz, Staff Writer
Grade 12

"I'm an apostrophe, I'm just a symbol to remind you that there's more to see." ~Dan Reynolds