Beetlejuice, Beetlejuice, Beetlejuice!
First off, if you haven't seen the cult classic film, Beetlejuice, directed by Tim Burton and starring Michael Keaton and Winona Ryder, than you need to mosey on over to your preferred streaming platform and watch it now. Or wait for it to pop up on cable this month in celebration of Halloween.
Only then should you return to this review of the Broadway musical adaptation starring Alex Brightman and Sophia Anne Caruso. 
This show was so fabulous it will leave theatergoers wanting to say "Beetlejuice" a lot more than three times in a row. 
The musical is comprised of two acts full of outlandish musical numbers and scenes such as "The Whole Being Dead Thing", "Dead Mom" and "Say My Name".
When Lydia and Charles Dietz up and leave their apartment in New York City to a small town and a huge house, Lydia is left without her deceased mother and left with a strange obsession over death and all things macabre.
On the flip side, Barbara and Adam Maitland, newly deceased spirits are left with the confusing and overwhelming anguish of what to do next and whether to follow the "Handbook for the Recently Deceased" or the strange dead man in a vertical striped suit instructing them that the Netherworld is the only option.
With the help of Beetlejuice himself, Barbara, Adam, Charles, Lydia and Charles' fiance, Delia, find an unconventional friend in the demonic troublemaker.   
Junior, Ava Grieco "cried six times in a matter of one hour", and Delaney Reh, a senior said that, "It surely wasn't like the movie, but it definitely had the same quirky touch."
I am very much looking forward to coming back to the Winter Garden theater for my third time to go on the Senior/Sophomore class trip to see this show on Friday, November 8th, 2019.
Full of "the fright of your lives", satire, hysterical banter and lots of zombie choreography, you are absolutely sure to enjoy the performance that the Original Broadway Cast of Beetlejuice pulls off spectacularly.
About the Contributor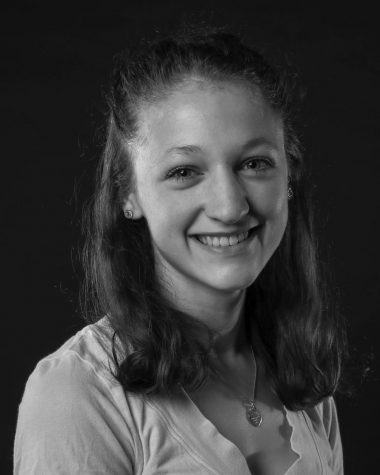 Abigail Yoches, Staff Writer
Abby is a senior and this is her first year with The Red and Black newspaper.  In her free time she likes to go into the city and see Broadway musicals...her...