Passing Down the Iconic Blue Polo
Jordan Fisher takes on the role of Evan Hansen in the Tony Award- winning musical Dear Evan Hansen.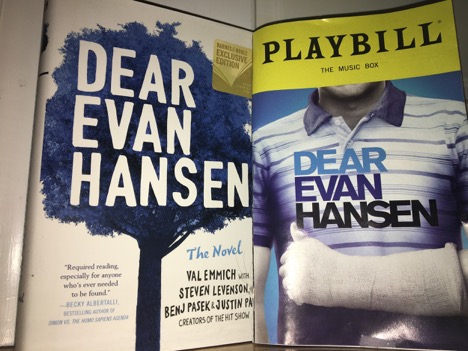 Dear Evan Hansen has taken the Broadway world by storm. Originally starring Ben Platt, this show follows the story of a young man, Evan Hansen, as he tries to deal with his social anxiety and the recent suicide of his classmate-who also happens to be the brother of the girl he likes. He quickly finds himself caught in a web of lies as he tries to get everything he's ever wanted: a closing, loving family, his dream girl, and to have friends. 
For the past year, seventeen year old Jimmy Award winner- a competition held in New York for teenagers aspiring to be on Broadway- and native long islander Andrew Barth Feldman has starred as one of the most iconic Broadway characters from the past decade. However, Feldman has decided to stop his run and attend Harvard University for the next four years. While fans of the show were distraught, they were easily excited again once it was announced the role of Evan Hansen was being taken over by none other than Jordan Fisher. 
Known famously for his portrayal as SeaCat in the Teen Beach Movie franchise, Mark in Rent Live, John Laurens/Phillip Hamilton in Hamilton, John Ambrose in To All The Boys: P.S. I Still Love You, a season sixteen Dancing With The Stars alum, and countless more, Fisher is a well known face in the industry. A triple threat of dancing, acting, and singing, Fisher starring as the infamous role of Evan Hansen has fans of both the show and Fisher overjoyed. 
" I really like Jordan Fisher being added to the cast, I think the show is becoming more diverse and I think Fisher will do great!" says senior, Phoebe Lawson. 
In an interview with the Dear Evan Hansen production team, Fisher stated " I'll never forget the first time that I saw Dear Evan Hansen. It pierced me with truth and with honesty and with integrity. That is the foundation of this story that I am so excited to help be a part of telling." 
The duration of Fisher's time in Dear Evan Hansen is not known yet, however fans are hopeful for a lengthy run.
" I really enjoy Fisher's work in the past and I love the story of Dear Evan Hansen so seeing these two come together is exciting. I hope he [Fisher] has a good, long run in this important story, especially in the lives of modern teenagers." says senior, Isabella Scuteri. 
Fisher constantly surprises his fans with new projects no one would have guessed he would be a part of. This is one of those moments. Fisher is expected to have an excellent run, already receiving excellent reviews since his start at Dear Evan Hansen on January 28th of 2020. Filling the shoes of the unforgettable Ben Platt and Andrew Barth Feldman is not for the weak of heart nor stamina.
However, Fisher has what it takes to go down in Dear Evan Hansen history as one of the most memorable Evan Hansen's in the show's time on Broadway.
He will also be making history as being the first person of color to play the lead role of Evan Hansen in which he hopes to inspire young aspiring actors of color to notice a character on stage and see themselves in that role regardless of how they look on the outside.