My Journey to Miss New York Teen USA
I am honored to have represented Patchogue-Medford in this pageant, a dream come true.
Getting ready for an event where you have no prior experience is nerve wracking in itself, especially when the event consists of being on stage. In January 2020, I took part in the Miss New York Teen USA Pageant which I had prepared for several months leading up to the pageant.
When I originally heard about this pageant, I thought it would be a fun experience, something I have never done before. This would be a way for me to get out of my comfort zone and have a once in a lifetime experience.
I found out that in order to enter and become a finalist, I had to send an email to pageant headquarters. Multiple emails were exchanged and we picked a date to have a phone interview. 
The interview went well and the questions I was asked made me think of my past experiences and why I wanted to compete. When I found out I qualified and became a finalist, I immediately told my parents who were very supportive from the start. From that point, we started preparing.
I set up a Gofundme account and was very overwhelmed by the amount of encouragement I received from the community. I did not expect to raise the amount of money I did and I am grateful to have had a supportive community behind me.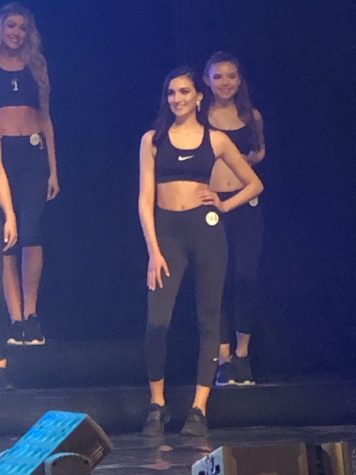 As a finalist for the Miss New York Teen USA Pageant, there is a lot of preparations that go on behind the scenes so when I walk out on stage everything runs smoothly. Everything from getting headshots taken, fundraising, choosing an organization to support, getting an evening gown and activewear as well as heels and jewelry to match takes a lot of time and money. I could not have done this by myself and I thank everyone who was able to donate and support my journey.
Hair, nail, and makeup appointments were also made to help me look my best come pageant weekend. I went for a pink theme for my makeup considering my evening gown was blush colored, a light pink.
I was offered jewelry from Wedding Warehouse in Bohemia and a dress from Charlotte's Closet in Port Washington. When those companies reached out to me, I was in shock that the news I was going to be in a pageant spread so far.
At Charlotte's Closet, I picked a beautiful pink mini dress to wear to the party that was hosted after the first day of the competition. From Wedding Warehouse, I chose sparkly earrings that hung about two inches long. The earrings were a little heavy but looked perfect with the outfits I had chosen so they were worth wearing.
The week leading up to the pageant was one of the most stressful times as I had to finalize outfits and get last minute accessories. I also had to pack a bag with all of the necessities and more. I ended up walking out of my house with a suitcase, tote bag, and two garment bags. I have been told before that I am an over-packer but this time I wasn't. I really did need everything in these bags.  
However, having so many bags did cause a minor inconvenience because I didn't know if I would be able to carry them all by myself when the time came to bring everything up to my hotel room. Long story short, I was not able to but I tried and did not let anyone help me at first. When a security guard saw me struggling to walk without the risk of dropping something, he stepped in and asked to help me so of course I let him.
Pageant weekend was finally happening and after arrival, I had to get ready for my interview right away. I put my luggage in the main room and changed into my interview outfit: a dress with a snakeskin pattern, black heels, and a blue blazer. The interview had to be business casual so in my book, the blazer was necessary.
Waiting was the worst part of the interview process in my opinion. The first thing I had to do was sign up for a time, I signed up for 2:30pm as it was the earliest one available. After waiting on line after line, it was finally my turn. I was nervous walking in but the judges were very personable and didn't ask questions to trip me up. I could tell they were genuinely curious in my resume considering the detailed questions I was asked.
The interview went by fast, it was the quickest two minutes of my life. Afterwards, each contestant got their sash, my title was "Suffolk County Teen." We also received a goodie bag filled with items such as gum, a 2020 pageant yearbook, lotion, makeup wipes and other things from various sponsors. That wraps up day one of three as the rest of the night was workshops and rehearsals.
An early start to day two: the preliminary round of the competition. This was where each contestant competed in their activewear and evening gown for a spot in the top twenty. Being backstage with all the girls was chaotic. Once I was done competing on stage and walked off, I had to run (and when I say run, I mean run) in heels downstairs to my dressing room.
The outfit changes went in this order: pink cocktail dress for the dance number, activewear, then evening gown. We had a limited time to get changed from outfit to outfit, but I was number 94 out of 122 so I had extra time before I had to be back on stage compared to others. That was something I was not prepared for because when you are crunched for time, it seems to move faster than normal.
The dance number was the part of the show I was the most worried for as I do not consider myself the best dancer. My group (the easy one) went on first and performed our four counts of eight to the song "Nails, Hair, Hips, Heels" by Todrick Hall. The other three groups ranging from medium to expert followed shortly after to complete their part of the dance.
Night one of the competition was an enjoyable experience and the night ended with a "meet and greet" with the people from the audience. My mom, dad, grandma, and aunt all came to watch me compete and cheer me on.
Day three was the last day of pageant weekend but the second day of the on stage competition. The amount of time between rehearsals and competition was less this time around since it started at 2pm instead of the previous day which was 6pm. Therefore, hair and makeup appointments were earlier in the day.
I had my hair in curls and the way this was done is by curling the hair normally but instead of letting each piece fall after it has been curled, it is pinned up and left like that until touch ups. So, for an hour or two, I was walking around with my makeup done and hair pinned up to my head, it was very comedic seeing everyone walk around like that.
The competition this time around was different as we started in our evening gowns and did color blocking when we walked out in them. The top twenty were called down and then they had to re-compete in activewear. From that, the top ten and after they competed in evening gown again, top five were called. At this point, anyone who didn't make it into the top twenty went and watched the rest of the competition play out on a television backstage.
Unfortunately, I was not one of the top twenty called down to re-compete. It would be a lie if I said I wasn't a little disappointed but I was glad to have had the experience of competing on a stage with many friends I made that weekend. It was an indescribable feeling, walking across that stage and looking into the audience to see my family out there supporting me.
Competing in a pageant is something I encourage all people that are eligible to do. The amount of girl power and positivity that radiated throughout the weekend was enough to fill every room I walked into.
I am beyond grateful to all those who donated, sent me "good luck" messages, and supported me through this journey, it was appreciated more than you know. This was an experience I will carry with me for the rest of my life.
About the Contributor
Isabella Scuteri, Editor in chief
Isabella is a senior at Patchogue-Medford High School and fourth year journalism student . She is the Editor in Chief and helped get the newspaper off...