Welcome to the Jungle
Does the revised Jumanji live up to the original?
The Rock has a lot of awful movies. However, this isn't one of them.
A sequel to the cheesy, yet classic, 1995 film based on the beautiful Chris Van Allsburg children's book, this film brings the franchise into the 21st century. Jumanji: Welcome to the Jungle is a well-done, modernized adaptation starring Dwayne "The Rock" Johnson, his pal Kevin Hart, Jack Black, and Karen Gillan, where instead of a board game that comes into their world, four teens are transported into a video game of Jumanji as the characters they selected when goofing off in detention. A ragtag, Breakfast Club-inspired group including the nerd (Johnson), the popular girl (Black), the quiet one (Gillan), and the jock (Hart), provides for interesting dialogue and character development when stuck in these video game characters' bodies and having to work together to recapture the Jaguar's Eye jewel to save Jumanji.
The movie far surpassed my expectations (I saw a trailer for another Rock movie, Rampage, that looked so bad I got worried), and was a great blend of action and comedy. The Rock and Kevin Hart have been in other films together prior, and they always play well off each other. In the film, the dynamic as the nerd as The Rock and the jock as Hart make for some very comedic scenes. Jack Black was absolutely excellent in the film, playing a self-absorbed teenage girl who is now a middle-aged, overweight man. He was perfect for the role and executes it to a T. Every time he spoke I pictured the original girl. The villain didn't play as huge a part as you would expect, but it worked for the movie as it was more focused on them working together to get out than defeating him directly.
If Star Wars isn't your cup of tea and you enjoy an action-packed, feel-good comedy, see Jumanji. The characters are great, the story is interesting, and the action is the perfect middle-ground for those who enjoy it and those who aren't so crazy about it. It's a great film for all ages.
Leave a Comment
About the Contributor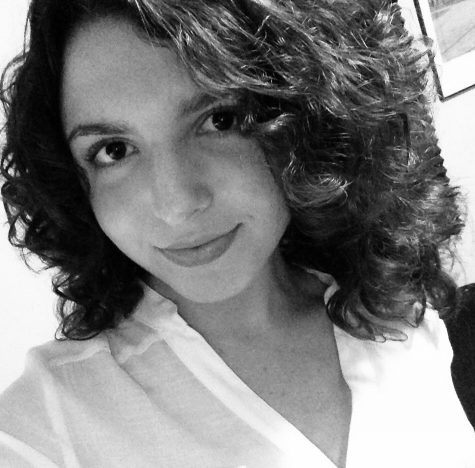 Samantha Visco, Business Manager/Public Relations
Gr. 12

"I know I may be young, but I've got feelings too."-Britney Spears