Art of Healing: From Destroyer to Creator
Suffolk County Veterans share their experiences with art as forms of therapy and recreation and stress the need for a national art program in veteran programs.
Since the beginning of time, art has always been an outlet for people to share and express their thoughts, feelings, and experiences. Art can serve as an escape from the world around oneself, as well as an escape from one's mind. For veterans, this is no different. Through art, veterans are able to tell their story without really telling their story. Veterans are able to share without the fear of being so exposed.
Twenty people can look at a piece of artwork and have twenty different interpretations of it. Most likely, all of the interpretations will be different from the artist's true message. Unless the artist explained the story behind their piece, nobody will truly know what the real story is. This allows veterans to share their stories without fearing the exposure and bringing up the feelings they tried so hard to shove deep down.  
Dave Rogers, a Gulf War veteran, Senior Vice Commander at VFW Post 2913, and veteran artist, wishes to have art therapy be a part of all veteran therapy. "I believe that it will not only help them express themselves but it will allow veterans to express themselves in ways that they didn't know were possible," Rogers explained, "Anybody can talk. Anybody can go to a therapist and lay down on a couch to talk about their feelings. But sometimes, you don't even know what your feelings are. Art helps you express these unknown feelings." Art is all about sharing the experiences that you have to offer.
Rogers started his art therapy programs six years ago. At first, he focused on showcasing veteran artists. Eventually, he and Post 2913 started holding workshops for veterans. "When we do workshops, it's not just about being hands-on. PTSD affects veterans in a variety of ways and one of the biggest trends is that you become isolated," He stated, "But here, they become part of a group– a group of people who understand them. They become comfortable because they can connect through shared experience of serving in the military, even if they have different individual experiences." Being a part of a group of veterans also helps one see other veterans who appear to be suffering less than they are. It gives them hope, and the possibility that they can be more than what they are feeling right now. If another veteran has successfully gotten better, it pushes another veteran to do better for themselves.
According to the U.S. Department of Veterans Affairs, it is estimated that 31 percent of Vietnam veterans, 10 percent of Gulf War (Desert Storm) veterans, 11 percent of veterans of the war in Afghanistan, and 20 percent of Iraqi war veterans all suffer from post-traumatic stress disorder, or PTSD. While war veterans have shone light on this mental disorder, 50% of those who suffer from PTSD do not seek medical help. Many veterans feel hopeless and ashamed when it comes to finding treatment. Veterans fear that they will be seen as weak and will be treated differently by others. Some just aren't aware of the resources available to them as veterans.
"
Anybody can go to a therapist and lay down on a couch to talk about their feelings. But sometimes, you don't even know what your feelings are. Art helps you express these unknown feelings.
— Dave Rogers
Here in Suffolk County, the VFW have embraced the arts. Fortunately, the VFW is not an organization that is set in stone. It's able to adjust and adapt to different veteran needs, and that's exactly what they've been doing. "Members of the VFW who aren't artists regularly come to workshops and showcases and are able to see just how beneficial these art programs have been to veterans," Rogers said, "It's important to us as we want to continue to organize and expand these programs."
The National Intrepid Center of Excellence conducted surveys which reveal that 85% of military patients claim that art is helpful to their healing. "Even veterans who have never done art before have found art helpful. It gives them an avenue to work with their hands and distract themselves from everything else," Rogers said.
"I wasn't looking to heal anything when I started painting again about 10 years ago. But over time I noticed subconscious themes emerging that had to do with war and emotional struggles" Neil Lein, a Vietnam veteran, printmaker, and painter, said when asked about the importance of art therapy, "I think that anything that validates your time away at war is a positive step in the right direction. [Including veterans in art] gives the veteran a sense of worth. It's important to feel a part of a community."
"Art has helped me to heal, but not so much from my military experiences as it has helped me deal with some of my NYPD experiences and time down at Ground Zero after 9/11. I think any time one can get their creative juices flowing, it will stimulate the positive that will far outweigh the negative. I believe art should be experienced by everyone," Charles Ferrara, veteran artist, pastor, and retired NYPD Lieutenant, expressed, "I personally spoke with other veterans at a recent art show where a number of us had our work on display. Speaking to several of them, they had expressed how creating art was a fantastic way of decompressing and help quell a lot of the things that have been troubling them. I can relate to that."
"I began sketching when I was hospitalized during my recovery. I had no previous experience [with art], but found it was a great way to express my thoughts and emotions in a form that did not require verbal skills. It was a way to be brutally honest about how difficult my recovery and transition was," James Miller, a veteran and artist of Limp Goat Art Collective, shared, "Art has become something I 'must' do for my own mental health and happiness. [Art] has helped me to push past the bitterness of returning home. The war experiences no longer define me. Of course, they shaped me, but they are no longer who I am."
It's not only the VFW that is promoting art as a form of healing for veterans. Jenny Pacanowski, a poet and combat veteran, facilitates writing workshops, reading rituals, and theater performances in New York City, Pennsylvania, and New Jersey. Pacanowski runs a female veteran writing group called FVET: Female Veterans Empowered to Transition, which serves as a safe place to empower female veterans, share experiences, and conquer struggles of transition.
At the Northport Veterans Affairs Medical Center, the Sexual Assault Awareness Month (SAAM) Committee, composed of social work and chaplain staff, seek to offer many art workshops, music, poetry, and other wellness activities for veterans who have experienced Military Sexual Trauma (MST) in order to express their emotional suffering and promote healing. "When someone suffers from trauma, their ability to articulate and express themselves through words can be disrupted. Trauma survivors often have intense feelings that are difficult to manage, may have memory issues, or hold beliefs that disrupt their sense of power or control," Amanda Sokolowski, Military Sexual Trauma Coordinator at the Northport VA, said, "Art allows MST and other veteran survivors to find their strength and hope again. Engaging veterans in art has helped heal and relieve some of these symptoms in a non-threatening, non-judgmental process."
Showcasing artwork made by MST survivors ends their silence and disrupts the stigma around sexual trauma. Veterans may not be entirely ready or comfortable to speak out about their trauma, but art gives them the option of sharing their pain and experiences without feeling too vulnerable. "I think it is important to recognize the courage and strength it takes for veterans to speak up and speak openly about sexual trauma and other afflictions they endured while in the military. It is important for veterans to know that the VA cares about them and that they have a place to go to that will support their recovery and help them find meaning and purpose again," Sokolowski added, "We as a community need to continue to address veteran concerns and encourage them to participate in art projects or community events that will empower them and give them a sense of renewed hope, inspiration, strength, growth, and healing. It is everyone's responsibility."
"Bearing witness to veterans who have experienced significant emotional suffering and trauma and watching them rebuild their lives and find meaning again has been such a rewarding experience," Sokolowski said.  
"I've seen the arts transform veterans on their journeys. The arts utilize the right hemisphere of the brain, which is the same area responsible for storing stress and trauma, thereby creating a direct circuit from stored trauma to externalization," said Aynisa Leonardo, a licensed clinical art therapist who has been working with veterans and first responders for 11 years, "Veteran experiences are not always relayed authentically. The media tends to warp the image of what a veteran 'should' be. Showcasing veteran artists allows community members to have a more genuine connection to military culture, thus bridging the veteran civilian divide." Art therapy directly benefits those who have suffered from trauma by using the same hemisphere of the brain.
Not only does Rogers hope to expand art programs in veteran therapy, but he wishes to establish a permanent Combat Paper program in Suffolk County. Combat Paper is a program that transforms a soldier's military uniform into handmade paper. "We've found that it's very therapeutic for veterans," Rogers expressed, "It allows them to take those old uniforms that they no longer wear and create something with it. They're able to turn their uniform into something that will hopefully give them new memories and new reminders of better things." A soldier's uniform carries a lot of stories along with it, and by molding it into paper, this gives a soldier the opportunity to create new experiences while the old memories continue to stay embedded in the fibers.
"Art makes me feel like I'm a part of something again," Rogers said, "It lets me feel normal again. A lot of veterans just want to feel normal again. We can question all day long on what is normal, but to a lot of us, normal is the ability to do what everybody else does and being able to live our lives."
This year, Rogers has two upcoming workshops set up as well as two exhibits planned. One workshop, a printmaking workshop, will be held at the VFW Post 2913 in Patchogue, and the other, a ceramic workshop, will be held at Long Island University. One art exhibit will be at an art gallery in Patchogue, and the other will be at the Arts on Terry Street Fair in Patchogue during the month of June. This will be the second year that Arts on Terry will be having veteran artists showcase their art at the street fair. This gives veterans support and exposure that usually isn't available to them.
In an era where it's difficult to open up a dialogue about mental and physical trauma without fear of being seen as weak, art therapy has given veterans an opportunity to find peace within themselves and among other veteran artists. Art helps veterans communicate with others and move past their war experiences. "These men and women have been deeply affected by their wartime experiences. It shaped all of us in amazing and horrifying ways," Miller added. The hardest part about dealing with PTSD is distracting oneself from the feelings that one has. Art is able to do this.
Leave a Comment
About the Contributor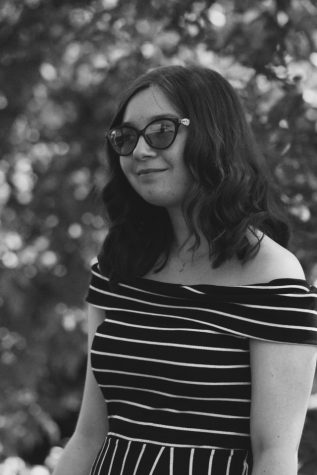 Nicole Niemiec, Senior Staff Reporter
Adelphi Quill Award Winner - 3rd Place, Most Outstanding Reporter (2018)

Grade 12

"You can never be overdressed or overeducated." - Oscar Wilde