Kanye West – ye (Album Review)
Don't let the short tracklist fool you – Kanye's latest record is a striking and dark meditation on his current state of mind.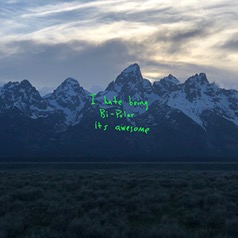 It's time to talk about one of the most polarizing albums to come out this year.  I know that it's been out for a week now, so I'm a little bit late to the party in talking it, but I've spent a lot of time listening to this record, and I think you should too. (Also, Happy Birthday to Kanye).
The thing about this new Kanye West album is that it's not as big of an event as we anticipated it to be.  And if you're a Kanye fan, you know how big of an event Kanye album releases can be.  Usually, Kanye will stir the cauldron of controversy and embarrass himself, a key ingredient that fuels his album hype.  Leading up to the release of this album, we were teased with troll singles about poopity scoop, tweets that endorsed of one of the most unpopular Presidents in our country's history (these tweets have since been deleted), and claims that slavery is, in fact, a choice.
The latter two of these details have turned away many in the rapper's fan base, and have lead many people to "cancel" Kanye West. His brand of controversy and provoking people may have finally come back to bite him.  But it feels anticlimactic to have experienced this controversy unfurl and to have arrived at ye, a 7 track and 24 minute album (it could practically be an EP) which many fans and critics alike have already deemed one of Kanye's weakest and inconsequential releases.  It lacks the maximalism and luxurious, otherworldly feel that his most recent work has brought in spades (records like My Beautiful Dark Twisted Fantasy and Yeezus), which is partly why people have tuned out this album.  But ye should not be listened to in the same way that those records are.
By comparison, it's actually more low-key and intimate than those records.  In that sense, you could almost call ye a return to form, calling back to earlier records like The College Dropout and Late Registration, where Kanye wasn't so focused on presenting this image of him being a god and a crazy genius as he is being relatable to his audience and showing how human he actually is.
It's been said that Kanye rerecorded this entire album after making his slavery and Trump comments, which might be true given that he directly references these incidents in the lyrics of this album. This background information adds to the topics of addiction, family and mental health on ye.  They're topics that Kanye has tackled before, but here they're examined on a microscopic level.
Mental health in particular is addressed on the album cover itself, with a message that reads "I hate being Bi-Polar it awesome." (sic) It's also discussed very openly on the opening track, "I Thought About Killing You".  Kanye isn't rapping at the beginning of the song as much as he's doing some spoken word; he details his thoughts about killing "you" (whoever "you" is up to how you interpret it), but also himself. "See, if I was tryin' to relate it to more people", he explains, "I'd probably say I'm struggling with loving myself because that seems like a common theme. But that's not the case here. I love myself way more than I love you, and I think about killing myself. So, best believe, I thought about killing you today."
Given Kanye's public image of egotism and appreciation for himself, it's pretty dark to think that the thought of doing harm to himself would ever cross his mind.  When you take that into consideration, it becomes clear that the state of mind Kanye was in when recording this album may not have been a very optimistic one.
These lyrical moments are classic Kanye: tongue-in-cheek, but clever and entertaining. On "Yikes" he raps about praying for Russell Simmons because he got "#MeToo'd" and people testing him because he's "dressed like Abercrombie".  This is also one of the darkest moments on the album that finds him high off a trip on psychedelic drugs: "Tweakin', tweakin' off that 2C-B, huh / Is he gon' make it? TBD, huh / Thought I was gon' run, DMC, huh / I done died and lived again on DMT, huh".  It's the album's lone banger, but he addresses addiction to a distressing effect.
Kanye shows his gratitude for his wife's loyalty on "Wouldn't Leave", and his love for her on "No Mistakes", which features a winning hook from Charlie Wilson and Kid Cudi: "Make no mistake, girl I still love you," they sing. My favorite song on the album, "Violent Crimes", details Kanye's anxieties about his daughter growing up and being over-sexualized like Kim: "Don't do no yoga, don't do pilates/Just play piano and stick to karate/I pray your body's draped more like mine/And not like your mommy's." It's one of the most emotionally potent songs that Kanye has ever put to tape.
But much as I love the lyrics here, the selling point of ye for me has to be the production. The beats here are masterfully textured and evocative, and Kanye's knack for using samples is in top form.  They provide a glistening and introspective tone for this record. The beat switch on "I Thought About Killing You" sounds like the sun rising on a new day, while the gospel chords of "Violent Crimes" conjure a sun setting. "All Mine" features some distorted shouts in in its second half, which make up for the goofy singing that Jeremih and Ty Dolla $ign provide at the beginning of the song. (Whether the goofy singing was intentional or not, I can't really tell.) "No Mistakes" has some victorious and gratifying soul samples that call back to the sound of earlier Kanye albums like The College Dropout that flaunted soul samples proudly.
There's a sense of serenity here, as well as on "Wouldn't Leave", whose meditative pianos evoke images of looking up at the sun staring down at you through the clouds.  It feels like being on a road trip, looking out the window and seeing mountains pass by you, the same mountains that appear on the album's cover.
And I can't talk about this album and not mention "Ghost Town", the album's epic centerpiece featuring John Legend, Kid Cudi and 070 Shake. The wailing guitars and booming drums on this track, the Shirley Ann Lee sample that kicks off the track, are all amazing, and the blooping electronic noises that pop in the mix during 070 Shake's soaring verse are a nice touch.
At 7 tracks and 24 minutes, ye is Kanye's shortest album, and it's likely that you will feel unsatisfying upon first listen.  For an album whose themes tackle mental health and addiction (very effectively at that), it's feels like there should be more to it, but there's not.  But length is compensated by how strong the individual songs here are, and the emotional impact they give the listener. These are endearing songs that seep their way deep into your psyche with each listen, and I say that because this album is not an instantaneous listen.
If given repeat listens, ye will slowly reveal itself as one of Kanye's most introspective and personal albums, and a worthy addition to his discography.  If you are a Kanye fan, or were a Kanye fan up until recently, give this album a shot, because this record may appeal to you if you're interested in Kanye as a person.
ye is the second of five Kanye-produced albums that are being released this month on GOOD Music, the first of which was Pusha T's DAYTONA (another album I highly recommend).  All of these albums follow the same 7 track format.  The next album in this cycle is Kanye West and Kid Cudi's collaboration album Kids See Ghost, out today on streaming services, and be sure to look out for Nas's and Teyana Taylor's upcoming records as well (out June 15th and 22nd, respectively).