ALS: A Deadly Disease with No Cure
The ALS Ride for Life is one of the many ways to raise money and find a cure for people affected with this disease.
Amyotrophic Lateral Sclerosis (ALS), also known as Lou Gehrig's disease is a neuromuscular disease that affects voluntary muscles, a person's mind is completely unaffected. This disease destroys nerves and weakens vital muscles in the human body which eventually leads to becoming paralyzed.
"Today, I consider myself the luckiest man on the face of the earth," said Henry "Lou" Gehrig in 1939, only 23 months before ALS took his life.
Gehrig was killed by a disease that nobody knew about and seemed to come out of nowhere. The only "good" thing about this disease is that it is not contagious. People affected start out with strange symptoms and once every other illness is ruled out, doctors say it must be ALS since the cause of this disease is still a mystery.
"People don't really know enough about ALS and I think it is really important that we all understand the detriments of this illness," said Abigail Yoches.
Today, it affects over 30,000 Americans with no set guidelines as who the person affected could be. Young or old, rich or poor, male or female, they could all be equally impacted. ALS claims over 6,000 lives per year, one every 90 minutes.
"This disease leaves the patient entombed within their body, unable to move or communicate. It is almost like being sealed in a glass coffin. The disease is worse than a nightmare because it's real," said Barbara Brown from the school outreach program where she speaks about fundraising and ALS awareness.
A person affected with this deadly disease is given 2-3 years to live after their diagnosis. Some people are lucky and surpass that number, but it is very rare.
"Learning about ALS teaches us the importance of life and helps us appreciate the little things," said Mary Savi.
As of January 2020, it will be 7 years of battling this incurable disease for Paul Weisman. Paul said that since his own diagnosis, he decided to take the disease head on and raise as much awareness as possible to help find a cure.
"When the doctors told me three years to live, my mind started playing all of these bizarre movies in my head. I could have easily laid on the couch, pulled the cover over my head and waited for bad things to happen but that's not me. I wanted to get involved and do something," said Paul Weisman, ALS patient for almost 7 years.
Getting involved and raising awareness for the cause is the best thing to do. Peter Frates was diagnosed with this disease and had to give it the awareness it deserves. He was the creator of the ALS Ice Bucket Challenge, raising over $115 million for ALS research. If it wasn't for him, ALS would not have as much support as it does today.
"A teacher once said that people are divided into two groups. One group is quick to find the problems and complain about them, but the other group sees the same problem and they don't complain. Instead, they try to figure out a way to fix the problem," said Barbara Brown.
Another ALS patient who was determined to find a cure was Chris Pendergast. He created the ALS Ride for Life in 1998 where he rode his electric wheelchair from Yankee stadium in New York to Washington D.C. Along the way he rode through pouring rain and didnt stop once, just to sleep at night. Chris traveled for 15 days and rode over 350 miles.
Now, the ride is through Long Island and NYC which enables schools to get involved and walk with the patients for part of the ride as well. The ALS Ride for Life is a way to raise awareness and money to hopefully find a cure for this deadly disease one day in the near future.
"You have to choose to either be part of the solution or the problem, simply stating, you either fix it or become it," said Paul Weisman, when referring to raising awareness for ALS.
About the Contributors
Isabella Scuteri, Editor in chief
Isabella is a senior at Patchogue-Medford High School and fourth year journalism student . She is the Editor in Chief and helped get the newspaper off...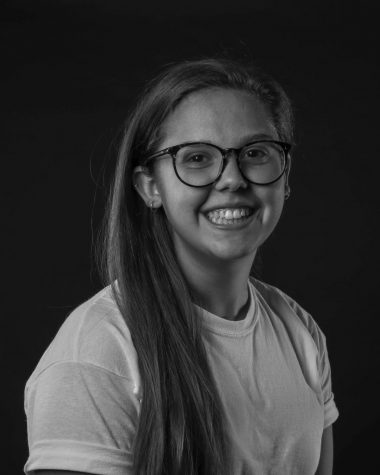 Phoebe Lawson, Staff Writer
Phoebe is in her senior year of high school and has been a dedicated part of the school newspaper and Journalism class since her freshman year. Although...