Death of a Musical Legend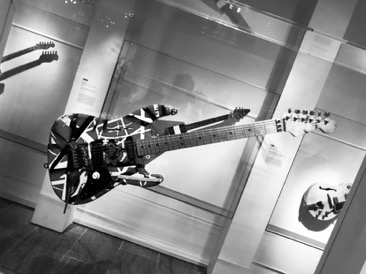 In recent news, the Dutch American guitar legend of Eddie Van Halen lost his prolonged battle with cancer this October.
Even if you were not much of a hard rock genre, many know the name 'Van Halen' with popular songs like 'Eruption' and 'Panama', which just in itself prove how much of a mark he has left on this planet.
Born into the Netherlands in 1955, Eddie and his brother, Alex (born in 1953). The Van Helen family then migrated to Pasadena, California in 1963. The two boys grew up playing classical pieces on the piano. The two studied Mozart and Beethoven, which would be discovered in a 2012 Esquire article," I never learned how to read [music]… I never learned how to read [music]", The two brothers, being encouraged by their parents, won many classical piano competitions. However, Van Halen constantly gravitated towards rock music.
Funny enough, Eddie started playing the drums while his brother played the guitar as teenagers, for then in the future for them to switch instruments.
In 1972, Eddie (guitar), Alex (drums), David Lee Roth (vocals), and Michael Anthony (bass) made a band that, two years later, would be named 'Van Halen' In 1977, the band would then be signed to Warner Records after playing in many well-known clubs.
Upon their debut album's release, it would land 19th on the top billboard 100 which is one of the most successful debuts in rock history. In the 1980s, albums like '1984' became platinum five times after a year the release date, with songs like 'Jump' awarding them a Grammy nomination and #1 pop hit. The band would then win a Grammy in 1992 for their album 'For Unlawful Carnal Knowledge', thus shaping the rock music scene.
However in 2000, Eddie Van Halen was diagnosed with tongue cancer which is thought to be due to bad habit of putting his metal guitar picks in his mouth, although he had a bit of a drug addiction where he would go to rehab for in 2007. In 2002 he was declared cancer-free after receiving a surgery that left him with two thirds of his tongue. Sadly, in 2011 he relapsed in cancer treatment following the diagnosis of lung cancer, which would then take his life.
His legacy is one that will not be forgotten as he is one of the most influential musicians of all time as his band, in 2007, was inducted into the Rock and Roll Hall of Fame.
Alex Van Halen, who does not have any social media accounts, reached out to Van Halen News Desk to say, "Hey Ed. Love you. See you on the other side. Your brother, Al"
Leave a Comment