Key Club Makes Its Mark at 2022 Divisional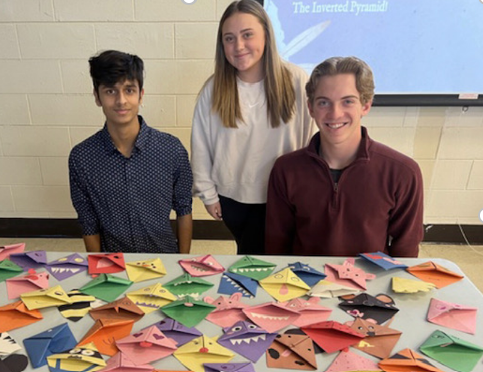 Since the pandemic, many clubs have had to postpone or cancel their usual events or large gatherings due to COVID-19 restrictions. With things starting to get back to normal, more schools and extracurricular activities have resumed to their pre-pandemic events.  
This past Tuesday, Key Club held its first in-person Divisional under the direction of PMHS senior and Key Club Lieutenant Governor (LTG), Ohm Patel. It was an exciting event for all Key Club members within the division as they were able to learn the history behind Key Club, celebrate all the accomplishments from past years, go over upcoming goals for the future, and participate in a community service project with fellow members. 
Joining Pat-Med at this event were Key Clubs from Sayville, Copiague, and Lindenhurst, 3 out of the 7 schools in the Division. Also in attendance were Mr. Andrew Lowenburg, Division 1, 2, 3 Committee Representative, and Mr. Jarrod Gordon, Key Club LTG for Suffolk East. 
Bryan Frascogna, president of PMHS Key Club, says, "It's great to see all the clubs finally working together in person after 2 years of being separated due to COVID." 
Vice President Rithika Sivapokaran was excited as she states, "This was the first in-person divisional I have attended, and it was so exciting to interact with other members of Key Club!" 
In addition to his presentation, LTG Ohm Patel informed members on officer positions and upcoming events to help further students' leadership skills. He also gave insight into his role as LTG for anyone who may be interested in running for the future. 
"It was great to bring together the schools in our division. I really enjoyed speaking face to face with our members and explaining what Key Club is and how to advance in it." he says. 
Concluding the presentation, Key Club members created corner bookmarks for elementary schools and children's libraries. Members were able to be creative and put their arts and crafts skills to the test! 
Hopefully this is just the beginning of many events and community service projects that will happen in our school. For more information on Key Club, see Ms. Scalzo in Room 236! 
Leave a Comment