Raider TV Takes On BASH 2023
On Monday, May 15, 2023, the Raider TV team had the honor of attending this year's BASH (Broadcast Award for Senior High) at Hofstra University alongside our advisors, Mrs. McKeough and Mrs. Sullivan, and incoming Journalism students. Starting off our morning bright and early, leaving the high school at 6:30 (quite early for me, personally), with coffee and teas in hand, the bus hit the road for Hofstra. 
Greeted by the blue and yellow banners of Hofstra University, we were welcomed by BASH coordinators and sponsors as we entered the Lawrence Herbert School of Communications (LHSC). This year's BASH sponsors included Hofstra University, WABC-TV, Newsday, and more! Throughout our tour of the LHSC, we were able to get a closer look into what goes on behind the scenes in Hofstra's radio and broadcasting stations. 
After a few pictures on the red carpet, some interviews with fellow high school broadcast programs, and a quick shot for our BASH segment for our next episode, we finally entered the auditorium. With over 700 people in attendance, the BASH Awards were approaching us sooner rather than later; but first – Swag Bags! 
Upon taking our seats in the auditorium, we were each gifted with BASH "Swag Bags" which consisted of various BASH necessities (check out our Instagram to see a BASH Swag Bag Haul). Between groups of students and teachers finding their seats to eager students getting a head start on Bingo, it was time to meet this year's Keynote Speaker, Lee Goldberg. 
WABC-TV's chief meteorologist, Lee Goldberg, spoke on his experience in the broadcasting industry and his growth from being a high school student to today. Between his childhood stories to best moments as a reporter, Goldberg found his passion in meteorology. As the chief meteorologist of WABC-TV, he shared his responsibilities as a meteorologist as well as what a typical day looks like for him. Throughout his presentation, he provided inspiring and insightful advice to all the young broadcasters in attendance, but one piece of advice he gave spoke out the most to me – one that can be applied to any scenario in life. 
"Don't be a shooting star, there's no need to go viral. Instead, be humble, be reliable, be engaging, be the hardest worker, be open-minded, be determined, by tenacious, be vigilant, and most importantly, be yourself." 
Following his presentation, a Q&A session was open to the audience. Then, after some more bingo, a panel of Newsday producers, reporters, and social media directors entered the stage to share their experiences in the industry. Among them were Alfonso Castillo, Rob Levin, Heather McGowan, Gabriella Vukelic, and Elisa DeStefano. Ranging in experiences growing up and finding their passions, each panelist provided wise advice for us to take home. 
As we wait anxiously for the award ceremony to start, a segment from BASH: LIVE provided students with tips and tricks for broadcasting. Tips on standup, B-Roll, sequencing, interviewing, and teamwork were shared by various student representatives  
Finally, it was time for the award ceremony. Although we didn't win anything, watching the winners' submissions was definitely a treat. We were able to come back with more knowledge of our skills as a broadcasting program and I personally can't wait to see what's to come for Raider TV. Overall, it was an honor to attend this year's BASH Awards and I can't wait to come back next year! 
Leave a Comment
About the Contributors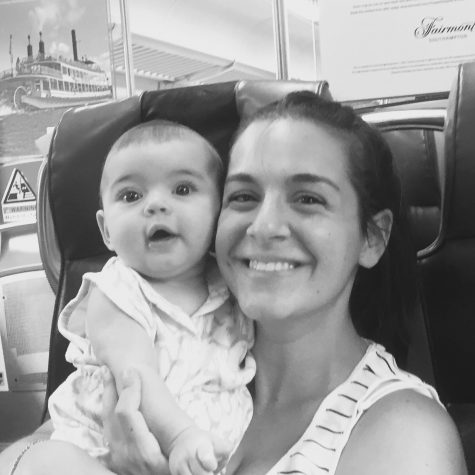 Mrs. Mckeough, Co-Advisor
"I have no idea what I'm doing, but I know I'm doing it well." ~Andy Dwyer, Parks and Recreation