Britney vs. The World
Hang on for a minute...we're trying to find some more stories you might like.
Britney Spears vs. The World
A short while ago, Britney Spears made headlines yet again. This time, for singing. Live. After years of bullying from the media over heavily using backtracks to sing with as she does complicated dance numbers, Britney grabbed a live hand mic, joking that it felt "illegal" and doing a monologue on how the media likes to tear her down one day and build her up the next. Wanting to give them "Something to Talk About", she sang the Bonnie Raitt hit with a seldom-heard soulful and powerful voice years of her label marketing her with the "baby voice" hid. As expected, the media was all over it, shocked and having her critics eat their formerly-harsh words. Oh how fast their opinion on her can change. Like Britney has always made note of, this is nothing new.
Britney Spears vs. The Media
If you have a good memory, think back to ten years ago. Think of the front pages of the news and magazines, TMZ, and basically all the gossip outlets. Besides the fact you read the article name and introduction paragraph, that's right. It's Britney Spears.
Coming fresh off Disney's Mickey Mouse Club, a seventeen-year-old Britney made serious impact with her debut album, …Baby One More Time (1999), the amount of accolades too large to list, but certified 14x Platinum by the RIAA, as well as her second album, Oops!…I Did It Again (2000), certified Diamond. Her youth and sexuality caused some public outcry and criticism, but she was a global force who would soon come to be known as the Princess of Pop.   
The early 2000's were largely successful for Britney; she did some high-grossing tours, continued to sell albums and singles, had two boys, and cemented her legacy as the Princess of Pop through her music and influence. However, in 2006, the media started attacking Britney, after she drove with one of her sons on her lap. She was highly criticized by media outlets for a while, and this only continued after she posed nude for Harper's Bazaar and filing for divorce from husband Kevin Federline. As tough as this was for her, this was only the beginning of her troubles officiated by personal demons and invasive paparazzi the following year.
In February of 2007, Britney spent a night at a drug rehab clinic. The next day, she famously shaved her own head at a Los Angeles hair salon. A couple days later she hit a paparazzo's car with an umbrella. Both incidents were widely publicized and she was harassed and made fun of mercilessly. Being followed around by the paparazzi almost 24/7, she was caught speaking in a British accent, calling photographers fat, wearing a pink wig, and breaking down crying in front of her house as photographers snapped photos and tried asking questions for their news outlets and gossip blogs. A sloppy MTV Video Music Awards performance of "Gimme More" earned her even more public criticism and humiliation. She was in and out of rehab a lot during this year. Ironically, her fifth album, Blackout, was met with praise and charted high along with its singles; some saying it's the best album in her discography.
While all these struggles took a serious toll on her mental health, 2008 wasn't much better for Britney, as police came to her house as she was intoxicated in the presence of her sons. Her kids were taken away from her, and she was placed under a 5150 involuntary psychiatric hold and was then placed under the conservatorship of her father (which she still is to this day). She was released from the ward five days later, and things started looking up for the fallen pop icon.
Comeback of the Decade
After the tumultuous aforementioned proceedings, Britney worked hard to gain back her reputation, her kids, and most importantly, her physical and mental health. A month after being released from the hospital, Britney appeared as a guest star on How I Met Your Mother, gaining positive reviews and giving the show its highest ratings yet. In July of 2008, Britney gained visitation rights to see her sons again. In September, she won three awards at the VMAs, making her 2007 performance a fluke of the past. Her MTV documentary about her comeback, Britney: For the Record, gained 5.6 million viewers, the highest rating in its Sunday night timeslot and in MTV history. Her comeback album, Circus, was critically praised and had a few singles and award nominations. The tour was the fifth highest-grossing of 2009, with $138.1 million.
In the following years, Britney gave Glee their highest ratings yet, received the 2011 MTV Video Vanguard Award, had another Platinum and number one album (Femme Fatale in 2011), came out with more singles with three in the top ten, tied Mariah Carey and Janet Jackson for third most number ones among women, did another successful tour for Femme Fatale, was a judge on The X Factor, and was music's top-earning woman of 2012 with $58 million. This is only a brief list of her accomplishments from 2008 to 2012, Not bad for a woman everyone doubted would even come out of 2007 and 2008 alive.
The Media's Princess
Today, Britney continues to thrive, and the media and paparazzi notice and report on her positively to reflect the positive life she's rebuilt for herself. She's released two other albums since 2012, released more singles, made additional guest appearances in TV and music, won the Billboard Millennium Award, among others, and is ending her successful Las Vegas Piece of Me residency December 31st this year after four years. Headlines have been buzzing about her upcoming world tour, so immensely popular Israel is postponing their elections for the Tel-Aviv show in July.
Britney's pop culture influence is ever present, her Hollywood Walk of Fame star and Las Vegas show being largely visited, her songs and iconic fashion still alluded to, most recently by Kate Upton on Lip Sync Battle, and being an upcoming recipient of the first-ever Radio Disney Music Icon Award, showing that she influences fans of all ages.
While sometimes mercilessly and continually attacking her each day, and others bowing down to the Princess of Pop, everyday you can find an article, whether it's about how great she looked on a vacation, spending time with her kids, rumors of new music, or just the impact she has on so many artists and celebrities through her music and style, it just goes to show that the world can't get enough of Britney, and thankfully, these days the news is usually positive. From cries that she's too young and inappropriate, to Britney 'Shears', to lauding her natural voice, Britney and the media have a storied history, yet the legend always takes it in stride.
About the Contributors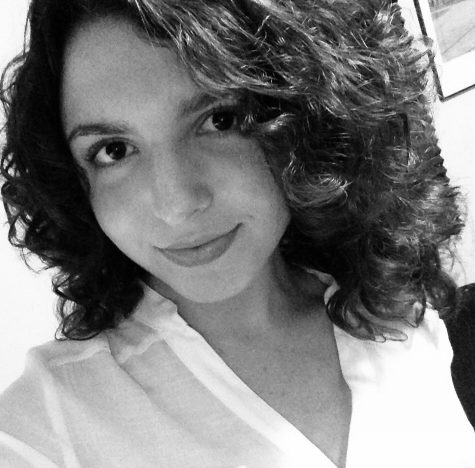 Samantha Visco, Business Manager/Public Relations
Gr. 12

"I know I may be young, but I've got feelings too."-Britney Spears