Grammys Recap: The Grammys Have a Gender Issue
A look at the winners to compare to our predictions and commenting on the evening
Hang on for a minute...we're trying to find some more stories you might like.
Music's biggest night had some great performances, upset wins, and a heavy dose of sexism.
Before I get into it, here are the winners of the selected categories I have listed in my predictions article:
Record of the Year:
"Redbone" -Childish Gambino
"Despacito" -Luis Fonsi and Daddy Yankee feat. Justin Bieber
"The Story of O.J." -JAY-Z
"HUMBLE" -Kendrick Lamar
"24K Magic" -Bruno Mars
Album of the Year:
"Awaken, My Love!" –Childish Gambino
"4:44" –JAY-Z
"DAMN." –Kendrick Lamar
"Melodrama" –Lorde
"24K Magic" -Bruno Mars
Song of the Year:
"Despacito" -Performed by Luis Fonsi and Daddy Yankee feat. Justin Bieber
"4:44" -Performed by JAY-Z
"Issues" -Performed by Julia Michaels
"1-800-273-8225" -Performed by Logic feat. Alessia Cara and Khalid
"That's What I Like" -Performed by Bruno Mars
Best New Artist:
Alessia Cara
Khalid
Lil Uzi Vert
Julia Michaels
SZA
Best Pop Solo Performance:
"Love So Soft" by Kelly Clarkson
"Praying" by Kesha
"Million Reasons" by Lady Gaga
"What About Us" by P!nk
"Shape of You" by Ed Sheeran
Best Pop Vocal Album:
Kaleidoscope EP by Coldplay
Lust for Life by Lana Del Rey
Evolve by Imagine Dragons
Rainbow by Kesha
Joanne by Lady Gaga
÷ (Divide) by Ed Sheeran
Best Rap Song:
"Bodak Yellow" -Performed by Cardi B
"Chase Me" -Performed by Danger Mouse feat. Run The Jewels and Big Boi
"Humble" -Performed by Kendrick Lamar
"Sassy" -Performed by Rapsody
"The Story of O.J."- Performed by JAY-Z
Best Rap Album:
4:44 by Jay-Z
DAMN. by Kendrick Lamar
Culture by Migos
Laila's Wisdom by Rapsody
Flower Boy by Tyler, the Creator
Best Music Video:
"Up All Night" -Beck
"Makeba" -Jain
"The Story of O.J." -JAY-Z
"HUMBLE" -Kendrick Lamar
"1-800-273-8225" -Logic feat. Alessia Cara and Khalid
The man of the hour was Bruno Mars, who swept the major categories of Record, Album, and Song of the Year. Most shocking about this, however, was his Album of the Year win for 24K Magic. In no way, shape, or form was Bruno's album better than JAY-Z's, Lorde's, Gambino's, and Kendrick's. Each one of the aforementioned included a wonderful story to each, artistically crafted with the finest of detail. While Bruno is one of our generation's most talented superstars as a singer, dancer, and performer, his album work just doesn't hit the mark for me, especially when spoken of in the same sentence as the other artists he was up against. While the album had some good songs, it just wasn't the album.
An upset (for me, at least), was the bane of my existence winning Best Pop Solo Performance and Best Pop Vocal Album. I don't like Ed Sheeran's music, I find it very basic and radio-made, but I already knew this was coming as these categories usually award the Grammy to what was the most popular. He's very popular as there isn't much to him; he's safe and bland, appealing to masses of different people. I believe Kesha or Lady Gaga should haveve won in those categories, at the very least for the album award, but I'll get into the nitty-gritty of that issue later on.
While I'm happy that Kendrick swept many of his rap and R&B nominations, I think it's a total injustice that JAY-Z was shut out of all 8 of his nominations. Yes, the album isn't his greatest work, but he should have been a lock for Music Video of the Year. While Kendrick had a great music video that I also happened to pick for my choice for the Red & Black's Music Video of the Year, for a prestigious award show that is at the helm of musical excellence, JAY-Z's vintage cartoon depictions of African American race relations in "The Story of O.J." should've definitely won. Kendrick had some great visuals that as a fan made me happy, but JAY-Z just had the better video, artistically.
If there was a category for Sexists of the Year, it should go to those who run the Grammys. While wearing white roses to support women in this empowering year for them, the Grammys took a dump on them all with their show. Out of the 84 awards, women only won 11 of them. Of them, only one-Alessia Cara for Best New Artist-got to receive it on live television. While gender shouldn't matter in who gets an award, women were definitely shut out and criminally underrepresented. Kesha and Lady Gaga have evolved their craft into something fresh, new, and enjoyable, while Sheeran churned out his past albums with the slightest of changes. No women were nominated for Record of the Year, one of the biggest categories. Out of all the top nominees, only Lorde, the only female, didn't receive a chance to perform (JAY-Z declined). But U2 did, and Sting had three appearances, despite not even being nominated.
With all this backlash, you think the Grammys would try to rectify this. But no, president Neil Portnow said "[They need] to step up".
Yeah.
It's not like Kesha went through a hellish battle for years to get a new record label, and reinvented her image, sound, and content. Or that Lorde spent 4 long years creating her album Melodrama, blowing her debut out of the water and being critically acclaimed for its beauty. Or that Lady Gaga overcame her struggles in life to become a global superstar, being in last year's Super Bowl Halftime and having a successful tour. I could go on, but that stupid comment shows glaring sexism, as Ed Sheeran won his categories with the same old, same old.
To top it off, this was the lowest Grammy ratings have been since 2009. Maybe it was the fact it was earlier this year, World Wrestling Entertainment had one of their major pay-per-views (that actually spotlighted their women), or people just felt like Shark Tank would be a better waste of their time. But when a fake wrestling company who used to have their women participate in "Bra & Panties" matches treats their women stars better than you, I think #TimesUp for you, Recording Academy.
About the Contributors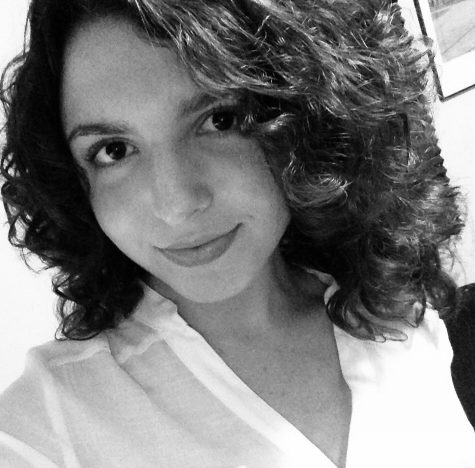 Samantha Visco, Business Manager/Public Relations
Gr. 12

"I know I may be young, but I've got feelings too."-Britney Spears