Tackling School Dangers, One App At A Time
Reporting on the alert apps
Hang on for a minute...we're trying to find some more stories you might like.
Most people can agree that school is supposed to be one of the safest places in a community. Certainly not a place where young children fear they'll be shot at by an armed intruder, much less a site of suicide, drugs, or bullying. In many ways, schools are the foundation of communal life, bringing together a diverse group of families to interact with one another. Schools are a place to learn new things, explore your interests, and just have fun enjoying your youth. Tragically, many recent events over the years have not made that so. In the December 2012 Sandy Hook Elementary School shooting, 20 children between the ages of six and seven, as well as 6 adult staff, were fatally shot. Just recently on Valentine's Day, a mass shooting occurred at Marjory Stoneman Douglas High School, killing 17 people in a matter of minutes. Last Tuesday, a 13-year old seventh grader from Jackson Memorial Middle School shot himself in the bathroom, and later passed away.
It is sad to say that these horrific events have increased in frequency at an alarming rate in the recent years, massacring the youth in our country. Sure, the media might cover the tragedy for a couple weeks, sending out thoughts and prayers over and over again. But no action is ever done, worse yet, no preventative measures are ever implemented. Stricter gun laws are debated for a while in Congress until the fires simmer back down to "normal," while more and more citizens feel the need to purchase weapons to protect themselves. While many advocate for the banning of semi-automatic rifles, stronger background checks, and raising the age for firearms purchase, there are still a myriad of factors to consider about the shooter himself. Were there any obvious signs that these people would engage in such violence? Did they express any violent tendencies or experience depression? Were they mentally ill?
These questions pop up again and again, and each time, authorities have failed to act upon these factors even if presented such information prior to the conflict. But why do we have to keep suffering in this silence and inaction? In the wake of such crises, thousands have wondered "What can we do to prevent something like this from happening again?" It turns out, one solution lies just twenty minutes away at our neighboring Connetquot High School. Led by Principal Kenneth Costa Jr. and other Connetquot administrators, the high school was quick to recognize impending dangers such as drugs, vaping, bullying, gun violence, inappropriate content, and any other aspects that might make a student feel uncomfortable or unsafe at school. With Connetquot High School serving over 2,000 students, the faculty felt the need to protect its students, and rightfully so. Thus, they implemented a school-wide app known as Bridg-It.
As described by its motto, "Building a Bridge to Better Behavior," the app partners with schools, communities and organizations to address bullying and harassment with comprehensive solutions that cultivate safe, positive environments. The idea of this app is to help students who are suffering in anyway and may not feel comfortable having a face-to-face conversation with an adult. After creating an account, Bridg-It School allows anyone who is being targeted to anonymously report an aggressor's name, actions, and the time of the event. The app also allows the user to send in screenshots of cyberbullying if need be. When a parent, staff member, or security sees the report- which can be uploaded anywhere at anytime- he or she can review the submission, keeping track of any trends as well as replying back to the user. The app makes sure to manage real time statistics for each school too. Finally, the problem is resolved when the user receives restorative solutions to combat the issue. These measures are regularly updated to ensure efficacy as well as the best fit to each unique situation.
At a glance, this app genuinely seems beneficial to any school. Students can quickly report their situation to an administrator, who can just as efficiently reply back with workable solutions. This app can also be used to report another student, if the user feels that person might be in a difficult situation. The Bridg-It allows a fast response to combat the variety of issues, primarily bullying, that are often present in a school setting. In fact, a statistic from the National Center for Education reported that almost 30% of students report being bullied each year. But at what price does this app pay? The Red and Black reached out to Connetquot High school sophomore Jessica, who has personally experienced the usage of the app at school. While she agrees that it's supposed to "find problems like vaping and bullying," some students have taken advantage of the app's power, so called the "Snitch App."
Earlier in the year, Principal Costa had hosted multiple brief assemblies during gym periods, where all students were mandated to create a Bridg-It app account regardless of whether or not they chose to use it. In this way, everyone would be registered to the school, and administrators would be able to keep track of all incidents. However, Jessica revealed that not all was good, as students felt empowered to report whatever they wanted, or as she put it, "untouchable when it's anonymous". Very easily could extremely private things be exposed to an adult, or even false stories that students thought were funny. Regardless of the truth behind the report, teachers were immediately notified, and this often resulted in talks with a counselor.
So the question is- at what point does catering to the safety of students have to invade upon our personal privacy, if these reports are honest at all? At Patchogue-Medford, we have already implemented the Anti-Bullying Portal on our website, which works in a similar way to the Bridg-It app. Like Dr. Rusielewicz always says, "See Something, Say Something" really does hold immense value in both the addressing and prevention of potential school dangers. Should our school, like Connetquot and various other schools across the country, take the next step in being proactive? While forcing everyone to make an account ensures all incidents can be reported, it can also be seen as an intrusion to student's lives. This point has been highly controversial amongst Connetquot administrators and the students themselves. Bridg-It and related apps indubitably has the potential to save someone's life, but it can also ruin them as well.
Another app that functions to prevent school dangers is Digital Fly. Partnering with schools and universities, the organizations "offers suite of software tools and services to help schools with bullying, cyber-bullying, suicide, self-harm, violence and other potential dangers." Digital Fly supplies numerous applications, including Fly Sense, Glue Board, Fly Swatter, Fly Trap, Fly Sights, and Fly Zapper to promote a healthy educational environment. Not only do they champion turning "bystanders to upstanders," the foundation's incident management system organizes an ample amount of data to provide administrators with a powerful analysis of social issues within the district. Moreover, a particular tool that Digital Fly employs, Fly Sense, can register bullying and vaping through anomalies in sound and vaper, or with a simple touch on the Digital Fly app. The plethora of tools Digital Fly has- ranging from social media awareness technology to a helpline service- is just incredible in its number of applications.
In this day an age, with the horrific rates of shootings, drug abuse, bullying, suicide, and other tragedies, we have become dependent on such technologies in an attempt to actually be proactive. That's really what it comes down to- technology. As our civilization continues to advance, we have allowed technology- the Internet, social media, video games, computers- to play more and more of a role in our lives. Yes, technology has brought humanity to new heights, ones that our ancestors did not even dream we were capable of. Even now, the powerful group of students championing the #NeverAgain movement and nationwide March for Our Lives only gained so much momentum because of extensive media coverage. But we have also been weakened by it. Allowing the Internet to run its path, we have allowed atrocities like cyberbullying and violent content to seep into our younger generations. Is the answer to combating such a complex problem to utilize the one thing that allowed it to happen, fighting fire with fire? The answer remains unknown, and it's up to our administrators to decide its merit. Either way, the next few steps we take in this fight for school safety will be sure to trigger a reckoning for us all.
Links (Underlined):
Bridg-It
Anti-Bullying Portal
https://fs27.formsite.com/6XVsdb/form13/index.html
Digital Fly

About the Writer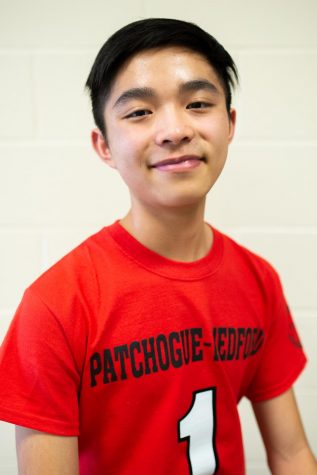 Justin Zhou, Co-Editor
Grade 12

3rd year staff member