We'd Rather Be Teaching
A look at the WV teacher strike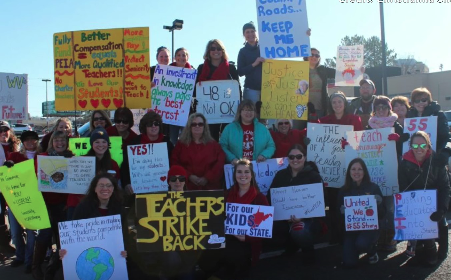 Hang on for a minute...we're trying to find some more stories you might like.
Most living in the United States would find it ludicrous for students to not attend school for almost two weeks on registered school days. This just happens to be the case in West Virginia, an eastern state that holds approximately 2 million residents. While students across the country might envy those who are basically having an extended mid-winter break from school, the problem stems much deeper than just a regular vacation. Starting Thursday, February 22nd, tens of thousands of teachers went on strike, effectively closing down schools in all 55 of West Virginia's counties. More than a quarter million students have stayed home this past and current week due to the lack of educational personnel.
What a crisis this has been! Students have been out of school for 9 consecutive school days, and with such a large amount of time being lost, they will indubitably struggle to get back on track. What is so pressing that teachers are willing to sacrifice quality educational time for students? As it turns out, West Virginia teachers' salaries are currently ranked 48th in the nation according to a National Education Association report, with an astounding average of $45,000 a year. Worse, some have even admitted that qualified educators were inclined to leave the state due to the low pay. Many would be quick to recognize that this salary is barely enough to purely sustain even a small family of three. In a broadcast of the strike, one teacher even contributes that she didn't know "a single teacher who doesn't work a second job" just to be capable of paying for insurance and necessary bills. Consequently, among the goals of the strikers are health insurance coverage through a revamp of the Public Employees Insurance Agency.
Just how did the situation escalate so quickly? On Wednesday, February 21, West Virginia Governor Jim Justice had announced teachers would gain a 2% raise in July, and a 1% raise in 2020 and 2021, as this would somehow satisfy the teachers' calls for an immediate 5% raise. Although the 5% raise had been perpetually debated about for weeks, it was voted down again and again by the State Congress, eventually leading to a full-blown strike spanning across the entire state. Approximately 20,000 infuriated and ambitious teachers participated in the walkout, with many marching to the West Virginia State Capitol in Charleston to protest. The extensive media coverage of these protests display thousands of teachers chanting for their right to better pay and defiantly holding up signs such as "Will Teach For Insurance." A popular hashtag, #55Strong, has also sprouted from this event in reference to the unity of all 55 West Virginia counties.
The strike has finally started to see results. As of Tuesday, March 6, the state yielded to the demands of the teachers. After two weeks, both the West Virginia House and Senate passed legislation that would provide teachers and state employees with a 5% pay raise. Governor Jim Justice also tweeted, "I'm very pleased to announce a 5% raise for teachers and all state employees. It's time we invest in education and help our teachers and our kids go back to the classroom with pride in the great state of West Virginia." The teachers had advocated tirelessly for what they believed in, and in the end they were successful. The joyful cheers of the thousands in attendance for the announcement were in a stark, but ecstatic contrast to the indignant rants against the government just a couple days prior. It was a huge breakthrough for the strikers, and the governor separately agreed to address the state health insurance program on March 13 as well.
The two-week long strike has not gone without its controversy, however. Although teachers have mostly garnered public support, with county school systems consistently refusing to take legal action to stop the strike, angry parents have also voiced their concerns on the implications on their child's education. On the political aspect, West Virginia's Superintendent of School Stephen Paine has urged teachers to go back to the classroom, releasing the statement, "Families will be forced to seek out alternative safe locations for their children, and our many students who depend on schools for daily nutrition will face an additional burden." In return, Kym Randolph of the West Virginia Education Association stated "teachers would much prefer to be in the classroom, but felt that nothing would get done if they didn't demonstrate."
Was this legal? In a statement, Stephen Paine called work stoppages by public employees "not lawful" in West Virginia, while State Attorney General Patrick Morrisey classified the strike as "unlawful" in a tweet. These terms are in reference to a 1990 West Virginia teacher strike, in which the attorney general then had written, "There is no right to strike against the state. Thus, any strike or concerted work stoppage by the public teachers of this state is illegal. … It is our opinion that any strike by public teachers is illegal and may be dealt with accordingly by school officials." When the case went to the Supreme Court, striking was referred to as "unlawful" rather than "illegal," which meant that strikers would technically not be committing a crime. This information and the success of the strike has somewhat inflicted fear of similar occurrences in Oklahoma, Mississippi, and South Dakota, all states where the average teacher salary is the same or lower than that of West Virginia.
Contrastingly, in New York, the Public Employees Fair Employment Act authorizes a governor- appointed State Public Employment Relations Board to resolve contract disputes for public employees while prohibiting their right to strike. In fact, a 2005 case in New York City resulted in the ruling of unions paying $1 million fine for each day they skip work. Most states in America have similar legislation that bars workers from striking to prevent statewide strikes such as this from erupting. The real question comes down to whether or not teachers going on strike is worth the cost of education. Is it selfish for teachers to abandon their jobs and students in favor of fiscal pursuits? Then again, how long have West Virginia families suffered in the silence of economic suffering and working multiple jobs?
Facts are facts. West Virginia ranks extremely high on the lists for unemployment, poverty rates, and food insecurity, just to name a few. To elaborate, a Fortune article reported that nearly 1 in 4 children in West Virginia live in poverty. Certainly, these strikes have only been an amplification of the frightening crisis the state is, and has been, experiencing. This occurrence also presents a great example of the ability of labor unions to protect workers from the myriad of unfair policies in the workplace. Nevertheless, as America continues to advance, it is ever the more crucial for strong voices to stand up for the reform of the various social issues our society consistently faces everyday.

About the Writer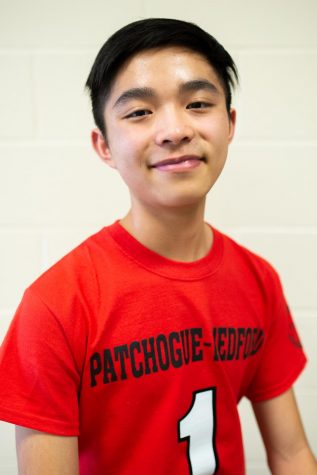 Justin Zhou, Co-Editor
Grade 12

3rd year staff member