A Champion in Your Own Way
Hang on for a minute...we're trying to find some more stories you might like.
Some songs are more than just a song. They become an anthem. Carrie Underwood released her new song "The Champion" featuring Ludacris on January 12, 2018. The song on its own is very inspirational, with some of the lyrics reading, "I am invincible, unbreakable, unstoppable, unshakable" and others saying, "They knock me down I get up again". This song shows that being a champion is simply being a strong individual.
This song on its own could be viewed as an anthem, but it is the words' representation in the video; that came out on March 2, 2018, that is the most significant. This video features many inspiring people and events through the course of history along with modern day political and social movements. They include: Martin Luther King Jr., landing on the moon, Bethany Hamilton, #metoo, children with cancer, persons with disabilities, natural disasters, Olympians, and just the average middle-class citizen. All of these people and events have had obstacles in their life, but they overcame them to become their own champion. These events inspired millions to reach their potentials and push passed the obstacles such as disabilities and race. This video connects to modern issues of today and is an anthem to show that we can move beyond these issues of prejudice and fear and together we can accomplish greatness. In the video the line, "They knock me down, I get up again" has a much deeper meaning in the video because of the strong emotional visual aides: one portraying the Freedom Tower, built after the terrorist attack of 9/11 and also one of a childhood cancer survivor. Although these were difficult times we were able to overcome and become champions.
As shown, this video can, and should be, viewed as an anthem for the main reason of being able to inspire millions of diversified people. Through the duration of this video there are various events that every single person can connect to, and be inspired by, becoming a champion in their own way.
About the Contributors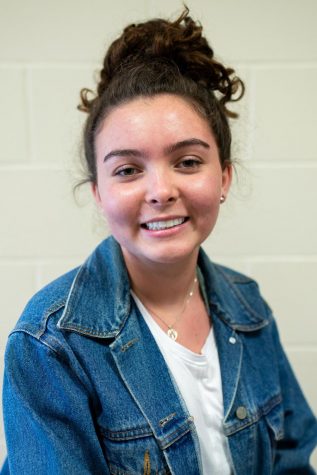 Stephanie Sheridan, Business Manager
Grade 11

"You can make anything a reality if you fight for it."