Turning the Page on New Leadership
A welcome to the 2018-2019 school year from our new Editor in chief.
The days spent sun tanning on the beach are over. They have been traded in for shopping trips at Staples and haircut appointments. To the class of 2022, welcome to Patchogue Medford High School. Your first class meeting will be held on the fourth floor after school. To returning Pat-Med students, welcome back to the greatest show on earth. As you already know, here at the Red and Black we believe getting involved is the key to making high school memorable. Whether you're a freshman entering a new world or a senior looking for something to do after school, we encourage everyone to try something new this year! We have a place for absolutely every student on our newspaper.
Recently, the Red and Black has expanded beyond our hopes and dreams. During the 2017-2018 school year, under the direction of Editor in chief, Mike Alduino, your school newspaper has been recognized as a SNO distinguished site for the second time and was also awarded Best High School Media Outlet by the Press Club of Long Island. On top of that, we launched our official broadcast news program, Raider TV, which has an entirely updated studio for the new school year! The time to get involved is now, you can learn with the best staff and from the best new equipment. Personally, I am more excited than ever to see the staff of Raider TV get to work in their new studio.
We also want to call your attention to our social media accounts. The Red and Black staff would like to invite students, families, and faculty to follow our official Twitter account: @PMHSNews_RnB. We are also active often on Facebook and Instagram @pmhsredandblack. Our social media accounts help keep followers updated on our newspaper, our school, and our community. Students and faculty can also feel free to send us ideas or feedback on articles through our Contact Us tab! Another way to get involved is by coming to our meetings Friday afternoons or stopping by to see Mrs. Sullivan in room 284 or Mrs. Mckeough in room 286.
Everyone deserves their chance at the countless opportunities that the Red and Black has to offer. Whether it's making your big break on Raider TV, helping with cameras behind the scenes or teaching others of your knowledge through writing, your newspaper is just that- your newspaper. Feel free to get involved however you choose. This could be the year to let your voice be heard and make your mark here in high school! You have the opportunity to make this year the best one yet and get involved in our award-winning paper. To the class of 2022, good luck in all your upcoming endeavors. I hope you let the Red and Black hold a place in your heart like it does in mine. To returning students, let's make this year even better than the last!
About the Writer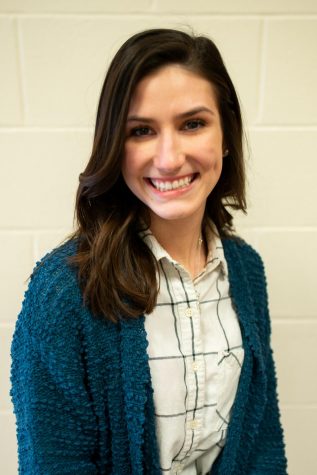 Sarah Bacon, Editor in chief
Grade 12

"Life isn't about getting and having, it's about giving and being." -Kevin Kruse