PMHS Goes Vogue
The class of 2019 hosted the annual senior fashion show on Friday night. The senior class, beaming with confidence, walked the runway showing off their looks.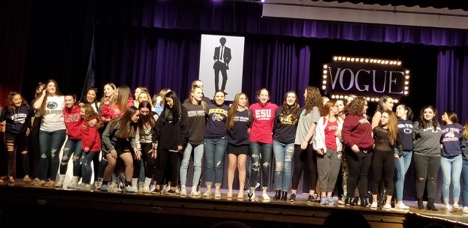 Hang on for a minute...we're trying to find some more stories you might like.
Attention seniors: The year is beginning to dwindle down and the last hurrahs are becoming fewer . Between the last sports season, talent shows and concerts, this is your last chance to make your mark. The most recent event was the Senior Fashion Show, and this was not an event to miss.
Through a long debate over the theme, "Vogue" was finally decided. The class felt that Vogue was the most fitting – after all this is a fashion show. Once the runway was set with lights and much needed sparkle, the models were ready to strut.
The show took months of hard work, between putting the stage together, to finding the perfect outfits and, writing the perfect script but, everyone did their part.
Senior class secretary, Angelica Harriott noted, "While it caused some chaos and a full inbox, the fashion show was a success to check off for the class of 2019 as the end draws nearer."
To kick off the show, the TV/Movies category took center stage. This included outfits from Gossip Girl, Charlie's Angels, Harry Potter and more. The students brought their characters to life in all ways.
Heels hit the runway in the formal wear section, showcasing all the glitz and glam that can be put into an outfit. They stole the audience's attention with their shimmer and shine.
"I loved participating in the senior fashion show, it was everything I dreamed it would be since I was a freshman. I was so excited to wear my tux again since I love the color of it and haven't worn it since prom and walking out in it and hearing all the applause was such an amazing feeling that I'll never forget," said senior Angello Soriano.
With a title like Vogue there had to of been a self-titled category. In this one students created their own outfits. From light and casual to over the top and show-stopping, each outfit included their own special touch.
Other categories included Disney which had memories like Hannah Montana and more. As well as, sports which showed off some of our most involved student athletes showing their skills moving down the runway.
Chelsea Goldberg shared her experience with the show, "it was a little stressful getting ready for it but once it came down to getting ready to go on, it was so much fun. From dressing up as Hannah Montana to wearing my college shirt, sharing the stage with my best friends one last time was a great experience."
With all great things there always comes an end. The last section of night was college wear. Every participant came out on stage in their future college apparel. Smiles were shining and tears were falling.
All in all the 2019 senior fashion show was a huge success, thank you to everyone involved and a special thanks to the senior class advisors, Mrs. Connelly and Mrs. Greenberg!
About the Contributors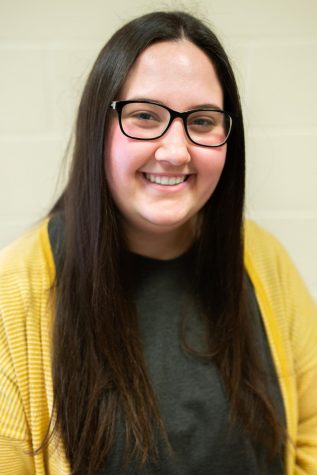 Jenna Potter, Assistant Editor
Grade 12

"The sun will rise and we will try again."