Nuzzi – Celebrating Twenty Years of Teaching
Twenty years ago Google was being founded, President Clinton was being impeached and also, Mr. Nuzzi started working in the Patchogue-Medford district. That's right, this school year marks his twentieth anniversary in the district and he is celebrating this accomplishment in a unique way. 
Many students in our high school have had the pleasure to either have been taught or coached by Mr. Nuzzi in recent years however, the amount of students he has been able to reach in the past twenty years surpasses what anyone could imagine. 
Senior, Nicole Socko, says she'll "never forget that he said he will always have to keep milk in his fridge at all times, he can never be low on his supply." 
To revel on his years of teaching, he has been taking pictures with past students (including me) and posting them on his Instagram and sharing a memory he has of each as the photo's caption.
The idea sparked when he went out with former student and past teacher at Saxton, Mr. Smith. Mr. Nuzzi posted a photo of them together, and a caption about how successful his past student (Smith) has become. Then, when the post was a hit, he decided to celebrate every past student he sees in the same way.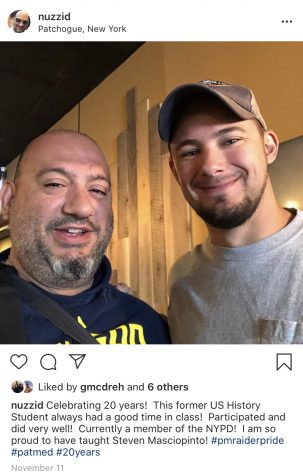 Mr. Nuzzi's Pat-Med past doesn't begin as a teacher, he is also an alumnus from Patchogue- Medford High School. He considers this district home and wouldn't want to teach anywhere else. In fact, he didn't even apply for positions in other districts. He started as a leave replacement for Mr. Godfrey and after impressing the director at the time, he was offered his first class. Mr. Nuzzi says he couldn't even see himself wearing any other colors but red and black.
I sat down with him to talk about his love for Patchogue-Medford, what it was like growing up here, and his experience with teaching here: 
What was the difference between being a student at Pat-Med to be a teacher?
"When I was a student I didn't know who I was but at this point in my career I have a really good grasp of my strengths and my weaknesses… I feel like as a teacher, unlike when I was a student, I am able to make more connections with people. I'm much more intelligent and much more well read; in high school, it was definitely the beginning of the road for reaching my potential."
What do you get out of teaching? And what's the worst thing that comes with the job? 
'"What I get out of teaching is seeing when kids live up to their potential… I love seeing students become successful, whatever that means. If it's making a million dollars or starting a family or smiling and being happy everyday, that's my favorite to see. The worse is when kids don't survive, some pass. It's hard to know that some kids who don't get to prove themselves and don't get to grow up. I just love seeing students when they get back. I like seeing you when your done. I think that's why I do it because there is an end to the road and I get to see it."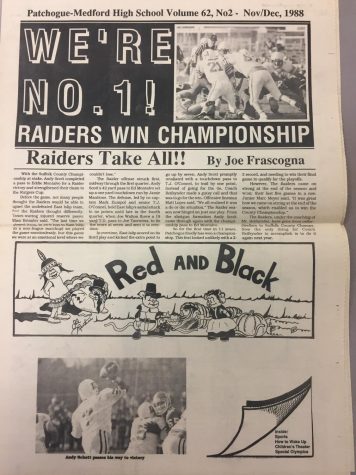 Mr. Nuzzi's teaching style is "it's not about what you teach, it's about how you treat". He learned being sweet takes you a lot farther than being yelling at students. 
Make sure to remember if you are Mr. Nuzzi's former students, take a photos of him to be part of this wonderful project to mark a milestone for a great teacher and coach.
About the Writer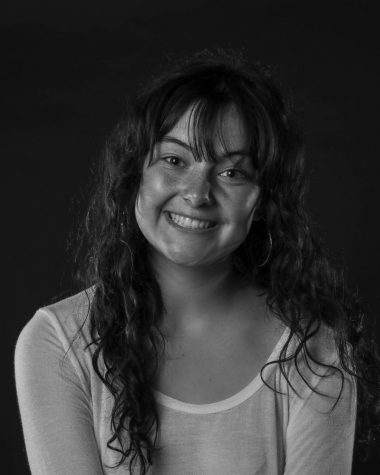 Delaney Reh, Editor in chief
Delaney is a senior at PMHS and it is her third year on The Red and Black. She is the Editor in Chief and in the past has held the title of Photo Editor....