Trotting With Santa
The Kiwanis Club held another successful event with help from PMHS Key Club and Robotics.
Hang on for a minute...we're trying to find some more stories you might like.
This Sunday, December 2nd, the Kiwanis Club of Patchogue held its annual Santa's 5K Toy Trot starting at Shorefront Park in Patchogue. The purpose of this event was to both raise money for the charitable Kiwanis 501(c)3 Kiwanis Foundation and collect new, unwrapped toys to be donated to the Kiwanis Club's Community Toy Drive.
Unfortunately, the weather on Sunday was terrible. It had been raining all night and continued to drizzle all morning, getting everyone wet and transforming the greenery into a marshland. This was not to mention the frigidity of just above 50℉.
However, this did not deter people from all over Long Island to come to the run. With numbers similar to last year's (just under a thousand), people flocked to run in both the traditional 5K and the new Mrs. Claus Mile. For those in a t-shirt and shorts, this was definitely a noteworthy accomplishment!
Not only did runners attend the event; volunteers were also integral to the ultimate success of the event. From Pat-Med students from Key Club and Robotics-two of the largest clubs at our high school- to just adults who wanted to help out, these generous people helped with registration, collected toys, handed out water, gave out directions on the road, and helped set up the venue in general.
Throughout the run and especially at the finish line, there were festive cheers and applause encouraging runners to keep pushing through and sprint for their personal record. It was really exciting to see such a diverse group of people from all over the island come to the event. In fact, Pat-Med junior CJ DeFeo and sophomore Dylan Atcosta both scored in the top three of their age group!
Inside the enormous heated tent, the festivities were even more apparent. With everyone trying to get cover from the cold, wet weather, the crowds converged and mingled together. Free snacks and beverages- gingerbread cookies, popcorn, rolls, bagels, bananas, protein bars, beer- were offered to participants while a band blasted jams in the background.
All in all, the event was a huge success and is a great representation of the strength and unity of Patchogue-Medford. Embodying the true ideals of the holiday season, volunteers and runners alike gathered together to give back to the community and support charitable causes like the Kiwanis Toy Drive. Happy December and Happy Holidays!!

About the Writer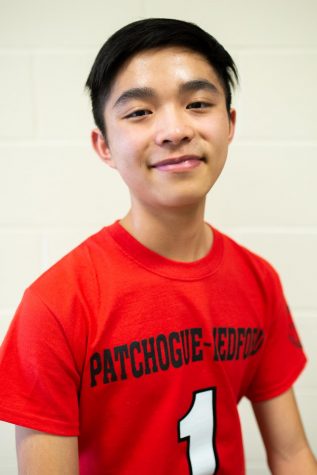 Justin Zhou, Co-Editor
Grade 12

3rd year staff member